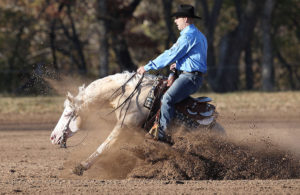 For Immediate Release – Oklahoma City, Oklahoma – November 2, 2020 – Two million is the lucky number for many National Reining Horse Association (NRHA) riders, owners, and horses as 2020 winds down. Pale Face Dunnit is unofficially the newest NRHA Two Million Dollar Sire.
Fondly referred to as "Gold Digger," this 2007 palomino stallion is by NRHA Twelve Million Dollar Sire Gunner and out of Lena Dun It. Bred by NRHA Two Million Dollar Owner Rancho Oso Rio, LLC, this prolific stallion is now owned by Schmersal Reining Horses and Silver Spurs Equine of Scottsdale, Arizona.
"Gold Digger is a big part of our family and we couldn't be more excited for this monumental achievement at such a young age," said owner Ginger Schmersal. "I have loved that horse since the first time I saw him. For Craig to get to show him and win and then go on to win the Futurity on one of his babies [Face The Attitude] is just phenomenal. And now Addi is showing that mare as a non pro."
Boasting over $70,000 in NRHA Lifetime Earnings (LTE), Pale Face Dunnit was an open Level (L) 4 finalist at major NRHA events across the country. He also finished in the top ten at the AQHA World Championship Show in Junior Reining and is a United States Equestrian Federation (USEF) National Open Reserve Champion.
After a star-studded reining career, first under the guidance of NRHA Million Dollar Rider Randy Paul and later NRHA Four Million Dollar Rider Craig Schmersal, Pale Face Dunnit retired to the breeding shed. He's sired 628 foals to date and 170 of those are competing, but his top-earning offspring is Face The Attitude (out of Miss Lil Addy Tude).
The 2014 mare was the Open L4 champion at the 2017 NRHA Futurity with Craig Schmersal at the reins. And her hot streak has continued in the non pro arena with Craig and Ginger's daughter, Addisyn Schmersal. During the 2020 National Reining Breeders Classic (NRBC), Addisyn reined Face The Attitude to a $25,500 payday after winning the Non Pro L3 and taking reserve in L4. The NRBC proved pivotal for Pale Face Dunnit's two-million-dollar status when his offspring earned more than $60,000 combined.
The trend continued for Pale Face Dunnit's progeny at both the High Roller Reining Classic (HRRC) and the Arizona Reining Horse Association (AzRHA) Best of the West show.
"His foals won a lot in Arizona, well over $20,000," Ginger Schmersal said. "I knew we were close to the two million after the NRBC and High Roller."
First named an NRHA Million Dollar Sire in late 2018, Pale Face Dunnit reached his two-million-dollar milestone in just two short years. Pale Face Dunnit's top-earning offspring include:
• Face The Attitude (out of Miss Lil Addy Tude) – $197,390 NRHA LTE
• Phantom Face (out of Gorgeous Like A Star) – $140,198 NRHA LTE
• Pale Face Whiz (out of Lady Naskiia Whiz) – $106,159 NRHA LTE
• Pale Black Gun (out of Blazing In Black) $99,010 NRHA LTE
• Gold Digging Dunnit (out of Dun It Reining) – $92,012 NRHA LTE