On October 18, 2023, the reining community lost a legendary mare, Wimpys Little Chic.
National Reining Horse Association (NRHA) Hall of Famer, 'Lexi' earned more than half a million dollars in four short years in the show pen, all with NRHA Hall of Famer Shawn Flarida at the reins. The pair are the only ones in reining history to win the NRHA Futurity, NRHA Derby, and the National Reining Breeders Classic (NRBC) consecutively.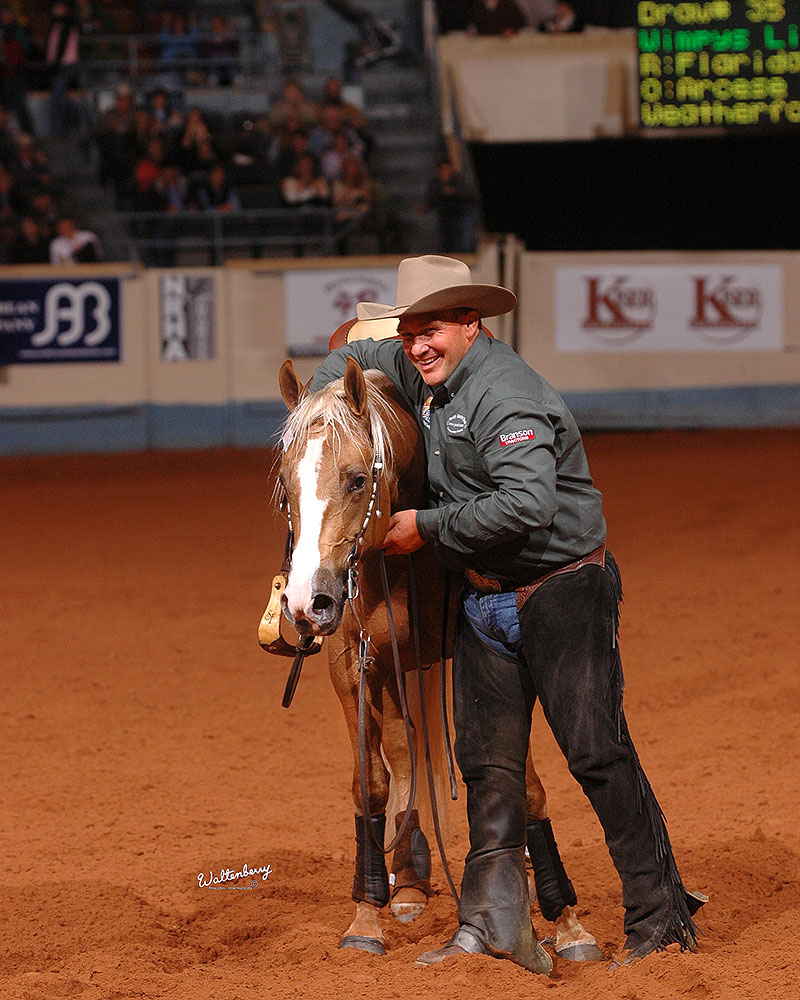 Lexi (Wimpys Little Step out of Collena Chic Olena) was bred by Double Run Farm and purchased by Arcese Quarter Horses in 2007. She is currently NRHA's leading dam and is nearing two million dollars in offspring earnings, demonstrating that her impact on the industry will continue both in the show pen and in the lives of many.
"The reining world loved Lexi so much," said Michele Flarida. "We could literally write chapters on this special horse and her bond with Shawn, Mr. Arcese, Monnie [Monica] Watson, and Jeff Oswood. We will make sure that she is never forgotten and that she shines through the legacy she leaves."
Shawn Flarida shared the following in processing this great loss:
"Wimpys Little Chic is simply the greatest reining horse to ever draw a breath. I have asked Michele to write a book about our journey in this life together. She said the chapter on Wimpys Little Chic (Lexi) would be entitled, "A Love Story." I won't remind the world of all her tremendous accomplishments inside the show pen and as a producer. Instead, I will tell you about the beautiful little blonde filly, born in the same hallowed pasture as her daddy (Wimpys Little Step) on a beautiful farm in North Carolina (Double Run Farm) to a beautiful woman (Miss Monnie Watson) who fell in love with her immediately.
This was her first home and Miss Monnie never once doubted her abilities. Lexi grew and got strong and made her way to her next home in Springfield, Ohio with me and my family. Like her first home, Lexi's next home had seen its many champions and great ones as well. She didn't care. She was different than all the rest and she damn sure knew it. Particular and quirky, like all the greats, but with a confidence that was boundless. Our bond was one of true love. She expected my undivided attention and got it.
Recognizing her enormous talent, I introduced Mr. Arcese to Miss Monnie and our Lexi. Now anyone who knows Mr. Arcese, knows that part of the fun for him is the deal. He is a master at negotiations. He stood in silence as he watched Lexi and I work. I brought Lexi over to him. She put her head in his hands and without hesitation, he hugged Miss Monnie and said she was now his. Simply put, Lexi had her effect on him, and he fell in love. Lexi had her three…her breeder, her rider, and her owner. She had everything she needed to rise to her destiny.
First the 2007 futurity. As great as she was in the go rounds, she was still doubted. A good friend stopped to tell me good luck and the fact that no futurity champion sire had yet produced a futurity champion himself. I didn't know that. Neither did she. We didn't care. We won.
NRBC Derby time, 2008. She drew up early but her three (breeder, owner, and rider) never doubted her courage and determination. In fact, Lexi was just now growing into herself as a 4-year-old and an athlete. Her confidence gave me confidence and I gave her the knowledge and room to be great. We won with a 233.5.
The weeks leading up to the 2008 NRHA Derby were some of the most fun that I have ever had as a horseman. I had my best girl and she had me. The greatest gift Lexi ever gave me was to know my worth as a horseman. She damn sure knew hers and the fact that she needed me to show it to everyone gave me such confidence and joy. Two weeks out from the show and Michele took my phone and the computer. I thought it was weird but had work to do so whatever. It wasn't until after the Derby run that she told me why. The True Triple Crown of Reining hung in the balance. NO horse HAD Ever or HAS EVER won the NRHA Open Futurity, NRBC Open Derby and NRHA Open Derby consecutively. Literally thousands of emails, text messages, phone calls…most wishing Lexi and I all the best but plenty of doubters and critics as well. I didn't know that. Neither did Lexi. We didn't care. We won.
Lexi didn't stop there. She went on to enjoy another 2 years of amazing success in the showpen. People from all over the world fell in love with this mare just like her original three did. She left her stall here…the same stall as all the other greats that came before her. It was time for her to show her worth now as a producer (what an understatement). She went to her home at Oswood Stallion Station where she met another man she made fall in love with her, Jeff Oswood. I missed her so much and her stall stood empty till a gorgeous colt named Spanky arrived. The world knows him as Gunnatrashya.
The legacy of Wimpys Little Chic is undeniably unparalleled. She always gave so much more than she took until today when she takes a piece of our collective hearts with her to her newest and final Home. The whole world knows your name baby girl. You shattered every record, forged relationships that we cherish, and made dreams come true. My turn to carry you on the rest of our voyage together. I will always love you."
NRHA extends its deepest condolences to the Watsons, the Flaridas, the Oswoods, and all who loved Lexi.