On New Years Eve 2021, Carol Rose announced that National Reining Horse Association Four Million Dollar Sire Shining Spark had been laid to rest on December 27.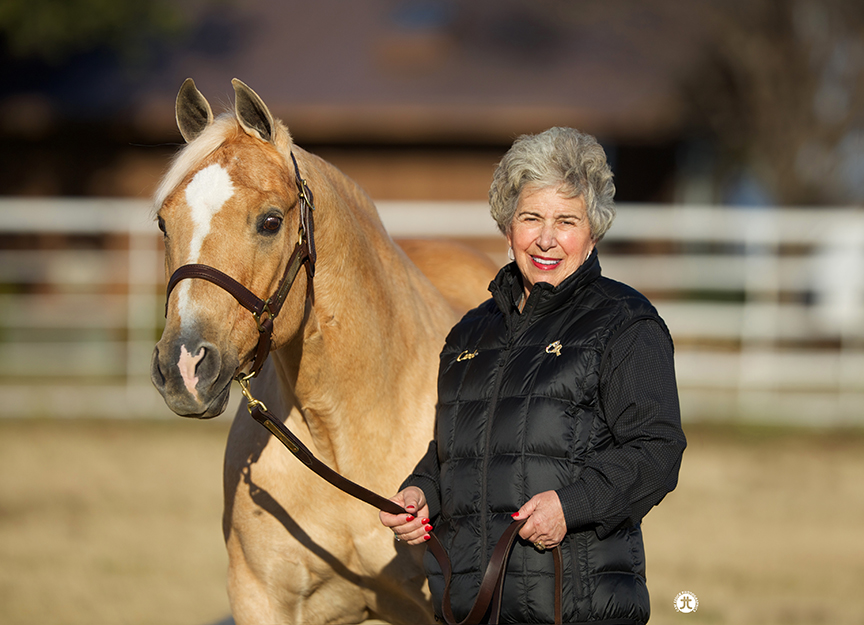 Immediately, condolences and memories began to flood the pages of social media, telling how the palomino stallion, by Genuine Doc out of Diamonds Sparkle, had affected their life.
Shining Spark became the cornerstone of Rose's breeding program for decades, but before he left his indelible mark in his progeny, he proved his prowess in the reining arena.
He began his career with NRHA Hall of Famer Bob Loomis, who piloted the colt to a sixth-place finish at the 1992 NRHA Futurity, and followed that with a reserve title at the Lazy E Classic in Guthrie, Oklahoma.
Then, NRHA Three Million Dollar Rider Tim McQuay took the reins, and the duo won the 1993 American Quarter Horse Association Junior Reining Horse World Championship. The next year, they followed that up with the NRHA Derby championship. All totaled, Shining Spark won $62,674 in NRHA and AQHA competition.
McQuay and Shining Spark had incredible chemistry, so when Rose was deciding who to send Shining N Sassy (out of Sassy O Lena), there was no question who would be first choice. The mare, who would become Shining Spark's highest money earning, and McQuay won the 2008 NRHA Open Futurity Championship.
Shining Spark was not only a Four Million Dollar sire for NRHA, he held the same title for the National Reined Cow Horse Association. His offspring excelled in a variety of disciplines, including reining, reined cow horse, cutting, barrel racing, halter, pole bending, breakaway roping, heading, heeling, ranch sorting, team penning, steer stopping, and more.
Shining Spark will be inducted to NRCHA's Hall of Fame as part of the class of 2022.
The passing of Shining Spark December 27 at the age of 32 did signal the end of a charmed life but thanks to modern science a whole new generation of Shining Spark foals have been born or will be born in future years. (Having been born before an AQHA Rule modification which limited the length of time foals of deceased stallions could be registered following the stallion's death, he is still a viable option for breeding.)
Certainly, his legacy lives and as Carol Rose has often said, "You just never know where the next champion will come from."
Shining Spark's Top Five Money Earners:
Shining N Sassy (out of Sassy O Lena) $232,672.33
Miss Rey O Shine (out of Miss Rey O Lena) $159,714.73
Shine On Line (out of Oaks Little Diamond) $110,660.29
Just Gotta Shine (out of Zans Pretty Penny) $104,078.90
Sailing Spark (Topsail Maid) $94,282.23