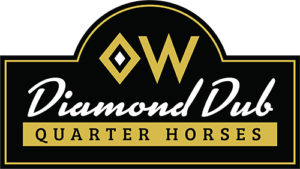 For Immediate Release – November 27, 2020 – Oklahoma City, Oklahoma – It was only a handful of years ago when Kalicia and Shane Walters got involved with reining, but in the time since, their Diamond Dub Ranch has become a household name in the industry. Now, the National Reining Horse Association (NRHA) welcomes Diamond Dub Ranch as an NRHA Corporate Partner.
While relatively new to the reining scene, the Walters are veterans in the horse industry. Shane is an avid team roper, and he and Kalicia bred ranch versatility horses for several years. All it took, though, was some time spent watching reining for the couple to adjust their plans for the ranch.
"I owned a store called Cactus Lillys, and had a booth at the 2014 NRHA Futurity," Kalicia recalled. "There was just something about the reining horses that was so finished and polished, and I knew I wanted one. I bought a non pro horse, and one thing led to another and we realized we wanted to be a part of reining."
As their passion for reining evolved, so did the breeding program.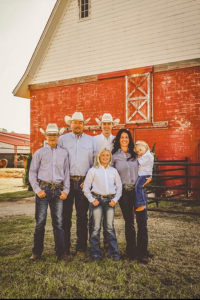 "We knew we wanted to focus on quality horses for our program, and one of our first purchases was the mare Electrinicki from Rhodes River Ranch," she shared. "Then we purchased Pale Face Whiz from Jordan Larson, as well as a few others. We changed up our game tremendously, focusing on quality over quantity."
The Walters are determined to leave a legacy of great reining horses for their children.
"We want this to be something our family does, and it's important to us that reining continues to grow," Kalicia said. "We were approached by John Tague from Toyon Ranch about helping with the Futurity Challenge. We donated to that, and then realized we could help more. We want to support and help grow this sport as much as we can."
Sammi Miller, NRHA Senior Director of Corporate Relations and Communications, noted, "Kalicia and Shane Walters have jumped in with both feet, ready to help grow our sport through their commitment to the Futurity Challenge and now as Corporate Partners. NRHA is excited to welcome Diamond Dub Quarter Horses into the NRHA Corporate Partner family!"
Although Kalicia won't be showing at this year's Futurity, the event will still be special.
"Electrinicki has three foals in the show pen for the first time this year, and we'll be there to support them," she shared. "We're planning to go be proud parents of them."
With Dany Tremblay at the reins, the Walters' stallion, Tinker With Dreams, was just crowned the 2020 American Quarter Horse Association (AQHA) Senior Reining World Champion.
"Fred and Dany do their homework, and Rhodes River Ranch has helped us a bunch," Kalicia said. "We are new so we're not afraid to get other opinions, and then we can talk it out and make our own decisions. We get as much help as possible."
Kalicia and Shane live in Marietta, Okla. Diamond Dub Quarter Horses is located on the former Washington Ranch, which was home to legendary cattleman Billy Washington. The ranch features 500 acres of lush pastures and is highlighted by an exceptional horse training and breeding facility. For more information about Diamond Dub Quarter Horses, visit their website at DiamondDubQH.com.