The annual American Horse Publications three-day conference features the Equine Media Awards Banquet. Held September 16 – 18 in Irving, Texas, this year, AHP's Equine Media Awards competition featured nearly 600 entries for materials published in 2020. After the entries were reviewed and the judging was complete, the National Reining Horse Association's monthly publication, the NRHA Reiner, and the marketing department received multiple awards.
Sara Honegger, Manager of Youth, Professional, and Affiliate Programs, helped create one of the award-winning entries. She also works closely with the production team of the Reiner. "These awards are such an honor to be a part of, and we couldn't be successful without such a strong team. Between our marketing, media and Reiner departments, we have such passion and talent, and I am proud to be part of the team," she said.
Gary Carpenter, NRHA Commissioner, reflected on the awards received by NRHA. "As proud as I am of what our Reiner and marketing staff accomplished in this competition, the key to me is that competition helps us stay sharp and keep our edge. Ultimately, it's the value we bring to NRHA members that matters."
Top NRHA Placing Entries
1st Place – ASSOCIATION PUBLICATION SERVICE TO THE CONSUMER SINGLE ARTICLE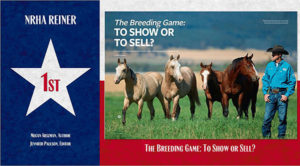 Megan Arszman, Author – Jennifer Paulson, Editor
The Breeding Game: To Show or To Sell? June 2020
Judge's Comments – This was a great article that easily rose to the top of this class; it was clear, concise, and incorporated a variety of quotes from varied breeders in the industry. All of that input and variability is what made this story so interesting.
2nd Place – BUSINESS EQUINE-RELATED SHORT VIDEO (2 MINUTES OR UNDER)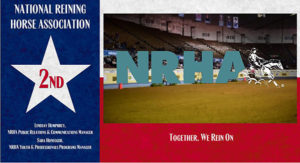 Sara Honegger, NRHA Youth & Professionals Programs Manager – Lindsay Humphrey, NRHA Public Relations and Communications
Judge's Comments – This touching, bittersweet short video conveys the plaintive status of the reining horse world in pandemic times. Great footage and stills and the soft background music come together with the voiceover. A good script with a natural delivery that sounds as if it's spoken by a rider. That much narration is often way too much, but it works here as a special message to the reining horse world.
For more information about the American Horse Publications, visit AmericanHorsePubs.org