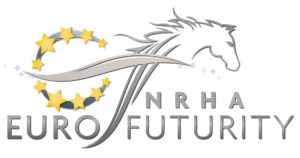 For Immediate Release – July 10, 2020 – Oklahoma City, Oklahoma – As reining events around the world start to organize again, the Italian Reining Horse Association (IRHA) is looking forward to the 2020 National Reining Horse Association (NRHA) European Futurity in Cremona, Italy, November 20–28.
Although IRHA is excited for a successful event, what started off as one image for the event at the beginning of the year, quickly changed due to COVID-19. At the beginning of March, European Futurity sponsor ELEMENTA announced that, with the intent to make an injection of confidence and support for the industry, they would contribute significant added money to the 2020 NRHA European Futurity purse. Following this announcement, the world went into quarantine as the global pandemic took over, forcing businesses to close, events to be canceled or postponed, and the overall worldwide economy to take a large hit–the reining industry being one of many sporting groups that felt the impact. After careful evaluation of every opportunity, ELEMENTA will not support the 2020 European Futurity as they originally announced, remodeling their corporate sponsorship for this year.
However, with the end of the lockdown hopefully on the horizon and new reining events starting back up (with specific limitations to keep everyone safe and healthy), the Italian show season is preparing to resume with regional championship competition. In addition, IRHA is proud to announce the added money for the 2020 NRHA European Futurity will be €230,000 and looks forward to seeing everyone in November at the Cremona Fair Grounds.
Press Release by Italian Reining Horse Association (IRHA).
The National Reining Horse Association is not responsible for the information contained in this press release. Please contact the author or submitting organization for further information, requests, or questions.