Talented and dedicated horsemen and women paired with gifted and prepotent horses have been mainstays in the reining industry since its beginning decades ago. That's why the National Reining Horse Association created the NRHA Hall of Fame in 1986. With the Reining Horse Foundation, these individuals, their achievements, and their contributions to the industry are celebrated and remembered.
Following the August presentation of the NRHA Hall of Fame Committee's recommended nominees, the Board of Directors and past Hall of Fame inductees voted to approve Jim and Pat Warren, Dutch Chapman, and Spooks Gotta Whiz for induction into the NRHA Hall of Fame.
Also announced was the selection of Dwight Sanders as the NRHA Dale Wilkinson Lifetime Achievement Award recipient for 2022.
"This year's class represents different aspects of the industry and as a whole are very diverse in the reasons they will be recognized," noted Mike Hancock, Chairman of the Hall of Fame Committee.
"You have the West Coast represented by Pat and Jim Warren, who have been fantastic owners, breeders, and supporters of the industry, and that continues today.
"Dutch Chapman has been around forever and is an institution on the East Coast, both as a showman himself and as a coach known for pairing horses and riders, at which he is second to none.
"Spooks Gotta Whiz had a show career that is incredible. He not only won what many refer to as the 'Triple Crown of Reining' but also won a gold medal at the World Equestrian Games. His offspring have been outstanding as well, winning every major event possible," Hancock shared.
"Then you have Dwight Sanders, who to my knowledge is the first person we have recognized for the Dale Wilkinson Lifetime Achievement Award from a support area of our industry. Dwight — through blood, sweat, tears, loyalty, and knowledge – has been a major part of the industry and was integral in making it what it is today."
On Wednesday, November 30, these honorees will be recognized and celebrated during Sliders' Night Out presented by Toyon Ranch.
Hancock added, "Our industry and membership continue to grow and transform. For that reason, it is important for us to keep our history in front of us so we can recognize and learn from the people and horses who have made it what it is today."
Pat & Jim Warren
In 2014, Pat Warren of Arizona was presented with the Dale Wilkinson Lifetime Achievement Award. This year, she and her husband, Jim, will both be inducted into NRHA's Hall of Fame.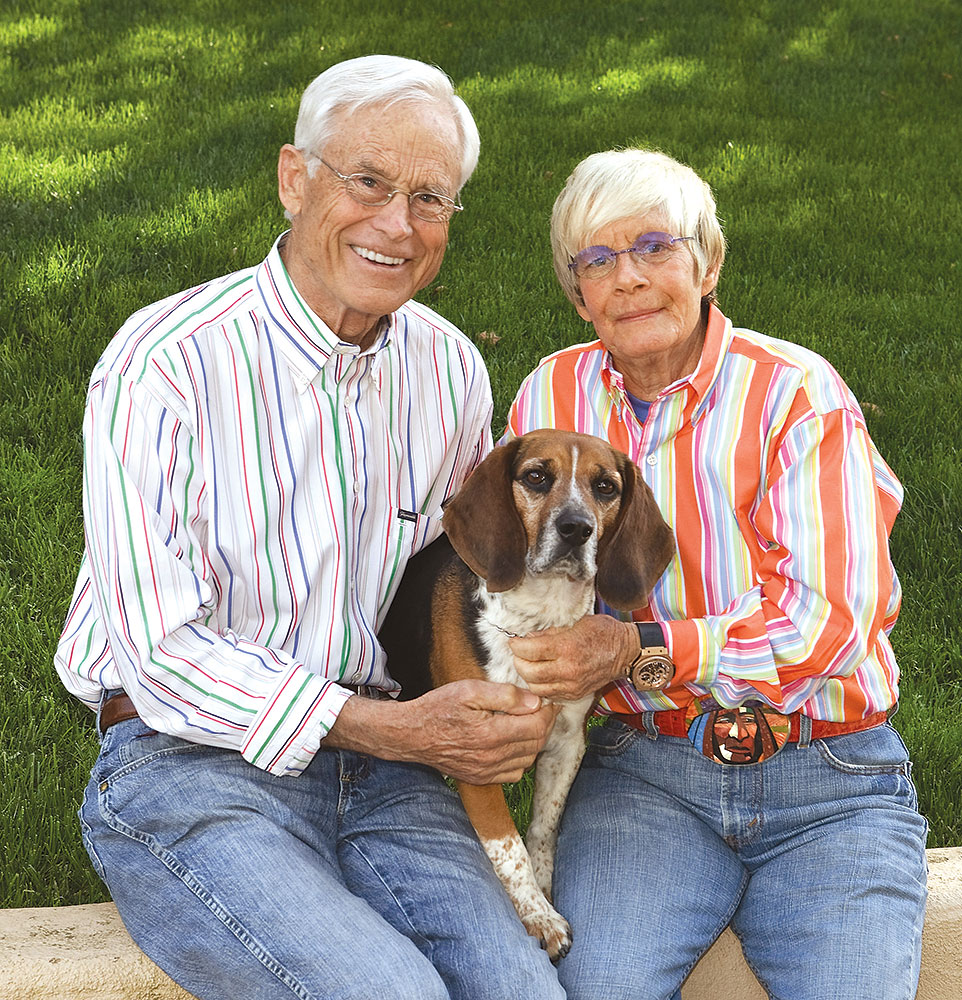 Pat is a lifelong horsewoman who got her start in the English show jumping world. She began riding with National Reined Cow Horse Association Hall of Famer Kenny Wold, who soon suggested she might be happiest riding reining horses.
Pat and Jim built a training facility and named it Rancho Oso Rio. At the time, no one could have predicted that the Arizona hub would be named an NRHA Two Million Dollar Owner, but the couple worked hard to acquire and develop NRHA Futurity prospects.
Pat and Jim hired NRHA Million Dollar Rider Dell Hendricks, who was then just emerging from an apprenticeship with NRHA Hall of Fame Inductee Bob Loomis, as their head trainer.
The Warrens' first big success came at the 1994 NRHA Futurity when Hendricks and Taris Little Vintage (Peppy San Badger x Taris Vintage) finished third. The next year, she won the Junior Reining World Championship for the American Quarter Horse Association.
While Taris Little Vintage was impressive in the show pen, she truly shined as a producer. Her first foal, Hollywood Vintage (by Hollywood Dunit), won more than $143,000. Seven years later, Taris Designer Genes (by Mr Boomerjac) hit the ground. Three years later, another future NRHA Million Dollar Rider, Randy Paul, piloted the talented mare to the 2006 NRHA Open Futurity Championship. The mare eventually won upwards of a quarter million dollars.
Eventually, Taris Little Vintage earned a place in the NRHA's Hall of Fame.
Rancho Oso Rio has produced countless performers, and in the early 2000s, another was born. Tinker With Guns (Gunner x Tinker Nic) won the Cactus Classic with Randy Paul before an injury sidelined him from competition.
Once recovered, he was placed with Andrea Fappani, now the NRHA's All-Time Leading Rider, and the stallion's earnings escalated to more than $345,000. In 2011, Fappani moved to Rancho Oso Rio as the ranch's head trainer.
While the Warrens' influence on the reining breeding industry can not be understated, it's important to recognize their great contributions to several of the Association's major events.
With Amanda Brumley at the helm, the Warrens helped bring to fruition the Reining By The Bay, the Cactus Reining Classic, and the High Roller Reining Classic, all shows that annually rank in the top 10 of NRHA-approved events.
Undoubtedly, West Coast reining would not be the same without the support of the Warrens.
Under the Rancho Oso Rio banner, the Warrens first became Million Dollar Owners in 2012 and reached the next rung on the Million Dollar Ladder in 2020.
"Pat and Jim have been part of this sport for a long time. They stuck with it and hired some of the most influential trainers in the business, including Dell (Hendricks), Randy (Paul), and myself. It's special because they have been part of the entire circle, from breeding and raising foals to Pat showing in the non pro to having very successful open-caliber horses," Fappani shared. "Pat and Jim are the perfect partnership. Pat has the vision, and Jim makes those visions reality. Jim supported his wife's passion in the beginning, and now he has that passion for it, too.
"Their impact on reining has been huge. Everyone owes them a great deal of respect and gratitude. They took the sport and helped it flourish. Without them, reining could not have come as far, as fast."
Spooks Gotta Whiz
Spooks Gotta Whiz proved his prowess in the show pen, earning more than $345,000. It quickly became apparent that the stunning stallion passed that talent on to his offspring, as his get has now won more than $4 million in NRHA competition. He is the only horse to be inducted into the NRHA Hall of Fame in 2022.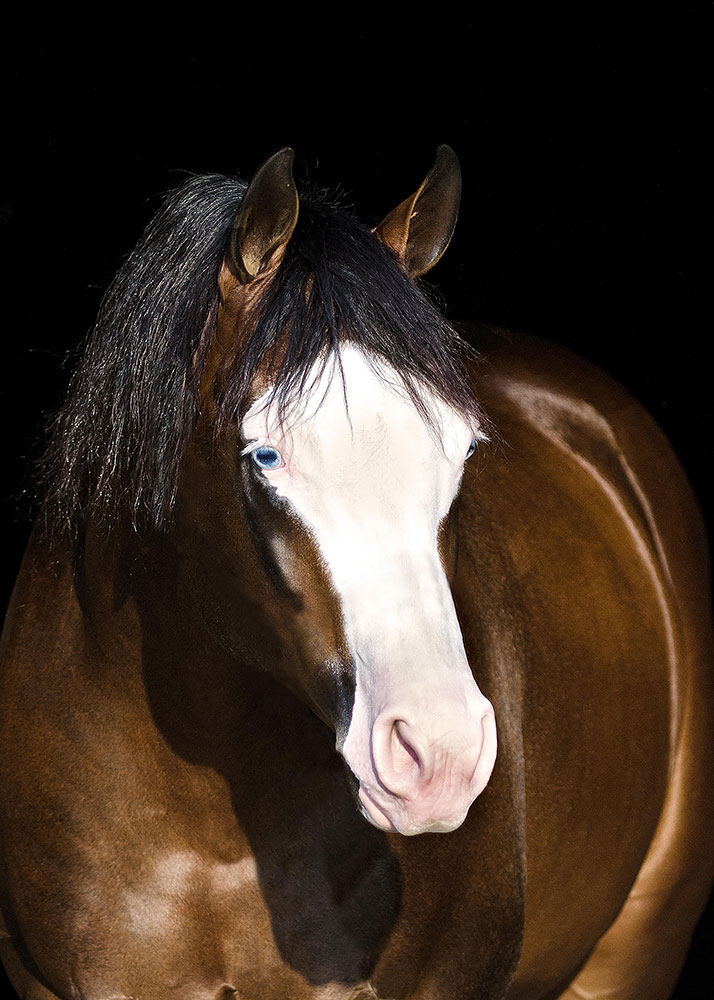 "The Hall of Fame Induction is a great honor and a huge milestone. I feel like I've been praying for this a very long time, and it means so very much to me," noted Michell Anne Kimball, who owns the 15-year-old stallion. "I love this horse. Every decision I have ever made on his behalf was to benefit his welfare and well-being and has been made deliberately. The horse's needs come first."
By NRHA Million Dollar Sire Spooks Gotta Gun and out of Prettywhizprettydoes, Spooks Gotta Whiz was bred by Clint Haverty. Kimball purchased the colt as a 2-year-old from Duane Hicks in 2009.
"As a 2-year-old, 'Baby' was flirtatious and gorgeous. The moment I sat on him I could tell he was going to be special," Kimball recalled. "I just didn't know how special he would become and how much he would change my life."
Started by NRHA Professional Tanya Jenkins, the flashy colt made a splash in his futurity year. With Jenkins at the reins, he finished third in the Level 4 Open at the Reining by the Bay Futurity and as the Level 4 Open Reserve Champion at the High Roller Reining Classic.
Then, just days before the 2010 NRHA Futurity, the colt moved to the barn of NRHA Professional Jordan Larson (now an NRHA Million Dollar Rider). Larson and Spooks Gotta Whiz tied for 11th in the first round of the Futurity and then finished fourth in the second go to advance to the Finals.
There, as the second-to-last draw, the pair put together a 227 to win the prestigious event.
In 2012, Spooks Gotta Whiz was teamed up with NRHA Hall of Famer Shawn Flarida. For their first outing, Flarida and the stallion won the Level 4 Open Championship at the National Reining Breeders Classic with a sky-high 236. They followed that debut with another Level 4 Open Championship, this time at the 2012 NRHA Derby. To date, Spooks Gotta Whiz is still one of only four horses to win Level 4 Open Championships at all those three events.
His prominent wins include:
2010 NRHA Level 4 Open Futurity Champion ridden by Jordan Larson
2012 NRBC L4 Open Champion ridden by Shawn Flarida
2012 NRHA L4 Open Derby Champion ridden by Flarida
Alltech FEI World Equestrian Games™ (WEG) 2014 Normandy Individual and Team Gold Medalist ridden by Flarida
"Spooks Gotta Whiz is a great horse himself with what he did and accomplished. He's a tremendous athlete with an awesome mind. When you see him in person, you're just in awe of him. When he walks into an environment, he commands your attention," noted NRHA Seven Million Dollar Rider Shawn Flarida.
Spooks Gotta Whiz began his breeding career in 2011 and has sired numerous major event champions, including 2016 NRHA Futurity L4 Open Champion Spooky Whiz, 2017 NRHA L4 Non Pro Futurity Reserve Champion Night Time Spook, 2019 NRHA L4 Non Pro Futurity Reserve and L3 & L2 Champion Gotta Get Diamonds, 2016 L3 & L2 Non Pro Futurity Champion and 2017 NRHA Non Pro L4 Derby Co-Reserve Champion Gotta Twist It Up.
His biggest winner to date is Spooks Gotta Spark (out of Dolittle Lena), with lifetime earnings exceeding $210,000. Spooks Gotta Spark finished second at the 2021 The Run For A Million presented by Teton Ridge with Flarida at the reins. Flarida and the stallion also teamed up to win the Senior Reining Championship at the 2021 American Quarter Horse Association World Championship Show.
"The offspring that I've ridden have just been phenomenal, and they speak volumes about their sire with what they've won and done. It doesn't matter what you cross on him – it works," Flarida said. "It's an honor to have been involved with such a great horse's career. Now it's fun to sit back and watch his children be good. I look at his foals all the time to try to get them into my program."
Spooks Gotta Whiz's Top 10 Money Earners (as of 9/1/2022):
Spooks Gotta Spark (out of Dolittle Lena) $210,585.45
Spooky Whiz (out of Myo Starlight) $186,042.62
Gotta Twist It Up (out of Make It With A Twist) $183,837.21
Spooks Show Time (out of Dolittle Lena) $175,582.06
Spooks Grand Slam (out of Shiney Diamond Lady) $150,458.28
Spooks Gotta Crush (out of Megas Sugar Baby) $149,597.73
Sharp Dressed Spook (out of Dolittle Lena) $120,523.22
Thebettertohearuwith (out of Chex Out The Cowgirl) $104,822.11
Seven On Seven (out of Anne Get Your Gunner) $97,455.46
Gotta Get Diamonds (out of Tinker With Diamonds) $81,744.47
"Jordan Larson winning the Futurity, and Shawn Flarida finishing his show career with wins at the NRBC, the NRHA Derby, and two Gold medals at the WEG in Normandy, France, cemented his opportunity to be a publicly standing stallion," Kimball said. "However, credit for making him a Multi-Million Dollar Sire goes to everyone who has bred, raised, trained, or shown his offspring. It takes a village to make this achievement a reality, and his village is comprised of everyone from one-mare owners to the top breeders in the industry."
Spooks Gotta Whiz currently stands at Cinder Lakes Ranch, an NRHA Corporate Partner, in Valley View, Texas. For more information, visit CinderLakesRanch.com.
Albert "Dutch" Chapman
Dutch Chapman had plenty of success on his own – including two NRHA World Championships – but the man's legacy can be best measured by the countless riders he trained and mentored, including youth, non pros, and professionals.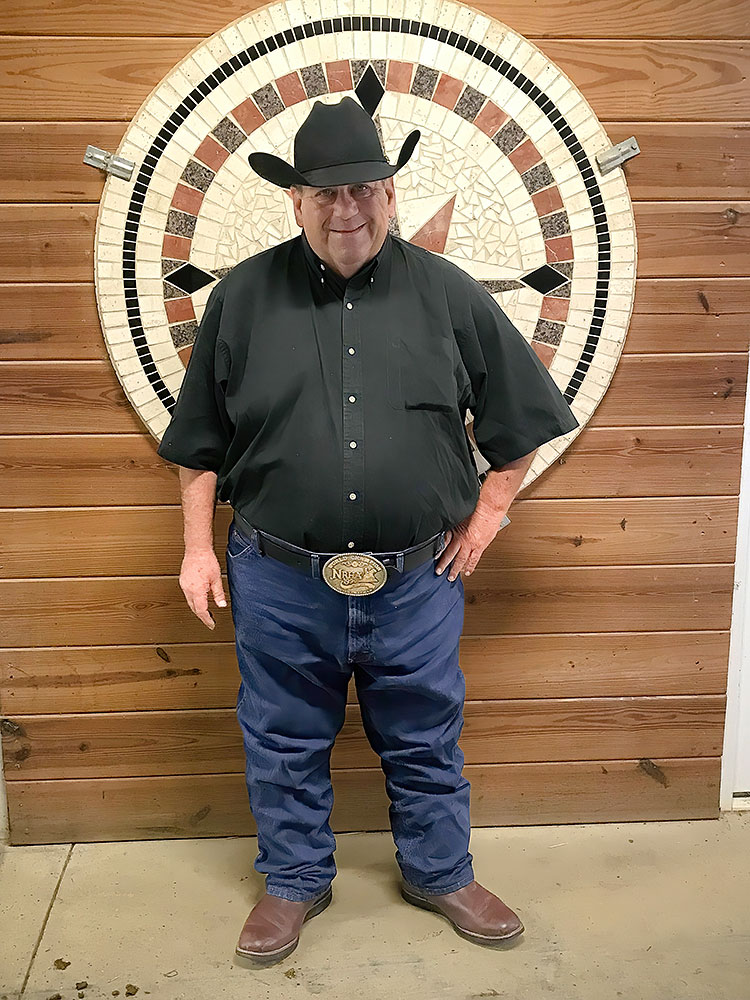 The list of trainers who have been part of Chapman's program is impressive and includes NRHA Four Million Dollar Rider Craig Schmersal and NRHA Two Million Dollar Rider Brian Bell.
Chapman got his first horse at age 9 when his parents traded one of their dogs for a little pinto mare. He got a saddle and learned to ride. It was with that pony named Trudy that he first began making money. A local Ford dealership had learned of him and his horse and paid the young man $50 a day to ride around in front of the dealership to promote the newly released Ford Pinto.
He entered his first horse show in 1972 and never stopped. When he was 12 years old, he attended a show where the judge would share their critique after the run. He was told he did "pretty good" but that he'd been on the wrong lead.
Unfortunately, Chapman didn't know what a lead was, but he met a man who did – fellow NRHA Hall of Fame inductee Charlie Smith. Smith began to teach the young man, and soon Chapman would be winning the junior classes while Smith would sweep the senior.
In 1985, when Chapman was 25, Smith invited him to work at his barn. Over the years they began to travel to NRHA events, resulting in countless wins and year-end championships.
In 1993, Chapman set out on his own and continued to coach and train.
He was as committed to his riders as he expected them to be to riding. "I really would push them to do good. I thought if you were good today, you could be better tomorrow," he recalled. "Some people came to me and said, 'I want to learn to rein and go show and have fun.' That's great, and there is a place for that. Others came to me and said, 'I want you to make me the best there is no matter what it takes.' I told those to be careful what you wish for. There will be days you might hate me, but I'm going to make you win."
Chapman has continuously advocated for the sport of reining, giving reining clinics in both the United States and Canada and performing reining demonstrations for events such as the Ride For Life Dressage Show and the Washington International Horse Show.
Karen Shedlauskus, a member of NRHA's Board of Directors and of the Hall of Fame committee, is one of Chapman's former students. "Dutch always said he was a horse trainer, a coach, a financial planner, and a psychologist. He'd work on the horses, provide instruction for his riders, help them figure out how they could afford it, and council them on controlling their nerves and acquiring a competitive strategy," she recalled.
Shedlauskus won two world titles with Chapman. "I'd probably not be active in NRHA today if I hadn't gotten involved with them. The program said, 'You can do this. We do not have the most expensive horses and big fancy rigs, but we can make it happen.' If you worked hard, Dutch would help you to get there," she explained.
Chapman still works, these days out of Rising Star Farm in Woodbine, Maryland. He can still be found mentoring trainers and teaching non pro and youth riders.
"The guys who worked for Dutch are still in the business, making a living at whatever level," Shedlauskus shared. "That's one of his greatest contributions to the industry."
Dwight Sanders – Dale Wilkinson Lifetime Achievement Award
Behind every great horse is a great farrier, and Dwight Sanders of Kenley, North Carolina, fits the bill. In his teenage years, he roped and rode bulls but seldom had anyone to shoe his horses. At 17 years old, he began shoeing his own horses, and soon other ropers were asking him to take care of theirs.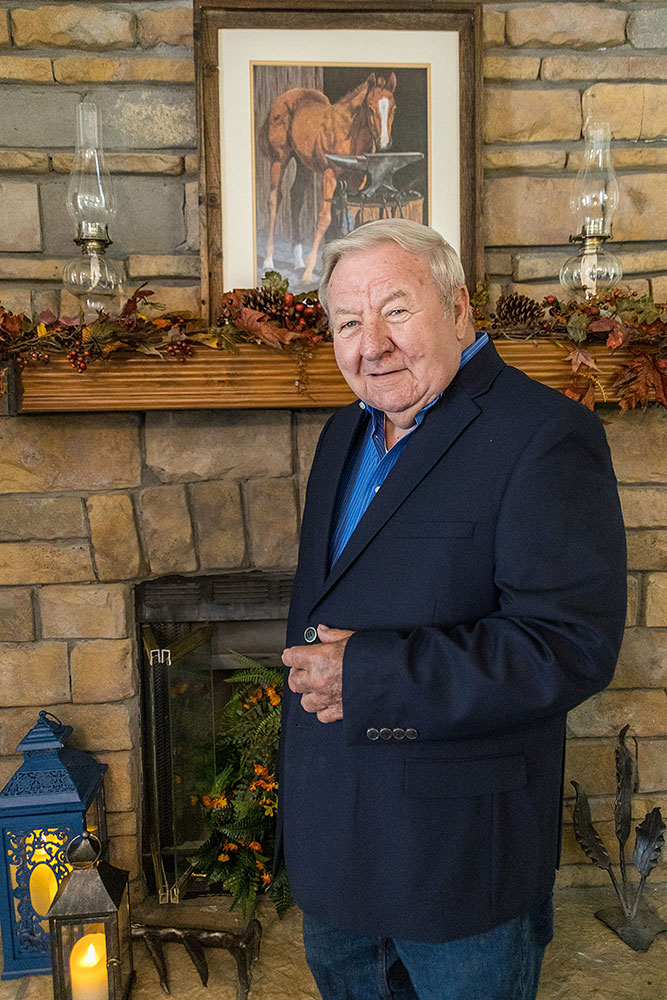 That was the start of a career that would span more than six decades.
He shod horses in many disciplines, ranging from saddlebreds to western pleasure and everything in between. He continued roping, but in the late 1970s, he was introduced to reining horses and Kay and Alan Potts. He'd had a rope horse in training with Butch Gardill, who made the transition to training reining horses. That inspired Dwight to learn about the event and how, through farrier work, he could maximize the abilities and strengths of reining horses.
At the time, there was no reining shoe that was being mass produced, so Sanders would have to take straight bar stock, turn it, and punch every shoe. He experimented with different-sized materials to learn how they would affect the horses.
Other blacksmiths heard about his endeavors and were soon calling for advice. He began to work longer hours – shoeing horses during the day, then making shoes to ship to other farriers.
He was invited to work with Anvil Brand Shoe Company to develop the equipment needed to mass produce a reining horseshoe and continued that work with Canada-based Equine Forging.
Over the years, Sanders traveled across the country and around the world as a clinician, teaching his skills and techniques to anyone interested.
At the 2002 World Equestrian Games in Jerez de la Frontera, Spain, Sanders shod for both the United States and Canadian teams. "He told people he'd been paid to see the world," noted his wife, Bonnie. "I have seen him work miracles on horses. He knew what it took for a horse to do his job and that a minor change could make a big difference."
Sanders has been the official farrier at many of reining's largest and most prestigious events, including the NRHA Futurity, NRHA Derby, All American Quarter Horse Congress, the Carolina Classic, the Tradition, the Firecracker, the Florida Classic, and more.
While he's known for his work with great horses and riders, he didn't discriminate. "He would take care of a lot of kids and 4H riders over the years," Bonnie recalled. "He also shod for the Ringling Brothers Circus."
Sanders never suffered from the back problems that tend to plague farriers. Before he retired in June 2021 just shy of his 79th birthday, he'd always told Bonnie he figured he'd die under a horse. "I told him, 'If you do, I hope it's a good one,'" she recalled with a laugh.
Now 80, Sanders remains active and is involved in long-range competitive shooting. His competitive nature and experience have led him to help form a new club.
Mike Hancock, one of Sanders' former clients, shared his thoughts on this year's Dale Wilkinson Lifetime Achievement Award recipient. "Dwight contributed so much behind the scenes and was a legend throughout the formative years of the NRHA. He still is today," Hancock shared. "I'm proud that Dwight will get the recognition for what he accomplished himself and for the sport of reining."
Recognition Ceremony
The Warrens, Chapman, Spooks Gotta Whiz, and Sanders will be honored at Sliders' Night Out presented by Toyon Ranch on November 30 at State Fair Park in Oklahoma City during the NRHA Futurity. The public is invited to attend the banquet and awards ceremony. The event celebrates the sport's history and also benefits the Reining Horse Foundation, the charitable arm of the NRHA. For details on how to become a Hall of Fame table host, an event donor, or to reserve individual seats, contact RHF Executive Director Leslie Baker at rhf@nrha.com or (405) 946-7400, ext. 106.