During the 2022 National Reining Horse Association Futurity, Martin Larcombe was able to make the finish line to $1 Million NRHA earnings when he marked a 221.5 in the Level 3 Open Futurity finals aboard Vincent Van Whoa (Spooks Gotta Gun x FM Master Tag Chex), pocketing $40,375 for a Reserve Championship.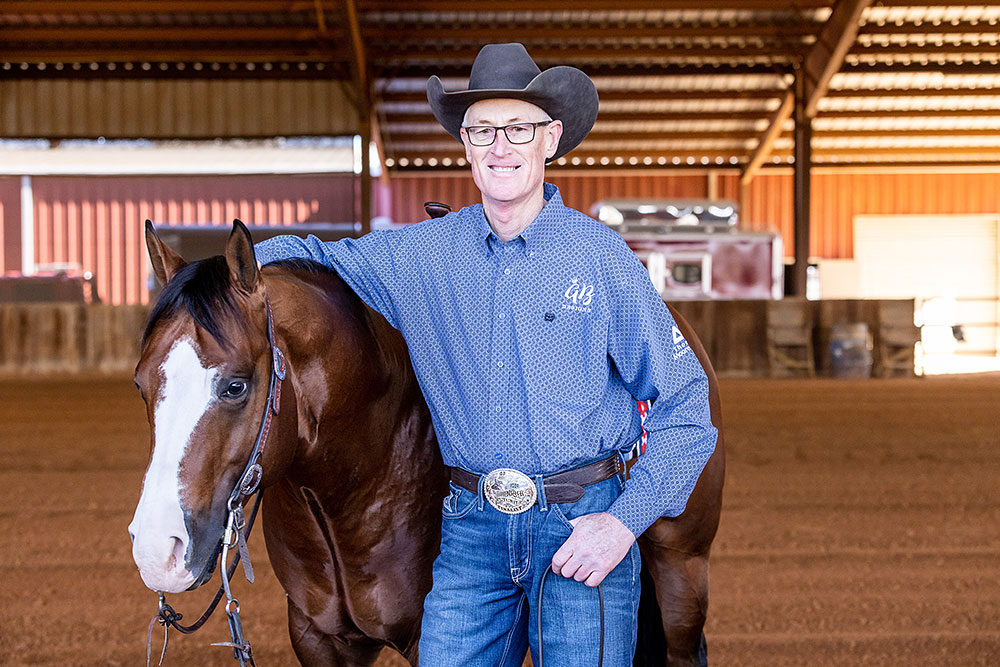 "You're just thinking about riding your horses that you have, and you have a little bit of an idea if everything goes okay what they are capable of and just let things fall where they may. There is always the pressure of going and doing well, the earnings milestones are just that, it's milestones along the way," Larcombe shares. "You know, I don't have a big barn full of horses, I tend to just try to concentrate on smaller numbers but better quality."
Larcombe, a multiple world champion rider originally from Australia, is no stranger to the winner's circle and certainly has earned his way into the million-dollar riders club. As a top contender inside the show pen himself with multiple world championships, not only in the United States but across the globe as well, he also takes on a huge responsibility to being an accomplished non pro coach in the industry. Larcombe was recognized and voted on by his peers to receive the 2021 Non Pro Coach of the Year award.
"I said to Sam [wife], you know, two or three years back, it's [million-dollar mark] something that I really wanted. The joke always was once I get there, we'll just go buy a house on the beach somewhere and retire," Larcombe laughs. "But it looks like that's not going to happen anytime soon, we're still here, just business as usual. So, we'll keep chugging along for a little while yet!"
When sharing who Martin would like to thank, he expresses, "My wife. We've been doing this for quite a while now, basically the better part of 30 years. She's been there through the whole journey. That's the main person I want to thank."
With the beginning of his career competing in rodeos and quarter horse shows, Larcombe, along with his family, has progressed to finding success in the sport of reining. Larcombe, along with his sister, Shauna Larcombe, were part of the first Australian reining team to compete at the 2010 World Equestrian Games. Shauna also competed in the 2014 World Equestrian Games in Normandy, France. His daughter McKinnon is also a devoted reiner and competes in large shows such as the NRHA Derby in Oklahoma City, OK, alongside her dad.
Larcombe spent eight years training in Europe, managing the CS Ranch in Givrins, Switzerland, before moving to work at the CS Ranch in Gordonville, TX. In 2018, he and his wife moved his base to Rabboni Performance Horses in Whitesboro, TX, where his family now resides and trains.
Career Highlights:
2022 NRHA Professionals No. 19 Money Earner
2022 NRHA Futurity Level 3 Open Reserve Champion
2022 SWRHA Futurity Level 3 Open Champion
2021 NRHA Non Pro Coach of the Year
2014 NRHA Derby Level 4 Open Reserve Champion
2013 Southwest Reining Horse Association Futurity Level 4 Open Champion
2010 Reining Australia Derby Level 4 Open Champion
NRHA Certified Professional Judge