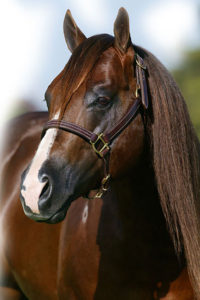 Less than a year after becoming a Seven Million Dollar Sire in the National Reining Horse Association, Magnum Chic Dream has passed another milestone. It was at the 2010 National Reining Breeders Classic that the stallion first joined the elite group of NRHA Million Dollar Sires, so it's fitting that this latest accomplishment was achieved at the same event.
Prior to the NRBC, held April 18 – 24 in Katy, Texas, Magnum Chic Dream, owned by Viola Scott, was less than $35,000 from $8,000,000 in offspring earnings. Throughout the week-long competition, Magnum Chic Dream progeny kept showing up in the results, and by the time the last run had been ran, the great stallion's foals had won more than $70,000.
Magnum Chic Dream, by Seven Million Dollar Sire Smart Chic Olena out of Sailin Barbee, was the eighth leading sire for the 2022 NRBC Classic and was fourth on the leaderboard for sires in the ancillary classes.
Magnum Chic Dream's leading foal at the NRBC was Onecoolchic (out of Skeets Red Dunit), who won the Classic Open Level 2 Championship and finished fourth in the Level 3 with Jimmy Van der Hoeven. All totaled, Onecoolchic earned $19,791 between the preliminary round and finals.
Magnum Chic Dream, born in 1996, was bred by Guy A Du Ponchel. The colt was purchased as a two-year-old in training with Patti Brownshadel by Viola Scott, who was looking for a new non pro horse to compete on. The plan had originally been to geld him, but his good nature and willing temperament kept that from ever happening.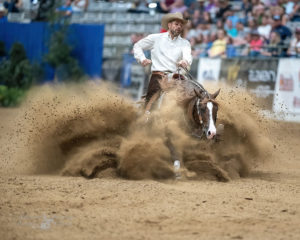 As the 20th century came to a close, Patti Brownshadel piloted him to the NRHA Futurity Open Level 2 and Level 3 Reserve Championships. The pair also placed in the Level 4 Finals. The next year the duo was the NRHA Derby Level 3 Co-Reserve Champions.
In 2002, Viola Scott finally took the reins of her stallion, racking up wins in Non Pro classes over the next couple years.
The stallion's final recorded win was a big one when Casey Hinton showed him at the 2004 American Quarter Horse Association World Championship Show to win the Senior Reining title.
Although Viola and her husband, Jack, had numerous offers on the stallion, she said she never thought twice about keeping him.
Magnum Chic Dream's first performing foal crop arrived in 2001, and as the stallion's offspring excelled in the show pen, his popularity grew. He has now sired numerous champions of the NRHA Futurity, Derby, and NRBC.
Magnum Chic Dream's Top Offspring (not including 2022 NRBC earnings):
Chic Dreamin (Skeets Red Dunit) $242,272
Taris Dreamer (Taris San Cutter) $194,311
Msdreamy (A Gal With A Gun) $191,720
Mega Maggie Mae (Cinco De Mega) $185,138
Made By Magnum (Ready Make Cowboy) $176,484
Chics Dream (First Ex Flame) $170,047
Lil Magnum Jessie (Lil Ruf Jessie) $166,274
Mr Farenheit (Wimpy Little Girl) $159,845
Chicsdundreamin (Goody Goody Dun Drop) $154,964
Magnum Starlights (Starlights Sugarwhiz) $144,800
Magnum Chic Dream stands at Cedar Ridge Stallion Station in Whitesboro, Texas. For more information, visit MagnumChicDream.com or CedarRidgeStallions.com.
Sliding photo courtesy of NRBC.