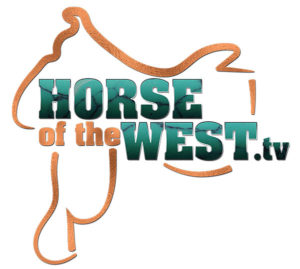 For Immediate Release – Feb. 11, 2021 – Oklahoma City, Okla. – Horse of the West will present highlights from the 2020 National Reining Horse Association (NRHA) Futurity on Monday, February 15 and 22, at 9:30 p.m., CST on RFD-TV. The first show will focus on the CINCH Non Pro Futurity Championship, where Mandy McCutcheon won her record 10th Non Pro Championship on Shining At Nite (Gunners Special Nite x A Shining Sidekick).
On March 1 and 8, enthusiasts can relive all the action of the MS Diamonds TX Open Futurity, including NRHA Six Million Dollar Rider Andrea Fappani's winning ride on All Bettss Are Off (Gunner x Wimpys Little Chic).
While the names and faces of the winners change regularly, Jenifer Reynolds and Chris Cook have been a constant presence over the past two decades. Co-owners of Sandbur Productions, which produces Horse of the West, they've captured the excitement and pageantry of the event for 19 years.
"At our first event in 2002, Chris was rolling as Shawn Flarida won on Wimpys Little Step with an incredible score of 233 – astonishing even to Shawn," Reynolds recalled. "His reaction was the first major reining moment we recorded. We knew it was a big deal but didn't realize how big at the time."
She added, "We have covered the NRHA Futurity and Derby every year since then. We love the horses as well as the people and have particularly enjoyed watching the kids grow up. Cade McCutcheon was a toddler when we first met him, playing with NRHA Hall of Fame Stallion Hollywood Dun It. We've covered Caden & Lauren Hanson, Taylor and Jacob Zimmeran, Madison Rafacz, and others since they were in Short Stirrup classes. It's been rewarding to see them grow into such earnest and polished performers."
Both Chris and Jenifer have become fans of reining, first for the excitement of the sports and the incredible horsemanship, and then for the people and the horses themselves. They have become close with many of the participants.
"Being with our friends in the reining industry as they achieve their lifelong goals is always a thrill, but we've also shared a lot of pain and disappointment with them," Reynolds shared. "It's a bond that makes our work feel very personal, and that's one thing we really like about it. When you work with people you care about, it makes you care more about your work."
Horse of the West began in 2007 as Inside Reining, a 13-episode TV show for NRHA. With NRHA's support, Reynolds and Cook elected to change the name to Horse of the West to underscore their ongoing efforts to draw a more diverse equine audience. The show now includes reining, cow horse, and barrel racing, and the show's ratings have gone from 1.5 million yearly to more than 5 million in 2020 (Nielsen 18+AA). "We have achieved our goal of building a bigger promotional tent for the horse industry," Reynolds shared.
The upcoming 2021 NRHA Futurity & Adequan® North American Affiliate Championships (NAAC) will mark 20 years of Sandbur Productions' cameras capturing the event's action.
"We'll do what we always do – cover it as it happens. Since Chris and I both have a background in news coverage, we don't try to choreograph anything ahead of time," Reynolds said. "We just roll as the event unfolds and let each episode tell its own story. Being there to witness the action in real time and trying to capture its essence for our audience is what we do and what we love. We feel privileged to have been able to do it for two decades, but we're still trying to figure out how we got this old."
Watch Horse of the West on RFD-TV (DirecTV 345 and Dish Network 231) Mondays at 10:30 p.m. Eastern Time.
Join Horse of the West crew Emmy Award Winning host Jenifer Reynolds and her husband, Emmy Award Winning Videographer Chris Cook as they cover reining action from events around the country and spanning the globe such as the NRHA Futurity, NRHA Derby, National Reining Breeders Classic (NRBC), Alltech FEI World Equestrian Games and Adequan® NAAC and many more. For more information, visit HorseoftheWest.tv.