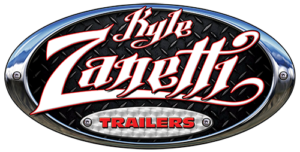 For Immediate Release – March 4, 2020 – Oklahoma City, Oklahoma – The National Reining Horse Association (NRHA) is proud to welcome Kyle Zanetti Trailers of Weatherford, Texas, as an NRHA Corporate Partner. The family-owned trailer manufacturing and repair company provides high-quality products and top-notch customer service to the equine industry.
Zanetti joins the association in 2020 as the official trailer of NRHA. They will sponsor the trailers awarded during the NRHA Derby and NRHA Futurity. Both the Level 4 (L4) Non Pro and Open champions will drive away with their very own Kyle Zanetti Trailer to use for 365 days.
With over 25 years of experience, Zanetti specializes in all things trailers: repairs, consignments, rebuilds, and custom manufacturing. Customers can rest assured they are driving away with a superior product from Zanetti. As a one-stop-shop, there is no need to go anywhere but Zanetti.
"It's an honor and privilege to partner with a great association such as NRHA," said owner and founder Kyle Zanetti. "We're committed to providing a safe mode of transportation for these amazing equine athletes. Whether we build a custom trailer, customize your current trailer, or keep up with your routine maintenance, Kyle Zanetti Trailers is your one-stop trailer shop."
This sponsorship arrives just in time for 2020 NRHA Derby presented by Markel as competitors get excited about the Oklahoma City event coming up in June. Horse-and-rider combinations from across the nation, and around the globe, will vie for the right to use the elite trailers provided by Kyle Zanetti and his family.
"Kyle Zanetti Trailers is in the business of manufacturing the best custom trailers within the reining industry," said Sammi Miller, senior director of corporate relations & communications at NRHA. Developing a partnership with a dedicated industry builder like Kyle Zanetti Trailers is a positive move for NRHA events and our members."
Stop by the Kyle Zanetti Trailers shop in Weatherford, Texas, to make your trailer dreams a reality. Learn more about Zanetti by visiting their website at kylezanettitrailers.com.