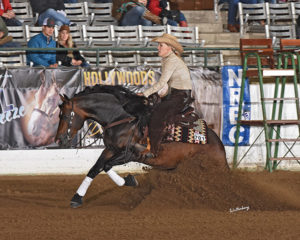 For Immediate Release – January 6, 2020 – Oklahoma City, Oklahoma – The National Reining Horse Association (NRHA) and Art of the Cowgirl are teaming up to present NRHA Professional Kari Klingenberg during the 2020 event. As a first-year event sponsor, NRHA will be featured in the trade show while Klingenberg will talk about her career in a demanding, ever-evolving industry.
Hosted Jan. 24–26, 2020, in Phoenix, Arizona, the event features women every facet of the Western industry and celebrates their contributions to the Western way of life.
Klingenberg was the "horse-crazy girl" who simply never grew out of what most deem "just a phase." At the ripe age of 12, this Stanwood, Washington, native tried every discipline under the sun until eventually landing in the stock horse and performance arena.
After a career as an assistant trainer riding a kaleidoscope of horses, Klingenberg found herself working for reining and cow horse trainer Sue Sultze. This propelled Klingenberg to become a top rider, and in 2008 she took a leap of faith as she struck out on her own and started Klingenberg Performance Horses.
"I have definitely taken the path less traveled," Klingenber said. "When I started my own business I didn't have the experience to do it; but I had the desire and the determination to try. I also had a strong belief that I was going to be successful."
Both Bob Avila and Troy Heikes mentored and coached Klingenberg throughout her career. Shawna Sapergia was also a major influence, inspiring Klingenberg to believe that women have a place at the professional trainers' table and are valuable contributors to the industry.
Women making waves in the Western industry is the vein of truth that formed Art of the Cowgirl. This speaks to Klingenberg on a personal level as she grew up with strong female role models who prepared her for this career path.
"I have a soft spot for little girls and teaching," Klingenberg said. "I think girls of all ages need to be super tough and learn there are no limits of what they can accomplish. It's important for girls of all ages to see other women who have conquered big things."
Klingenberg will speak twice during the event: Friday, Jan. 24 at 3:30 p.m. Arizona time and Saturday, Jan. 25 at 1 p.m. Arizona time. Don't miss out as Klingenberg travels down memory lane in hopes of inspiring the next generation of horsewomen.
"It's an honor for me to be a part of this, and I'm really excited about it," Klingenberg said. "Everyone makes huge scarifies to be able to live this lifestyle; to be a part of it and share the way that I've done it is very humbling."
For more information about Klingenberg, visit kariklingenbergph.com/about. For ticket information and a detailed schedule for the Art of the Cowgirl, visit artofthecowgirl.com.