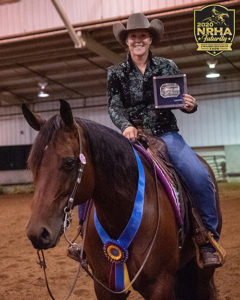 On Friday, October 27, the Limited Non Pro competition of the National Reining Horse Association (NRHA) Adequan® North American Affiliate Championships (NAAC) took place in the Adequan® Arena at State Fair Park in Oklahoma City, Oklahoma. In addition to the aged event taking place in the Jim Norick Coliseum, the NRHA Futurity features exhibitors from across North America who qualify to compete here in Oklahoma City.
In addition to incredible prizes from NRHA Corporate Partners, the champion of each of the 17 NAAC classes will be presented an Adequan® Championship vest the following day in the Jim Norick Coliseum as a show of support for these successful affiliate riders.
Jenny Ricotta topped the Adequan® NAAC Limited Non Pro riding her horse Miss Whizzletown to a 216 for earnings of $689. Ricotta also won the ancillary Limited Non Pro class that was run concurrently for another $236.
Miss Whizzletown is by Hollywood Tinseltown and out of the mare Rewind N Whiz. The 7-year-old mare was trained by Ricotta's husband Marco.
"Marco and I raised her, she actually was orphaned so we raised her on a bucket," Ricotta said. "Marco did all the training and the majority of the showing. After the NRBC this year, I told him, 'My turn!' So, I've been riding her since then and showed her at the Best of the West in October and got qualified to come here."
Ricotta says the stunning bay mare navigated the pattern with solid precision today.
"She was really good everywhere, everything I asked of her she did," Ricotta said. "I had a little bit of trouble with my second lead change, but it was totally rider error. She was really good, she's honest and she's always there for me."
Ricotta will enjoy another chance at a title when she shows Miss Whizzletown again on Tuesday in the Non Pro.
"Then she's going to be a mama," Ricotta added. "She's already got five foals on the ground but now she's going to carry."
Ricotta thanked her husband for his support and willingness to share a horse that he considers his prized equine partner.
"I'd for sure like to thank Marco, he told me, 'I get so jealous when anyone else rides that mare,' so she's his baby," Ricotta said. "So, it's really awesome that he let me take over."
Ricotta will take a host of top-notch awards home to Scottsdale, Arizona, including a Bob's Custom Saddle, a Platinum Performance champion's jacket, a 10-lb. bucket of Platinum Performance, a custom Montana Silversmiths trophy buckle, a Bluebonnet Feed gift certificate, SmartPak SmartTherapy Quick Wraps, a garment bag from Brandt Blankets, a Classic Equine fleece cooler, and Eqvalan from Dr. Joe Carter.