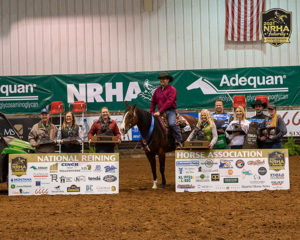 It was the Jared Leclair and Gunningthebay show Sunday at the National Reining Horse Association Adequan® North American Affiliate Championships. Leclair and the 5-year-old mare won NAAC titles in the Novice Horse Open Levels 1 and 2, and won the ancillary divisions of the Novice Horse Open Levels 1-3, for total earnings of $5,229.
Not only that, Leclair took a bevy of prizes home to Tioga, Texas, including two saddles from AM Superior Saddlery, two Montana Silversmiths buckles, product from Dr. Joe Carter, Platinum Performance and Classic Equine, and gift certificates for Bluebonnet Feed.
"We showed Pattern 3 today, and that's not one you get to show a lot. This mare was great. She stopped and turned big, and circled and changed leads really well. She was just super easy to show," Leclair said.
Gunningthebay is by NRHA Four Million Dollar Sire Gunners Special Nite out of Dun It In The Bay. Jared and his wife Karla have owned her a little over a year. "We bought her from my assistant Christy Jardetzky. "I've shown her, my help has shown her, and we've won about $8,000 on her. She's been a great show horse. My wife is going to show her next year in some aged event stuff, so I've just been building her and creating a nice horse to show," he said.
Leclair added that the competition in the Adequan® Arena has grown increasingly tough. "It's a really big deal to win now. It's a tough competition with a lot of entries because there are a lot of people going for it. NRHA has put a lot of thought into making this a big event. The association has done its part, and the trainers and non pros have done their part by showing up and participating in it. The proof is in the pudding when there are that many people here showing," he said. "I thank my wife, who is a huge supporter of mine and is always working behind the scenes. I also thank my help because they have been great, too. I couldn't do it without them."
Tying for second in the NAAC Novice Horse Open Level 2 with scores of 219.5 were David Hanson and Jesse Gentile. Hanson rode Xtra Needs A Drink (Wimpyneedsacocktail x Ruby Chic Olena), owned by N Anne Driscoll, while Gentile rode Taking A Mistress (Taking A Rest x Gangster Mistress).
Gentile and Taking A Mistress, owned by Bevin Zimmerman, also finished reserve in the NAAC Novice Horse Open Level 1. The pair also won the NAAC Limited Open Championship held yesterday.
Complete results, news, and more can be found at NRHAFuturity.com.