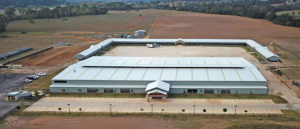 It's an exciting time for reining down under. That's because the National Reining Horse Association affiliate organizations that make up the Oceania Region Council have come together to create the inaugural Oceania Regional Championships. The 2021 Championships, slated for June 28 – July 4, will be hosted by the New South Wales Reining Horse Association at its annual State Show at K Ranch in Sydney, Australia.
While the concept of regional organizations hosting major NRHA championships is not new in other parts of the world, it is a first for this region. Rob Lawson, Chairman of the Oceania Council said, "It is an exciting time as it allows us to try new and imaginative ideas to grow our industry through our clubs!"
Lawson, who operates Lawson's Performance Horses in Bungonia, New South Wales continued, "The offers of support from the other clubs have been heartening, with the overwhelming sentiment that it is 'our' Regional Championships. It is these clubs working together that will make this work!"
The clubs involved in the Regional Championships are the NSWRHA, Orana Reining Horse Association, Victoria Reining Horse Association, Goulburn Valley Reining Horse Association, South Australian Reining Horse Association, Collie Western Riding Club, Calliope Sliders Reining Horse Association and Southern Cross Reining Horse Association.
NRHA Commissioner Gary Carpenter said, "Observing the energy and vitality of our reining friends in Australia is incredibly rewarding. We can't fully comprehend the trials they have been through to get to this point. The pandemic, wildfires, and the challenges that change brings – they have overcome them all and are poised to bring a new day to our sport."
K Ranch's owner, Mick Kearney has had a significant impact on the NSWRHA as K Ranch has been its home base for the last 6 years and a close partnership has evolved over that time.
More information about the 2021 Oceania Regional Championships can be found here.