The Jim Norick Arena at Oklahoma State Fair Park was rocking on Thursday, June 23, when the Invitational Freestyle presented by the Oklahoma City Convention & Visitors Bureau started rolling. For the first time in years, the Freestyle was held during the 6666 National Reining Horse Association Derby presented by Markel, as it's usually held during the association's Futurity in the winter.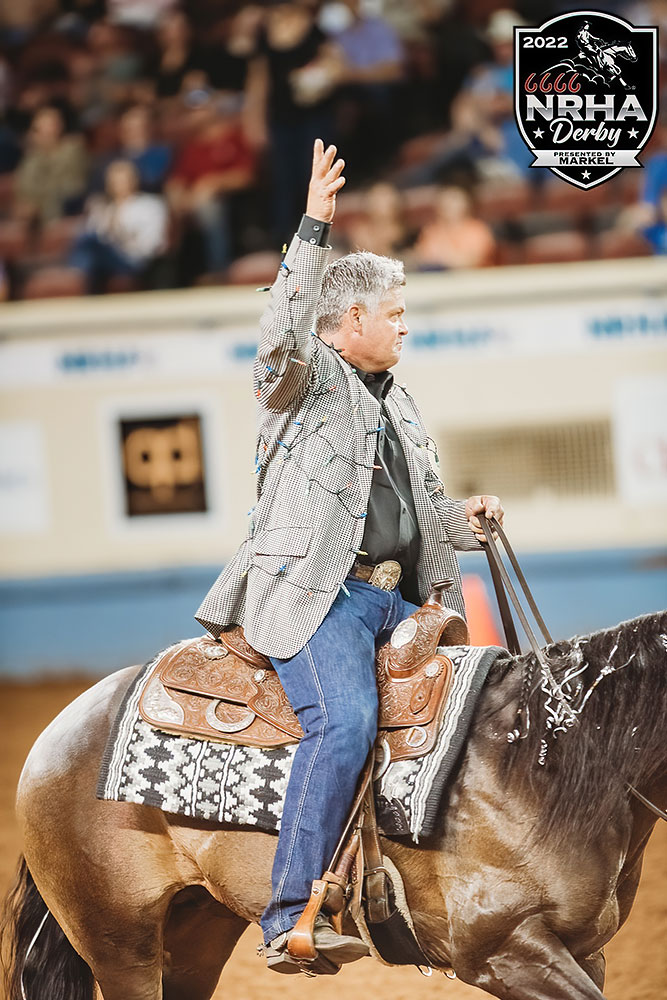 NRHA Executive Committee member and Freestyle contestant Shane Brown said he was thrilled to have the competition during the Derby. "I am glad it's back here because this is where it originated," he shared. "I appreciate the OKCVB for putting the money up for this event. I think the more we can promote the class, the better. We want people who aren't horse people to come watch this – the ones who have never ridden a horse – because if they see it they will be entertained and might want to know more about reining."
Entertainment was abundant, and the genre of music ranged from Amazing Grace to Fat Bottomed Girls. Most importantly, though, was the quality of maneuvers during the competition.
In the end, it was Hava Vital and her horse Gunna Chic This (Magnum Chic Dream x Gunna Joy) who topped the class with a 225.5, winning an incredible $6,523 with their routine to the "Moulin Rouge" hit song "Lady Marmalade."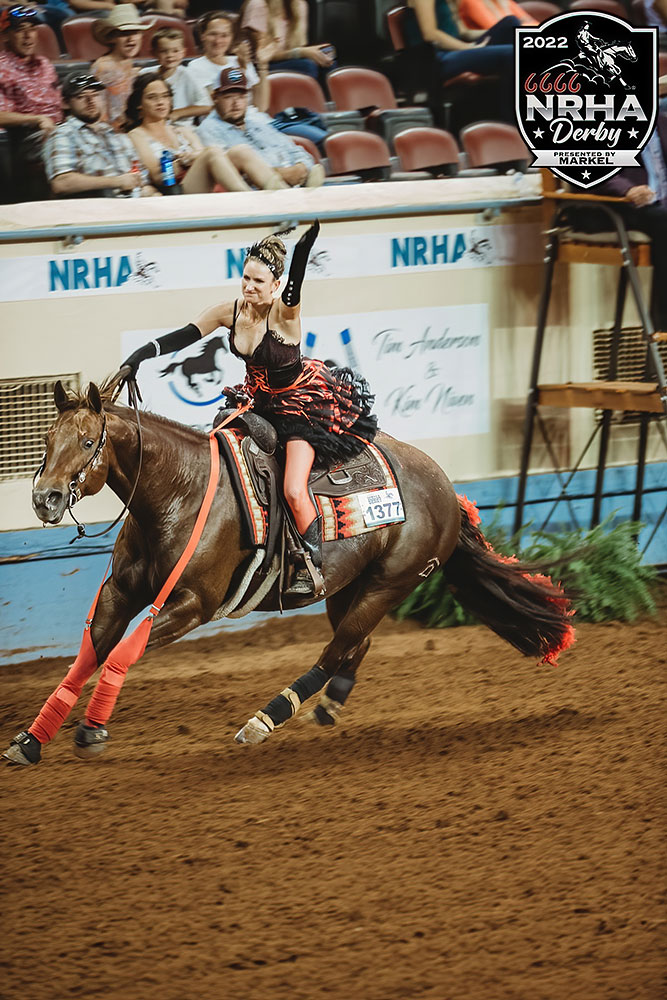 "This whole routine was very spontaneous. I didn't really plan anything besides the first part of it – I just went with it and the music," Vital shared. "I asked a lot of questions beforehand, especially from Shane Brown about what I could and couldn't do. It was just really fun."
So how did Vital decide on the upbeat routine? "I had done one other freestyle to it before I came to the United States, and I wanted to do it again. When we got here, I Googled rental costumes in Oklahoma City, and one came up that was a little suspicious, but I walked in and saw the costume and knew it was it," she said.
Vital added that the $20,000 in added money was a motivator to enter, and the payout was appreciated. "I think this is great. It will go to this mare's lifetime earnings, and I'm getting babies from her. Plus, I have bills to pay, so this will help," she said.
Taking second in the Freestyle with a score of 223.5 was Abby Budd and her horse Cromed Up (Cromed Out Mercedes x Rest Up). The pair's bridleless routine to "Can't Stop The Feeling!" was rewarded with a check for $5,180.
Rounding out the top three was Brown and Susan Harding's horse Xtra Chex Step (Wimpys Little Step x RM Chexicallie Rose), who performed to the Jamey Johnson hit "In Color." Their score of 223 was paid off to the tune of $3,837.
Other contestants included Abigayle Mixon, NRHA Hall of Famer Doug Milholland, Amber Morgan, Becca Schaffhauser, Troy Heikes, Ari Micho, and Randall Dooley.