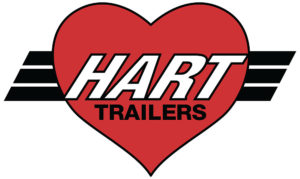 When the 2022 Level 4 champions of the 6666 National Reining Horse Association Derby presented by Markel leave Oklahoma City, they'll be doing so in style. This year's largest prizes, a year's usage of a Hart Tradition Four Horse Gooseneck with the Original Smart Tack for the winner of the Open Futurity, a Solution Four Horse with Smart Tack II for the Open Derby, and Hart Solution Three Horse trailers with the Smart Tack II in the Non Pro divisions of both the Derby and Futurity, come courtesy of NRHA's newest Corporate Partner, Hart Trailers.
For more than 54 years, Hart Trailers has been privately owned and operated by the Hart family. That kind of longevity has become increasingly rare in today's fast-paced environment and is one of the numerous reasons NRHA Commissioner Gary Carpenter is excited to have the brand as an NRHA Corporate Partner. "In a world where everything is moving fast, it's a comfort to be partnered with a business that has the reputation of being steady and reliable, and Hart Trailers is the epitome of endurance," Carpenter said.
Tracy Hart Graham, Hart Trailer CEO, added she looks forward to seeing this new partnership flourish. "The NRHA has a wonderful name and is a great organization, and it was something that we felt would be a good fit for us. We strive to make a good quality product, and we like to be partnered with people and organizations who feel the same way we do," Hart Graham shared.
An exciting addendum to this new Corporate Partnership is that Hart Trailers is also NRHA's Official Para Reining Sponsor. That stemmed from Hart Graham's involvement with Amberley Snyder, a professional barrel racer who is paralyzed from the waist down but still competes at the highest levels.
"We built a trailer for Amberley in 2018, and it was our first time to work with someone who was in a wheelchair. We developed a great relationship with her, and she came back to us in 2020 to design a trailer with a living quarter that would accommodate her and her team on the road," Graham Hart recalled. "To be a part of her journey, and to design this trailer for her specific needs so that she can continue to strive to reach for her goals, has been very inspiring. When we realized that NRHA had a program to support the riders in para reining, we knew it was something we wanted to be a part of."
Hart Graham's parents, Anthony and Kay Hart, started the company in 1968. From the age of 10 years old, she was working in the shops. "I drove my father crazy until he eventually handed me a broom one day and said, 'Go to work,'" she recalled. "I went to work that day, and I have never looked back. There is not a day that goes by that I am not thankful for what I do."
Hart Graham added that it's not only the company that has proven to have staying power; the Hart employees do, too, with many having been there for more than a decade!
"When you learn about Hart Trailers, you immediately get a sense of family. This partnership between our reining family and the Hart Trailers family just feels right," Carpenter said.
To learn more about Hart Trailers, watch this short documentary, or visit HartTrailer.com.