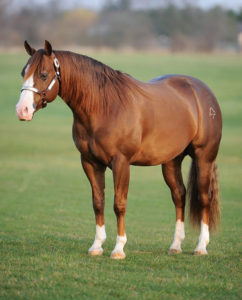 Gunnatrashya, a 2006 sorrel stallion by National Reining Horse Association $12 Million Sire Gunner out of Natrasha, first became an NRHA Million Dollar Sire in 2017. In every subsequent year, the stallion, owned by Arcese Quarter Horses USA, has passed another million-dollar milestone, and with less than two months remaining in 2021, he's done it again.
Gunnatrashya foals won more than $30,000 at the recent Southwest Reining Horse Association Futurity, including Makin A Little Trash (Xtra Voodoo Dora), who finished third in the Level 4 Open and reserve in the Level 3 Open.
Gunnatrashya's first foal crop burst onto the reining scene in 2014, with show pen standouts ARC Gunnabeabigstar (LTE $289,999) and ARC Gunna Sparkya (LTE $119,605). That initial success was just a glimpse into what has become a historic stallion career.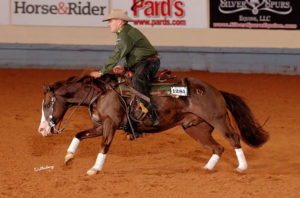 Gunnatrashya, bred by Katarina Dorminy, had just as successful of a career in the show pen as he has had in the breeding shed. With NRHA Six Million Dollar Rider and Hall of Fame Inductee Shawn Flarida at the reins, Gunnatrashya was the 2009 NRHA Open Futurity Champion, the 2010 NRHA Open Derby Champion and the 2009 All American Quarter Horse Congress Open Futurity Champion. Even with limited showing, he accumulated more than $218,000 in NRHA lifetime earnings.
Gunnatrashya's top-earning offspring are:
ARC Gunnabeabigstar (out of Wimpys Little Chic): $298,999
Super Marioo (out of HA Chic A Tune): $285,348
Inferno Sixty Six (out of Snip O Gun): $205,690
Gunna Stop (out of Stop Little Sister): $172,762
ARC Gunna Mark Ya (out of Shiney Miss Marker): $163,877
Gunnabebigtime (out of Big Time Jazzy): $147,486
Gunnarickashay (out of Rondas Tio): $147,229
Loveya (out of Love Em N Lena): $131,861
ARC Gunna Sparkya (out of Sailing Spark): $119,605
Diamond Studded Guns (out of Like To Flo): $110,814
Congratulations to Gunnatrashya and Arcese Quarter Horses USA.