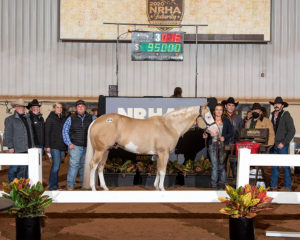 Catalogs for the 2021 National Reining Horse Association Markel Futurity Sales are arriving in mailboxes around the globe, while many reining enthusiasts have already begun perusing the consignments through the Sale's new website and mobile app.
Regardless of how people choose to do their research, it's clear that the quality of horsepower consigned this year, slated for December 2 at the NRHA Futurity, is high as ever.
Twenty-six NRHA Million Dollar or higher stallions account for 122 foals in the sale, including all three NRHA $12 Million Sires (Wimpys Little Step – 2, Gunner – 8, and Topsail Whiz – 3).
There have only been three stallions to win all three major NRHA events – the Futurity, the Derby, and the National Reining Breeders Classic. Two of those three, A Vintage Smoke* and Not Ruf At All, each have a foal in the sale, while Spooks Gotta Whiz* has 12.
The stallion most represented in this year's NRHA Markel Futurity Sales is NRHA $5 Million Sire Gunnatrashya, with 22.
The mare power is equally impressive. NRHA Million Dollar Dam Princess In Diamonds has one foal in the Sales, as does All Ruffed Up, dam of NRHA Million Dollar Sire Not Ruf At All.
Ebony Spook, dam of the second and third high sellers for the 2020 Select Yearling Sale (Vintage Ebony and Spook Electric), has the most foals in this year's Sales, with six.
Cremes Chic Olena, dam of the 2019 Marketplace Sale High Seller Xtra Half N Half, has two foals consigned to this year's Sales, while Unquestionably Crome, dam of 2019 Select Yearling High Seller Inferno On Ice, has one.
Other notable dams include Gunnersspecialsister (full sibling to NRHA $4 Million Sire Gunners Special Nite), Icing Required (dam of Run For A Million Co-Champion No Smoking Required), and Mifs Doll (dam of NRHA $4 Million Sire Gunners Special Nite).
Prior to the four regular Sales, 11 breedings to great stallions will be auctioned to benefit the National Reining Horse Youth Association. That stallion lineup includes Colonels Shining Gun, Dun It For Whizkey, Gunner Dun It Again, Hey Joe, Inferno Sixty Six, No Smoking Required, Patriot, PS Mega Shine Chic, Spooks Gotta Spark, Tinker With Dreams, and What A Wave.
The Sales will continue with the all-on-one-day concept begun in 2020, so all the Markel Futurity Sales will be held on Thursday, December 2. Also, the two-year-old preview opportunities have been modified and expanded into two-hour sessions in Arena 6 held on November 30 and December 1 at the conclusion of each day's Futurity Semi-Finals.
The Sales will also return to Barns 3 and 4, where they have been traditionally held, and will begin at 10 a.m. December 2 with the Futurity Prospect Sale, followed by the Elite Yearling Sale and the Preferred Breeders Sale. The Premier Sale will finish out the day.
*Includes Covering Sire