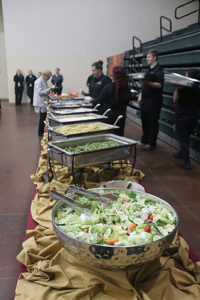 For Immediate Release – October 15, 2021 – Oklahoma City, Oklahoma – Even if you are away from home during the NRHA Futurity & Adequan® North American Affiliate Championship Show, enjoy a meal with your reining family at the Thanksgiving Buffet hosted by the Reining Horse Foundation. The buffet is offered Thanksgiving Day, November 25, from 11:00 a.m. to 2:00 p.m. in the Sale Arena at State Fair Park.
Over the past decade, exhibitors have come to appreciate the meal as a relaxing way to mark the holiday without leaving State Fair Park or searching for other dining options. The delicious buffet prepared by Impact Catering features traditional Thanksgiving dishes like turkey, mashed potatoes, vegetables and two flavors of pie—pumpkin and pecan. The turkey carving station is back!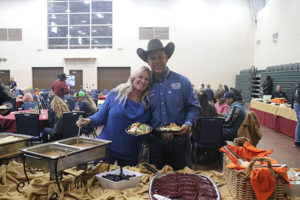 The Reining Horse Foundation, the charitable arm of the National Reining Horse Association, hosts the event to provide goodwill to the reining community. Donors to the Foundation's annual fund, the Reiners Club, can receive complimentary meals at the Contributor, Partner and Champion levels of $1,000 and above.
Futurity participants and trade show vendors are encouraged to make advance reservations on or before November 24 to take advantage of the lowest pricing: $35 per adult, $14 for children 5-12; and free for ages 4-and-under. The Reining Horse Foundation underwrites children's meals to encourage families to keep the holiday tradition of dining together.
New in 2021, pay for the event online when making advance reservations.
Reserve your tickets now at nrhafuturity.com/events.
Advance reservations for this event help make sure there is enough food and seating. Walk-up pricing increases to $55 per adult and $20 each for children 5-12.