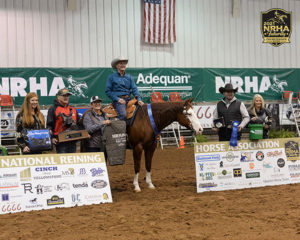 On Friday, Nov. 26, the Limited Non Pro competition of the National Reining Horse Association Adequan® North American Affiliate Championships took place in the Adequan® Arena at State Fair Park in Oklahoma City, Oklahoma. In addition to the aged event taking place in the Jim Norick Coliseum, the NRHA Futurity features exhibitors from across North America who qualify to compete for prestigious titles in Oklahoma City.
In addition to incredible prizes from NRHA Corporate Partners, the champion of each of the 17 NAAC classes are presented an Adequan® Championship vest the following day in the Jim Norick Coliseum as a show of support for these successful affiliate riders.
Glen Roach, of Spanish Fork, Utah, topped the Adequan® NAAC Limited Non Pro riding Freckles Nu Lil Gun to a 218 for earnings of $727. Roach also won the ancillary Limited Non Pro class that was run concurrently for another $222. The pair also won prizes including a saddle from AM Superior, a Montana Silversmiths buckle, product from Dr. Joe Carter, Platinum Performance and Classic Equine, and a gift certificate for Bluebonnet Feed.
"This mare had a really good run and then buried it on all three stops at the end. It was a fun ride," he recalled.
The pair competed as draw 13 of the 111-horse class. "I was ok until they got to draw 70 or 80 and I realized I was holding the lead. That made me a little nervous so I spent the last hour pacing and waiting to see who would pass me, but that didn't happen," he said. "So, it's great!"
Freckles Nu Lil Gun, owned by Kathleen Roach, is by Lil Gun out of Nu Bar Freckles. The 13-year-old mare has had an extensive show career, over which she has earned more than $63,000.
"We bought her a few years ago and my wife has shown her and I've shown her. We've bred her and so we have some babies from recip mares, and we're very excited about that," Roach said. "She's just so easy going and tries her heart out to do whatever you ask her to do. She's not afraid of anything, and doesn't get excited, so that's probably the best part about her."
Roach added that he and Kathleen spend a lot of time riding outside the arena, including trail riding through the mountains. "We do all sorts of things to keep them fresh so they're not in the arena all the time," he explained.
The week's not over; Roach and Freckles Nu Gun will show next week in the NAAC Non Pro and Intermediate Non Pro. "We've just been meeting a lot of people and hanging out," Roach said. "I thank my wife. This is her horse and she's awesome to share her with me. She always takes the horse that's less broke and let me ride the broke one."
Taking second in both the NAAC and Ancillary Limited Non Pro were Tiffany Peterson and Neverthoughtiwould. The pair's score of 216.5 resulted in checks totaling $578. Neverthoughtiwould, a 6-year-old gelding, is by NRHA Two Million Sire Pale Face Dunnit out of Shine Tini.