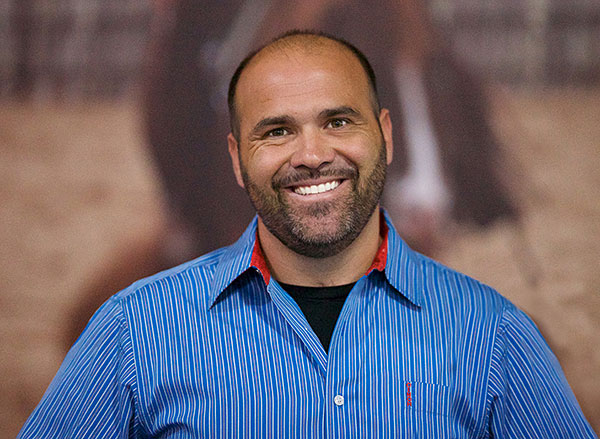 Raised in Italy, Lorenzo Lotti has always had a passion for horses, and over the years, he has transitioned that love into thriving businesses that are all equine-centered. Lotti, under the name of Foals-R-Us Reproduction Center and Stallion Station, recently joined the National Reining Horse Association Corporate Partner lineup.
"We're thrilled to welcome Lorenzo Lotti and Foals R Us as an NRHA Corporate Partner, and we look forward to a successful partnership," Rick Clark, NRHA President, noted. "Corporate Partners support our association and our industry in a way that is wonderful for the riders, owners, breeders, and everyone else who has committed their lives to this sport."
A spontaneous trail ride when Lotti was just 10 years old in Italy sparked his drive to be around horses. "I haven't been away from horses since then," he shared. "From the age of 10 to 16, I helped every day after school in a barn close to home. From 16 to 18, I helped at Latorre Quarter Horses, and then at the end of 1998, I went to Texas to work for 50 days with (NRHA Million Dollar Rider) Craig Johnson."
Two years later, Lotti went back to work for Johnson for three months, then began to train two-year-olds before starting work as a horseshoer assistant.
During that time, he met renowned reproductive veterinarian, Dr. David Hartman. "I got to be at the Hartman clinic pretty much daily, and I was always trying to stay longer than I needed and help if they were short-handed," he recalled. "One day, Dr. Hartman told me, 'If you ever need a job, just drive in and start.'"
When his boss decided to downsize his business, Lotti knew it was time to take Dr. Hartman up on that invitation. Fourteen years later, Dr. Hartman decided to retire. "He gave me the opportunity to purchase the Hartman Equine Reproduction Center, and I am excited that it is now the home of Foals-R-Us Reproduction Center & Stallion Station, the home of Pro Fit Equine and EQ Promo. I am finally able to run all my businesses under one roof."
Lotti's services include breeding, foaling, stallion management, semen freezing for domestic and export, on-site full-service embryo transfer, oocytes aspirations, ICSI transfers, sale fitting, sales, and more.
"I would never be where I am today if it weren't for David. He helped me and did more for me than I can ever thank him enough for. I feel it is only right for me to take on and continue with the business," Lotti said. "Thank you to all my past, current, and future clients for keeping me going forward."
Learn more about Foals-R-Us, Pro Fit Equine by Lotti, and EQ Promo, visit foals-r-us.com.