The Open preliminary round of the 6666 National Reining Horse Association Derby presented by Markel came to a close Wednesday, June 22. While the finalists are celebrating the chance to compete for big money on Saturday, a few are already counting their money from titles awarded during the preliminary round.
Shawn Flarida won the Tamarack Ranch Open 4-Year-Old Stakes, while Brandon Brant took top honors in the Clark's Pump-N-Shop Novice Horse Open Derby. Both men also earned a spot in Saturday's Finals, where the Level 4 Open Champion will be presented a check for $75,000!
$40,000 Tamarack Ranch Open 4-Year-Old Stakes – Alpha Jac Sparrow & Shawn Flarida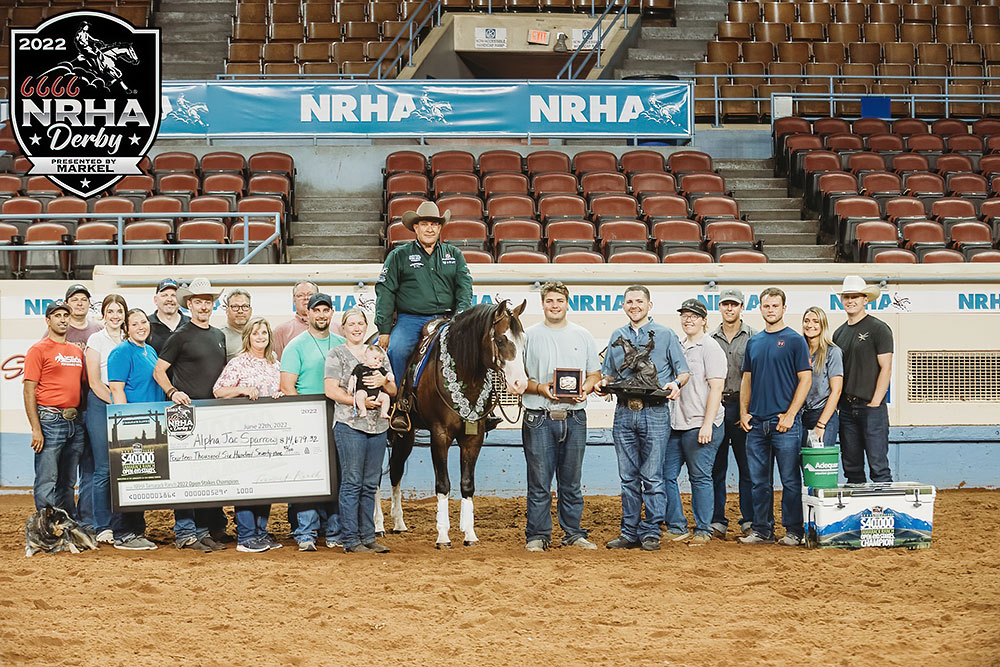 Shawn Flarida and Alpha Jac Sparrow (Spooks Gotta Whiz x Chexanicki) carved themselves a piece of the Tamarack Ranch Open Four-Year-Old Stakes pie Wednesday afternoon, June 22, with a score of 221.5.
The son of NRHA Four Million Dollar Sire Spooks Gotta Whiz and the Six Million Dollar Rider topped the field of four-year-olds, punching their ticket to the Level 4 Open Derby Finals, too. The title was worth $14,679.
"It's a nice pattern for this horse to come in. He's such a good turner so it puts you in a good position," Flarida said. "He turned plus-one to the left and a plus-one to the right. So then as a competitor, I knew that I was in decent shape."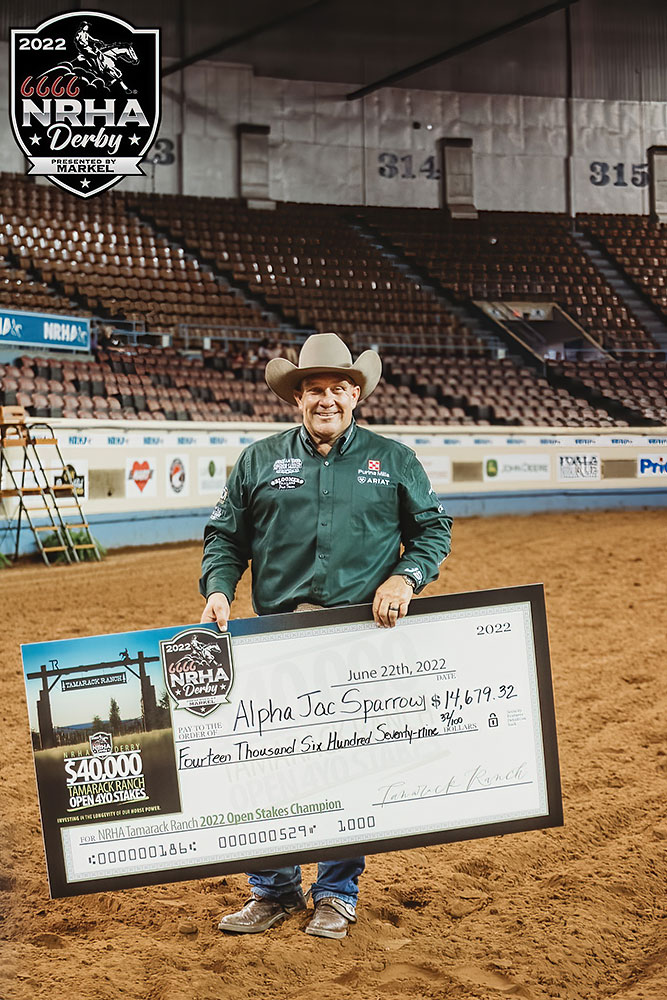 The team is quite familiar with each other – advancing to the NRHA Futurity Finals last year. Alpha Jac Sparrow is owned by Fritz Leeman and was bred and nominated by Alpha Quarter Horses LLC.
"He's been a good horse all along. I missed the finals on him by half a point at the NRBC, but he's just been a really, really nice horse. I rode his father, Spooks Gotta Whiz, and it's a great family," Flarida said.
According to Flarida, some of the attributes Alpha Jack Sparrow shares with his sire are his movement and easygoing demeanor.
"With that [good] movement, it allows them to change leads, it allows them to lope circles and it allows them to run and stop," Flarida said.
Flarida expressed his gratitude towards Tamarack Ranch for the sponsorship of the division.
"Thank you so much," Flarida said. "And we hope you continue to do it. We appreciate it as competitors."
Other people on the list to thank included Flarida's family, help and owners.
$15,000 Clark's Pump-N-Shop Novice Horse Open Derby – Dainty Little Spook & Brandon Brant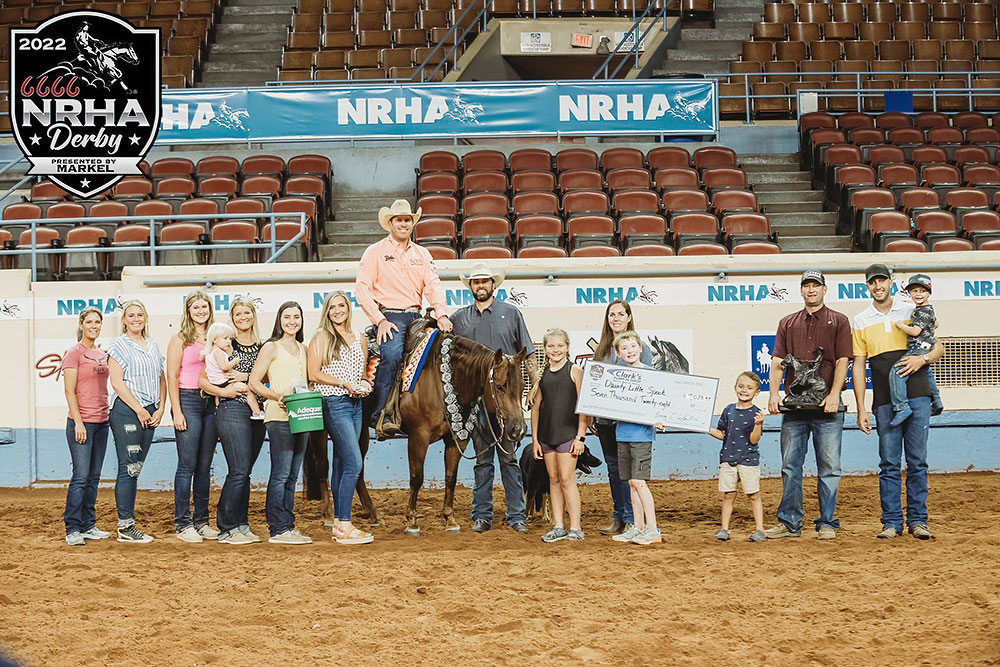 Dainty Little Spook and Brandon Brant were the big winners of the Clark's Pump-N-Shop Novice Horse Open Derby Wednesday, June 22, as the 6666 NRHA Derby presented by Markel marches through its final week.
Marking a 220.5, Dainty Little Spook (Smart Spook x Dainty Little Step) earned $7,028 for owner Sydney Friedman.
"This is the third time I've shown her, and she's getting better every time," Brant said. "She's pretty lazy [and] she's got a lot of feel. It's been hot out, and the thing with her is just not overdoing it. The big thing has been getting her to run all the way down the pen."
Dainty Little Spook, known as "Boo," was bred and nominated by Brooke Wharton. With the score of 220.5, Brant and Boo are Open Derby Finals-bound in Level 4.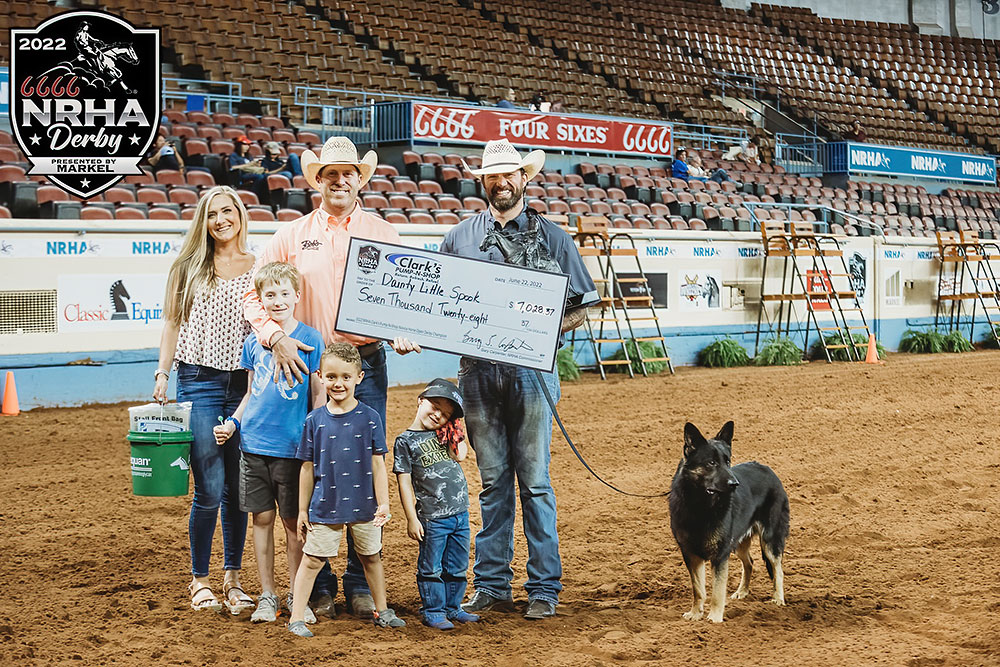 "She's pretty easy. You go through the center on her and she's slowing down, she wants to rest," Brant said. "I think there is more in there, I can't wait for the finals."
NRHA President Rick Clark sponsored the division, making way for the Novice Open horses.
"I say thank you to Rick Clark and Clark's Pump-N-Shop for this great class. I think we need this. I [also] thank my whole team. My wife, my assistants and all my customers – Sydney and Logan in this instance especially – I'm blessed. I have a great group of customers, employees and [family]," Brant concluded.