A productive day of competition drew to a close in the Adequan® Arena Friday evening, June 17, with four new champions crowned.
The smiles and enthusiastic horse pats were just a sampling of the action unfolding at the 6666 National Reining Horse Association Derby presented by Markel, which is gathering steam as it moves into the weekend.
Non Pro, Intermediate and Limited Non Pro (1) Champion – Rita Clausen & Smart Tinseltown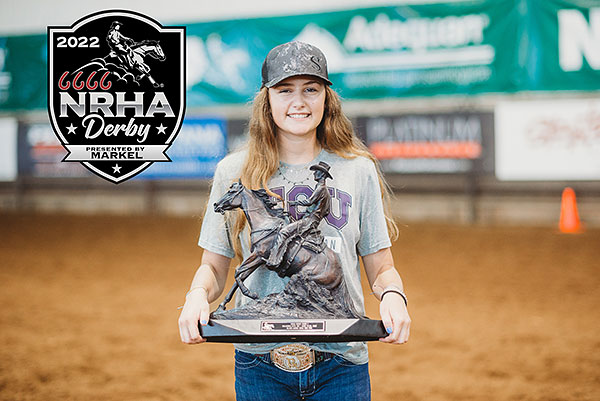 Rita Clausen swept the ancillary non pro divisions Friday, June 17, in the Adequan® Arena. With a score of 145.5, Clausen and Smart Tinseltown won the first slate of the Non Pro, Intermediate Non Pro and Limited Non Pro ancillary classes for a total of $1,697.
"I can trust my horse so much, so I was pretty confident coming in. I was looking for a clean run, wanted to work on the run downs and make it pretty," Clausen said.
To date, Smart Tinseltown has earned $162,762 in the NRHA. The 2010 gelding is sired by NRHA Seven Million Dollar Sire Smart Spook out of Tinseltown Lil Step, was bred by Charles Vaughn and is owned by Clay Clausen.
According to Clausen, of Scottsdale, Ariz., her teammate Smart Tinseltown is a powerful circler. "I like how much I can rely on him and he's so fun to show. His circling is his best maneuver. I can really lay my hand on his neck and slow down really pretty," Clausen said.
Prime Time Non Pro (1) Champion – Cady Shaw & Faceit Sheza Digger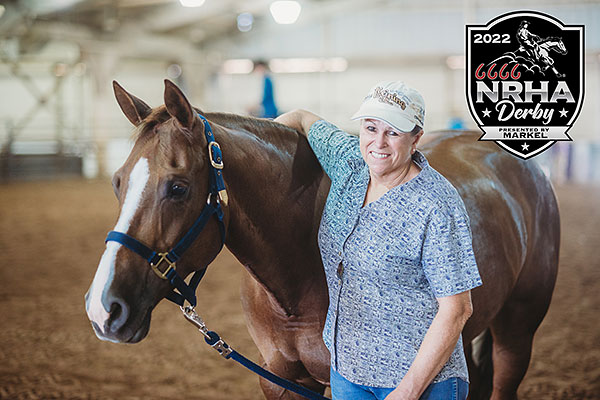 Cady Shaw was a little misty-eyed at the conclusion of the first slate of the ancillary Prime Time Non Pro astride Faceit Sheza Digger (Pale Face Dunnit x TC West Coast Wendi) Friday, June 17, in the Adequan® Arena. Scoring a 143.5, Shaw earned $244 for the title.
"She's a new horse to me. I'm figuring her out, we've been together 90 days. She just fits me," Shaw said. "She's really sweet and likes to be treated nice. The nicer you treat her the better she is."
The pair finished third in the Non Pro and second in the Intermediate Non Pro for an additional $1,010 in winnings.
The Washington, Okla., resident unexpectedly lost her competition horse last year and had been searching for a new partner. She purchased Faceit Sheza Digger off the internet after trying the mare in person.
"I wanted to find a horse I could go have fun on," Shaw said.
TRFAM Non Pro Qualifiers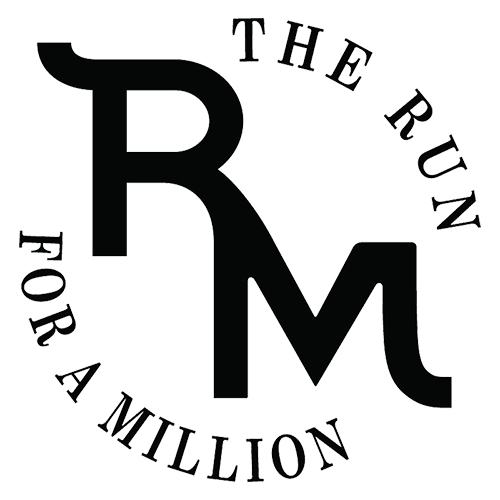 Two riders advanced from the first slate of Non Pro The Run For A Million Qualifier Friday morning in the Adequan® Arena. Long rosettes in hand, the riders joined the ranks of non pros vying for the $50,000 TRFAM Non Pro purse, which will be held in August at the South Point Hotel & Casino in Las Vegas, Nevada.
Robert Peterson
Jacksonville, Florida – Always A Specialnite (Gunners Special Nite x Always A Dunit)
Barbara Hanaghan
Sulfur Springs, Texas – Revolvingwithmagnum (Einsteins Revolution x Magnum Done It)
Qualification for TRFAM is based on rider, not horse. Riders do not have to compete on the horse they qualified on but more are required to lease or own their TRFAM the horse based on NRHA rules.
Classic Equine Green Reiner Level 2 Champion – Taylor Overmier & Wimpy Code Red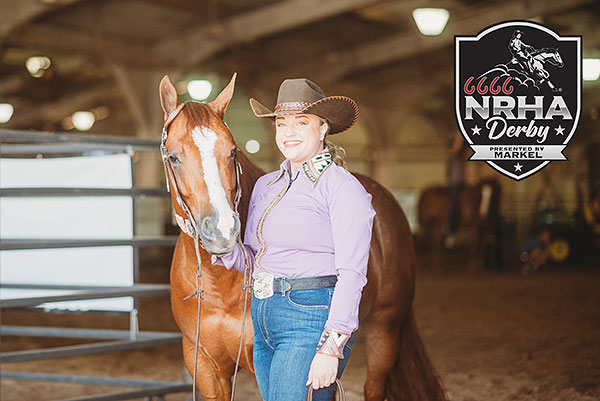 Taylor Overmier and Wimpy Code Red got their Derby jitters out of the way Friday afternoon, June 17, in the Adequan® Arena, winning the Classic Equine Green Reiner Level 2 Championship in the process.
"We're showing [Saturday] in section two of the Non Pro Derby, and this was actually my first time in the show pen this show," Overmier said. "I went in trying to be smart and see what I had underneath me, push him where I was able to, check him where I needed to, and make sure I had enough horse left in his heat."
Scoring a 143.5, Overmier and Wimpy Code Red (Electric Code x Wimpys Little Play) topped the field of more than 30 riders. The gelding was bred by Kjersten Davis and is owned by Overmier.
"He's a huge spinner. He's about 14.1 hands and we joke that he's about 13 hands when he spins because he crunches down and gets into it," Overmier said.
Hailing from Columbus, Ohio, Overmier made the 900-mile trek to Oklahoma City with boyfriend Matt in tow.
"This is his first time to Oklahoma, he's not a horse person so this is a lot for him. I thank him for [his help]," Overmier said.
Hart Trailers Para Reining Champion – Elizabeth "Beth" Kelley & Nite At The Roxbury
Elizabeth "Beth" Kelley and Nite At The Roxbury (Gunners Special Nite x Lulus Freckles) brought home the Hart Trailers Para Reining Championship Friday afternoon in the Adequan® Arena.
"We've only been riding together for three months. He's so much fun. We're still learning, but every day I get on him I just have a blast," Kelley said. "He is such a trier. I ask him to go and he goes. He never gives up."
Under the watchful eyes of trainer Brice Briggs and service dog "Wookie," Kelley cruised through her pattern with precision.
"Today we wanted to go clean, get my lead change, get my circles. I wanted to do a little bit better on the stops, but we'll work on it," Kelley said.
Kelley and Briggs have been working together for six weeks, and according to Kelley, Briggs' instruction has her and Nite At The Roxbury, or "Ham Bone," dialed in.
For complete results and a competition live stream, visit NRHADerby.com.