NRHA Derby Presented by Markel Began Today

For Immediate Release – June 13, 2020 – Oklahoma City, Oklahoma – The 2020 National Reining Horse Association (NRHA) Derby presented by Markel kicked off on Saturday, June 13, with the Non Pro ancillary classes. While the Non Pro classes would typically be held in the Adequan® Arena, large numbers for it and the American Quarter Horse Association (AQHA) and American Paint Horse Association (APHA) Open classes forced a schedule change.
"Our numbers for this year's Derby are up incredibly from last year's totals. We had more than 160 horses enter the AQHA and APHA classes, which would have made for a very late night if it had followed the Non Pro. So, we moved the Non Pro to Arena 6, which helped shorten our exhibitor's day," noted NRHA Events Manager Cheryl Cody.
Ronny Lane Colston Wins Non Pro [1] on Chics Nite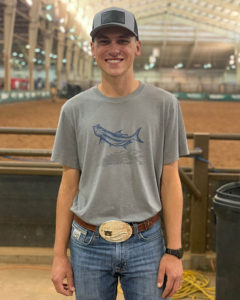 Ronny Lane Colston has only had Chics Nite since the beginning of the year, but he rode the eight-year-old mare to the Non Pro (1) win with a 146. "It was really good. I've kinda been holding off showing her at a bigger show. We bought her at the beginning of the year from one of our friends, Maurice Robinson, and she's been great," noted 16-year-old Colston.
Colston's family had actually purchased the mare with the intention of breeding her and raising some babies. "She's actually bred now. I was just going to show her and win some more money on her this year. I know she's a great horse, and she was really good for me this year," he said.
Chics Nite is by Gunners Special Nite out of the standout mare Wind Her Up Chic. "She's a trooper. I just get her ready and stay out of her way," he said.
Colston hails from Kentucky and gets help from two different trainers. "Two weeks before this I went and rode with Brandon Brant for a week. Then this past week we went to the Red Bud Spectacular, and then I went to the McCutcheons and Cade helped me," he shared. "I thank my parents, Cade, and Brandon, and everyone at the barn who helps me, too."
Colston will stay busy this week, as he has three entries in the Non Pro Derby, as well as the 8 & Up Non Pro with Chics Nite on Wednesday.
Tristan Bagby and Shina Gun Win Int. Non Pro (1) and Ltd. Non Pro (1)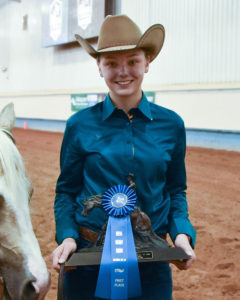 With a 145, Tristan Bagby claimed wins in the Intermediate Non Pro (1) and Limited Non Pro (1), and took reserve in the Non Pro (1). Bagby, of Kentucky, was riding eight-year-old Shina Gun, a horse her family raised. "I was happy with him everywhere. There were a couple things we could have improved on, but he was really good," Bagby said.
Shina Gun is by Gunner and out of Shiner Light. In 2017 he won the NRHA Derby Level 1 Open championship with Barak Gibori for owner Teresa Wynn. "I just started showing him this year," Bagby shared. "We're just trying to get together. I thank my trainer, Bobby Avila, my parents, family, and everyone else who supports me."
Bagby, who is 16 years old, will show Shina Gun in Wednesday's 8 & Up class. She also has an entry for the Non Pro Derby. "We went to a show in Missouri a couple weeks ago, but this is the first major one," she said.
Morris Kulmer Wins Prime Time Non Pro [1] on NVR What A Lucky Joe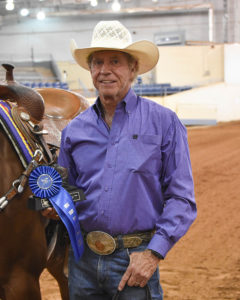 With a 143.5, Morris Kulmer and his great horse NVR What A Lucky Joe took the top spot in the Prime Time Non Pro (1). It was an added bonus for Kulmer, who had planned to simply use the run as preparation for the Derby. "I was draw 14 and was real surprised I won. I am hoping I didn't ruin my luck for the Derby," Kulmer said. "I was just trying to run him through a good pattern and not make mistakes. I was happy with him and hopefully he will be good in the Coliseum."
Kulmer has owned the six-year-old gelding, by Lil Joe Cash, since the horse was three years old. "I thank Andrea Fappani, because I probably wouldn't have this horse if not for him. He put a great foundation on him. This horse is Lucky Joe, and I'm Lucky Mo," Kulmer said. "We had a good time here last year, we're having a great time here this year, and God willing, we will have a great time here next year."
Kulmer shared that much of his success is because of his trainer, Dan Huss. "He does a wonderful job with non pros. He took an old man like me and made me a lot better," he said.
"I thank God Almighty, Dan, the barn crew, my vet, my farrier, and my wife who is my biggest supporter. I also thank NRHA. It's a crazy time, and just to be here is great. I thank everyone who has helped put this show together. I'm sure it's been hard," Kulmer said.
Complete results can be found at NRHADerby.com.