The second day of the Open preliminaries of the 6666 National Reining Horse Association Derby presented by Markel is in the books. With only one day and 91 runs left to determine the finalists, every competitor entering the arena is looking for a solid run.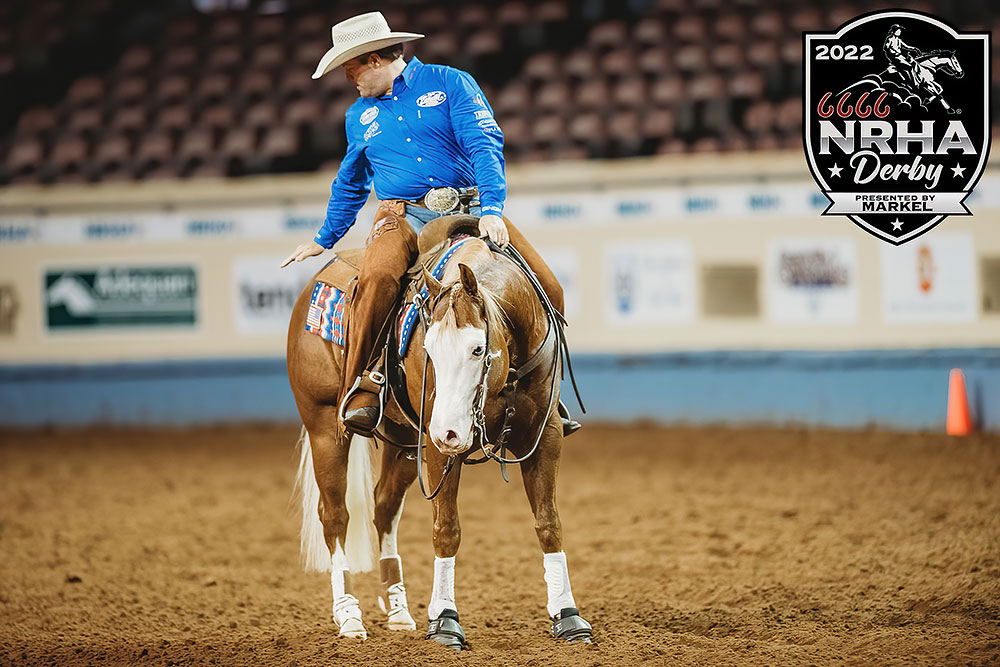 All tried and some came close, but no one was able to unseat NRHA Two Million Dollar Rider Casey Deary from the top of the leaderboard with Americasnexttopgun, owned by Puno Performance Horses LLC. Deary and the stallion, by NRHA Three Million Dollar Sire Walla Walla Whiz out of NRHA Futurity Champion Americasnextgunmodel, put together a 223.5-point run during the first section, and are all but guaranteed a spot in the Finals on Saturday, where the Level 4 Open Champion will win $75,000.
For the second year in a row, the Level 3 Open Champion will take home $35,000, the Level 2, $20,000, and the Level 1, $10,000.
The preliminary rounds are spread across three days and wrap up Wednesday afternoon. The current high scores across the divisions of the Open preliminaries are:
Level 4 – Casey Deary & Americasnexttopgun (Walla Walla Whiz x Americasnextgunmodel) – 223.5
Level 3 – Fernando Salgado & Pale Dun Star (Pale Face Dunnit x Get Ya Some Stars) – 222.5
Level 2 – Jared Leclair & Makendiamonds (Whiskey N Diamonds x Makeit In Tinseltown) – 221
Level 1 – Melanie Patroll & Dirty Diamonds (Whizkey N Diamonds x Wimpys Cat Step) – 218
Running concurrently with the Open preliminaries are the $40,000-added Tamarack Ranch Open 4-Year-Old Stakes and the Clark's Pump-N-Shop Open Novice Horse Derby. Currently leading the Tamarack Ranch Open Stakes and the Clark's Pump-N-Shop Novice Horse Open Derby, which, along with the Prime Time, will be awarded following the third section of the preliminary round on Wednesday, are:
Tamarack Ranch Open Stakes – Shawn Flarida & Alpha Jac Sparrow (Spooks Gotta Whiz x Chexanicki) – 221.5
Clark's Pump-N-Shop Open Novice Horse Derby – Brandon Brant & Dainty Little Spook (Smart Spook x Dainty Little Step) – 220.5
Open Prime Time – Duane Latimer & Hesa Rockin Whiz (Topsail Whiz x A Bueno Poco Dunit) – 222 (includes handicap)
The Open preliminaries run through Wednesday, June 22. The top 30 in the Open Levels 4-1 will advance to the clean-slate finals on Saturday. The draw for the finals will be decided during the Platinum Performance Open Draw Party on Friday at 10 a.m.

For complete results and other information, visit NRHADerby.com.