Three days into the National Reining Horse Association (NRHA) Derby presented by Markel Insurance, the event is in full swing. In addition to the great prizes presented in the Adequan® Arena, exhibitors have a chance to win circuit buckles, as well. The first circuit championships were awarded Monday afternoon.
Austin Morris and John Wayne Tag Clean House in Adequan® Arena


John Wayne Tag might have one of the coolest names for reining horses competing this year at the NRHA Derby presented by Markel, and he's proven to be an exceptional show horse, too. With Austin Morris at the reins, the eight-year-old gelding marked a 143.5 in Monday's competition to win the second slate of Intermediate Open, Limited Open, and Rookie Professional classes, worth $2,530.
The winning doesn't end there. Morris and John Wayne Tag also competed in the first slate of classes on Sunday, and finished in the top five both days, which secured the high point buckle for all three classes.
"I've been riding this horse since November of last year. I've only been to three or four shows with him, but every time we've been successful. He's a great horse that is really easy. You can go for weeks without riding him, then get on him and he's the same," Morris said.
Just last week, Morris and John Wayne Tag took an eight hour trip to South Carolina for an event. "He showed really great down there, and then we drove him 22 hours here to Oklahoma City, and he was ready to show again," Morris, of Damascus, Maryland, said. "We had a few things that happened in yesterday's class that I knew I could do better today. I came out with the goal to have a better ride in some areas, and it all worked out."
John Wayne Tag, by Whiz N Tag Chex and out of Kachina Oak Olena, is owned by Summerwind Farm Inc. "I thank Bob LaPorta who owns Summerwind Farm for providing my nice horses to show. I thank my girlfriend and co-worker Tricia Tillman for her support and advice, our sponsors, and everyone at Summerwind or being supportive," Morris said.
Kalicia Walters and Lady Gotta Gun Get Redemption in Limited Non Pro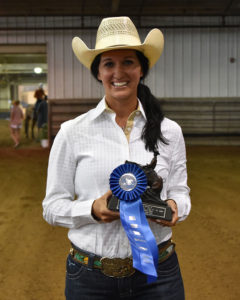 Kalicia Walters didn't have the run she wanted in Saturday's Limited Non Pro, but she and her mare Lady Gotta Gun came back strong in the second slate to win the class with a 142. "We worked really hard this winter, and today I got aggressive, and it paid off. We've worked hard to get where we are, and this was our first big win together," Walters shared.
Lady Gotta Gun, by Spooks Gotta Gun and out of Ms Kiper Nic, is a five-year-old mare. "I have had her about a year. Luckily I live just 10 miles from Dany and Fred Tremblay, so I was able to go from our ranch, to their ranch, and back home all winter. We got a lot of practice in, and everything is coming together," she said.
Walters has been showing reiners off and on for the past six years, and credits her success to Fred and Dany. "They have helped me a bunch this winter, and it has changed everything. I'm super excited to be working with them," she said.
Walters will show in more non pro classes throughout the week.
Morgan Hinkle Wins Limited Non Pro High Point Championship on Wimpys King Lad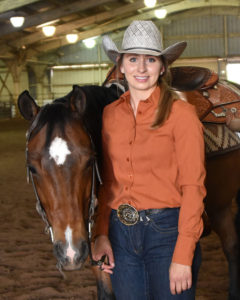 Consistency was the key for Morgan Hinkle and Wimpys King Lad. They put together two solid runs to win the high point circuit buckle for the Limited Non Pro. "This is my first high-point win – today was pretty good! We had a couple bobbles; he spooked from the cameraman once. The run was pretty clean except for that spook," she shared.
Wimpys King Lad is by Wimpys Little Step out of King Tucks Lassie. "I've had him for about six years. I know him pretty well and he's a really good horse. With all the practice we've had we're finally getting it together," Hinkle, of Colorado Springs, Colorado, said. "I thank my parents for supporting me, as well as my trainers Shane Brown and Emily Emerson."
Hinkle is looking forward to competing in the 8 & Up Non Pro Derby on Wednesday.