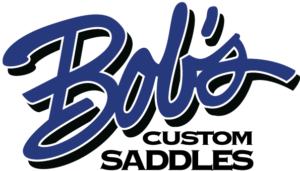 Exhibitors competing in select divisions at the 2021 National Reining Horse Association Adequan® North American Affiliate Championships can earn the opportunity to perform center stage in the Jim Norick Coliseum. That is because longtime NRHA Corporate Partner Bob's Custom Saddles has expanded its sponsorship to include a bonus round for three classes.
Those classes – Intermediate Non Pro, Intermediate Open, and Rookie Level 2 – will be held in the Adequan® Arena, with entries competing for 2021 Adequan® NAAC titles. The top 10 for each class (plus ties) will earn a spot in one of the Bob's Custom Saddles Showdowns.
A staggering $10,000 will be awarded during the Showdowns for each class. That means that, for no additional entry fee, the Bob's Custom Saddles Showdown Champion will win $5,000, the reserve champion will take home $2,500, third will receive $1,500, and fourth will earn $1,000. Money won in the Showdown will be considered Category 7 affiliate earnings.
"There are so many exciting aspects to this new sponsorship, and we are thrilled for our NAAC competitors to have this opportunity. Someone could win both an NAAC Championship and a Bob's Custom Saddle Showdown title, but it also gives someone who might not have shown their best in the Adequan® Arena a redemption round," noted NRHA President, Rick Clark. "We appreciate Chris Weaver of Bob's Custom Saddles for always stepping up when there is an opportunity to grow our sport and support our riders."
Chris Weaver, Vice President of Bob's Custom Saddles, noted, "We are focusing on growth for the reining industry and for ways to attract new people and increase the longevity of the sport. This sponsorship is based on not only expanding the overall Futurity but also strengthening the reining industry."
The Bob's Custom Saddles Intermediate Non Pro and Intermediate Open Showdown will be held Friday, Dec. 3, and the Bob's Custom Saddles Rookie 2 Showdown will be held on Saturday, Dec. 4.
The new Showdown format will also apply to the Toyon Ranch Rookie of the Year. Rookie Level 1 riders will compete for Toyon Ranch Rookie of the Year honors in the Adequan® Arena, and then the top 10 in that class will also advance to the Toyon Ranch Showdown, which will run concurrently with the Bob's Custom Saddles Rookie Level 2 Showdown on Saturday, Dec. 4.
"The reining industry as a whole is blessed with many generous sponsors, and Bob's Custom Saddles and Toyon Ranch are two of the best. Their vision is to grow this sport beginning with specific NAAC division while benefiting the industry as a whole," noted Senior Director of Corporate Relations and Communications, Sammi Miller.
For more information about the NRHA Futurity, visit NRHAFuturity.com.