The 2021 National Reining Horse Association Futurity and Adequan® North American Affiliate Championships are in full swing in Oklahoma City. While the Futurity is held in the Jim Norick Coliseum, the NAACs are held in the Adequan® Arena. The NAAC competition spotlights a variety of members and horses from across North America who qualify to compete in Oklahoma City.

In addition to incredible prizes from NRHA Corporate Partners, the champion of each NAAC class will be presented an Adequan® Championship vest the following day in the Jim Norick Coliseum as a show of support for these successful affiliate riders.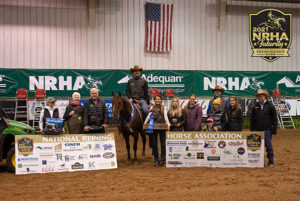 Brian Bell Wins Adequan® NAAC Open Championship on Mr Royal Hollywood

Brian Bell's tenure in Oklahoma City is off to a great start, winning the Adequan® NAAC Open Championship on Mr Royal Hollywood, winning $3,821 as well as prizes including a saddle from Kyle Tack, a Montana Silversmiths buckle, product from Dr. Joe Carter, Platinum Performance and Classic Equine, and a gift certificate for Bluebonnet Feed.
Bell and Mr Royal Hollywood also topped the ancillary Open, worth an additional $2,925. "They're putting a lot more money in these NAAC classes, and it makes it more fun to keep these older horses going," Bell said. "I'm having fun here. I showed one of my futurity horses today (Cee Miss Lilly) and was a 221 on her. She's out of the same mare as Mr Royal Hollywood, so it was like a family event today."
Bell and Mr Royal Hollywood, by NRHA $3 Million Sire Hollywoodstinseltown out of Miss Royal Hollywood, have had a banner year, winning approximately $70,000 prior to the NAAC. That included a third place finish at the National Reining Breeders Classic as well as a qualification for The Run For A Million presented by Teton Ridge.
The 6-year-old stallion was also the catalyst for a major career milestone. "I actually went over the $2 million mark on this horse," Bell shared. "He's been really solid all year. We have one more year of derbies left, so I'm looking forward to doing it all over again next year."
My Royal Hollywood is from a family of winners bred and raised by the Bell family. The line began when Brian's father, George Bell, acquired Hall of Fame mare Miss Cee Blair. "At one time she was the highest producing dam in history," Bell shared. Miss Cee Blair produced 11 foals that earned almost $250k, including Cee Miss Hollywood.
"Cee Miss Hollywood's foals have won right at $500,000 now, and of that, I've probably won $350,000 of it," Bell explained. "It's kind of cool because I know how they respond to different things and I know how to ride them. It kind of makes it easier."
He added, "I thank all the sponsors that put all the money up for the show and everyone who puts these shows on. I also thank my dad and his wife Carol for keeping me on good horses."
NRHA Million Dollar Rider Dany Tremblay took second in both classes on Tinker With Dreams, winning a total of $4,107. Tinker With Dreams, by NRHA Million Dollar Sire Tinker With Guns out of This Chicsdundreamin, is owned by Diamond Dub Quarter Horses.
Benjamin Beckett and Xtra Dun Step Take Adequan® NAAC Int. Open Championship
With a score of 219, Benjamin Beckett and Xtra Dun Step claimed the Championship for the Adequan® NAAC Intermediate Open. The pair also finished fourth in the NAAC Open, and won money in the ancillary divisions for both classes, earning more than $6,735 for owners Jerry Douglas and Jennifer Groehn.
"We kind of missed the first stop, but he made up for it," Beckett admitted. "He's as easy as they come. He does whatever you say, when you say it. It doesn't matter if you're showing in the green, the open, or whatever… he will do what you ask."
With the announcement of the Bob's Custom Showdown round for the Intermediate Open, Beckett was excited to show the talented stallion, by NRHA $12 Million Sire Wimpys Little Step out of All Thats Dun. "Oh yeah, it had a factor with us coming. Whenever there is good money up, you gotta take a swing at it," the Michigan trainer said. "I wanted to come here and show him. When you have an opportunity to show a horse like this, you have to do it."
Although his time in the show pen with Xtra Dun Step has been short, Beckett can still recall watching the colt as a youngster. "I remember when he was two years old and Trevor Dare showed him at the Futurity, so I have known this horse his whole show career. He's always been phenomenal," Beckett said. To date, Xtra Dun Step has won more than $155,000, including a third place finish with Dare at the 2017 NRHA Futurity.
Davis Hanson and Xtra Needs A Drink (Wimpyneedsacocktail x Ruby Chic Olena) took second in the NAAC and ancillary Intermediate Open with a 218.5. With money also won in the Open divisions, Xtra Needs A Drink, owned by N Anne Driscoll, added an additional $4,702 to his lifetime earnings.
The top 10 finishers of the Adequan® NAAC Intermediate Open earn a spot in the clean-slate Bob's Custom Saddles Intermediate Open Showdown, which will be held Friday, Dec. 3. All qualifiers must check in and confirm their spot in the Showdown no later than noon on Dec. 2.
Bob's Custom Saddles Intermediate Open Showdown Qualifers:
Xtra Dun Step Benjamin Beckett
Xtra Needs A Drink David E. Hanson
ARC Trashin Yer Chic Kyle Kellmer
Nite Tripps Jarvis M. Anderson
Lady Infernofourosix Derek Jon Heitland
Hollys Juicy Miracle Ryan J Anderson
Good Friday For Guns Jesse P Gentile
Wimpyslittlesnowgun Derek Jon Heitland
Payaso Rojo Gunner Mariano Pedrero
Smart Stepin Lena Stephen D Archer
Adequan® NAAC competition continues Friday with the Limited Open. Complete draws, results, news, and more can be found at NRHAFuturity.com.