The 2022 National Reining Horse Association Futurity and Adequan® North American Affiliate Championships are in full swing in Oklahoma City. While the Futurity is held in the Jim Norick Coliseum, the NAACs are held in the Adequan® Arena. The NAAC competition spotlights a variety of members and horses from across North America who qualify to compete in Oklahoma City.
In addition to incredible prizes from NRHA Corporate Partners, the champion of each NAAC class will be recognized the following day in the Jim Norick Coliseum as a show of support for these successful affiliate riders.
Adequan® NAAC Open Co-Champion – Makendiamonds ridden by Jared Leclair
Riding Makendiamonds for owner Dorothy Queen, Jared Leclair secured the co-championship of both the Adequan® NAAC and ancillary Open, worth $5,370, with a score of 222.5. It was the cherry on top of a great year for the pair.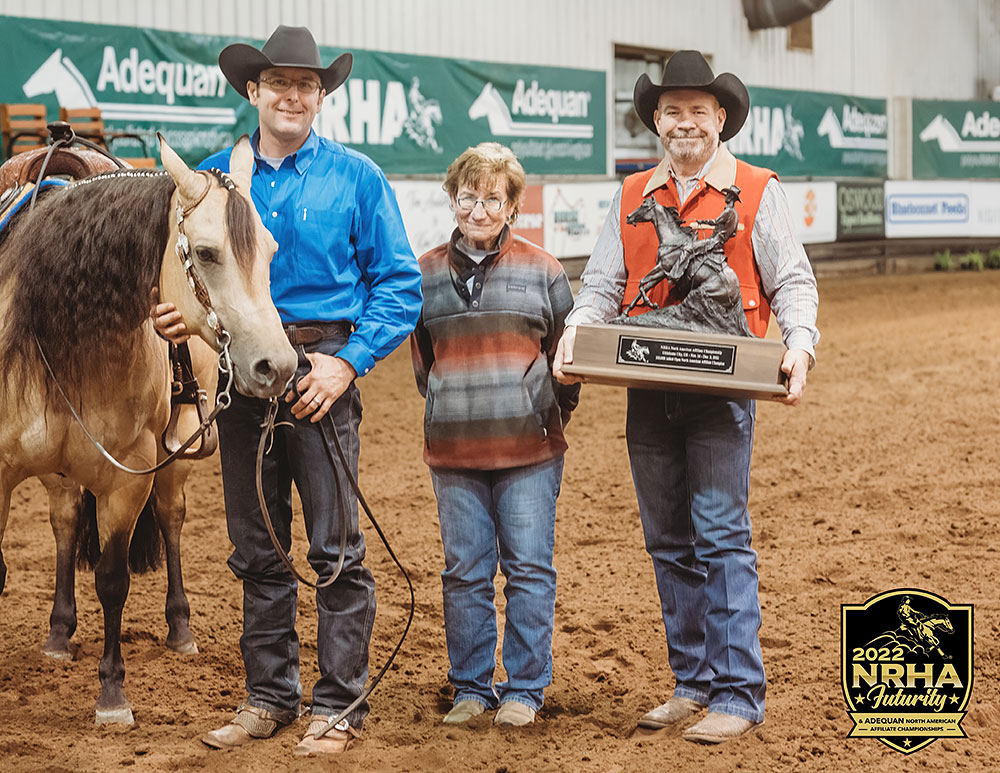 "It's a really big deal to win an NAAC title," Leclair said. "NRHA has done a great job promoting the NAACs, and there are a lot of competitors now, so it's really tough. You have to show hard, and your horse has to be really good to win it. I feel lucky to have come out on top."
Makendiamonds, bred by CDR Farms, is by NRHA Two Million Dollar Sire Whizkey N Diamonds and out of Makeit In Tinseltown. The flashy 6-year-old mare was started by Abby Lengel, and with Lengel at the reins, the pair finished eighth in the Level 4 Open at the 2019 NRHA Futurity.
Makendiamonds was purchased by Dorothy and her son, Paul Queen, during the 2021 NRHA Futurity. To date, the mare has won upwards of $150,000.
"Abby was very successful with her, and I've done well with her too. This was the last hurrah for her and I, and it's a great way to end the year," Leclair said. "She was really solid and great today."
Although Leclair and co-champion Yonathan Baruch could have elected to run-off for the NAAC title, the two professionals elected not to. "This mare did her job today, and we were all winners today," he said. "I thank Dorothy and Paul, my wife who is a huge supporter of mine, and all our help – both the ones here and at home keeping everything going."
Adequan® NAAC Open Co-Champion – Peptos Lil Step ridden by Yonathan Baruch
NRHA Professional Yonathan Baruch set the pace early in the Adequan® Arena. Competing as draw two in the NAAC Open classes, Baruch and Peptos Lil Step marked a 222.5 to take the lead. When the last of the scores were tallied, Baruch and Peptos Lil Step, owned by Nancy Wheeler and Jimmy Nichols, had tied for the title, winning a load of prizes and checks totaling $5,370.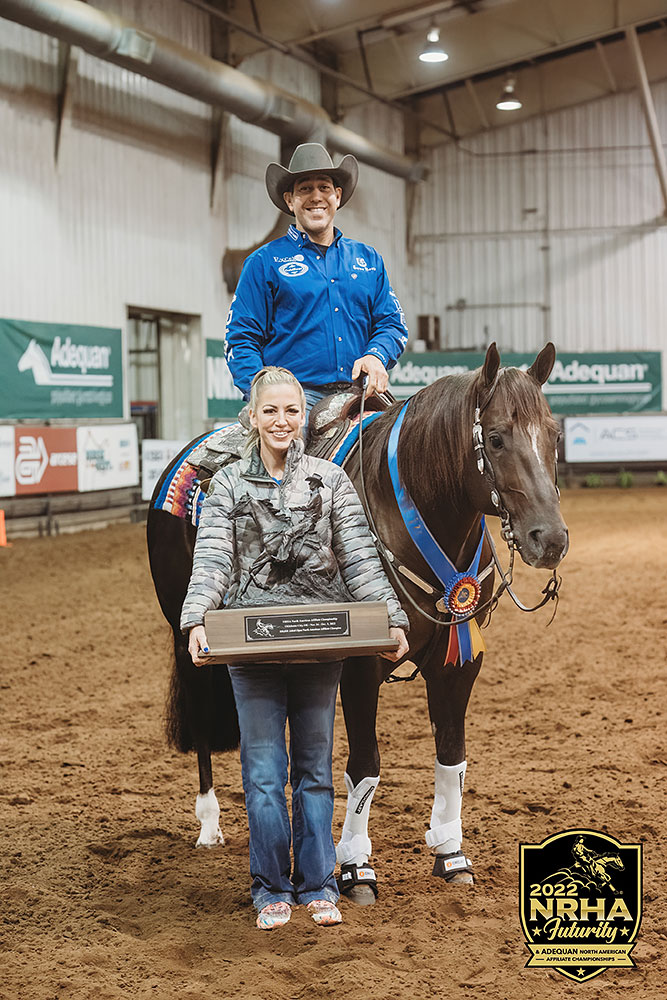 "Today was super easy. I just gave him about 30 minutes of a warmup, and I felt like he was ready. I knew the best thing to do is just trust him because that's when he does the best," Baruch, of Whitesboro, Texas, explained.
Peptos Lil Step, by NRHA Twelve Million Dollar Sire Wimpys Little Step out of Peptos Lil Melody, is an 8-year-old stallion that Baruch first started riding his 3-year-old year. He admits the stallion's breeding contributed to being overlooked early in his career. "His dam is a daughter of Peptoboonsmal," he explained. "He's really turned into a very nice open horse. I haven't shown any bred like him before, but I definitely will again!"
Owner Nichols and Wheeler make their home in California but sent Peptos Lil Step to Baruch to show in the Open Shootout at The Run For A Million presented by Teton Ridge. "We marked a 223 and were 16th, but he was unbelievable. We could have improved the pilot, but that's just getting used to one," Baruch explained, adding that he's looking forward to attempting another TRFAM qualification in 2023.
"It's a very long list," Baruch humbly answered when asked who deserved recognition for helping him be successful. "Obviously, I thank the owners, Jimmy and Nancy. I also thank all my help and my beautiful girlfriend, Heidi. She does all the chiropractic work on our horses and is a huge part of them staying so sound. Thank you also to our vets, farriers, and sponsors. It takes a village. No win is ever achieved by just me."
Adequan® NAAC Intermediate Open Champion – Sparkys Shining Doll ridden by Tyrel Pole
With a score of 219, Tyrel Pole and Sparkys Shining Doll claimed the Championship for the Adequan® NAAC Intermediate Open and the ancillary Intermediate Open. The pair also finished in the top 10 in the NAAC Open and ancillary division, earning more than $4,192. Making the win even more exciting? "Marvel" is owned by Pole and his wife, Rhea.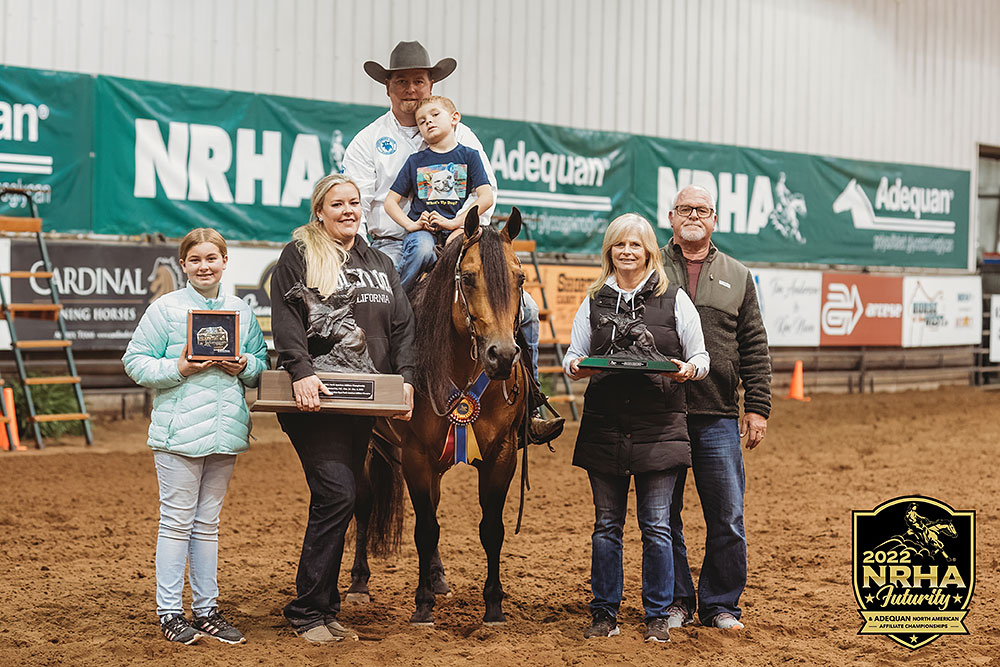 "We purchased him a year ago and have been hauling for an NRHA world title. Right now, he's sitting near the top in the Intermediate and the Limited, and he's been a really fun horse all year," Pole said of the 10-year-old stallion, is by Friday Night Shiner out of BB Holly Doll.
It was early in the year when the Poles decided to pursue an NRHA world title. "We started in February or March, which might not sound like it was a last-minute decision, but it was. He was showing us he really wanted to be a show horse, and Rhea pulled us aside, said she thought we should try it, and so we went for it," he said.
That decision sparked a whirlwind of a year. "This horse has been a trooper. I've shown him at every show within 200 miles of our house, and he's been a very good and consistent horse every time. We are very thankful for him," Pole explained. "
With the top finish in the Adequan® NAAC Intermediate Open, Pole and Marvel earned a spot in the Bob's Custom Saddles Intermediate Open Showdown on Dec. 1. "We had a few goals here. Our big goal is for Saturday because we're sitting so well in the Limited Open standings, but we were also hoping to do well enough to compete in the Showdown. I think going inside the Coliseum to compete for those of us out here will be super fun," he said. "I think there are a couple of things I need to clean up on myself, but he's super. I'm just thankful for every time I get to show."
Pole added, "I thank my wife because, without her, we would be 100 percent lost. I also thank my kids, who have been so good when we've been hauling up and down the road, as well as Sophia Kent, who works for us. I also thank the support system from the other trainers who help along the way."
The top 10 finishers of the Adequan® NAAC Intermediate Open earn a spot in the clean-slate Bob's Custom Saddles Intermediate Open Showdown, which will be held Thursday, Dec. 1. All qualifiers must check-in and confirm their spot in the Showdown no later than noon on Nov. 30.
Bob's Custom Saddles Intermediate Open Showdown Qualifiers:
Sparkys Shining Doll & Tyrel Pole
Xtra Miss Wimpy & Sebastian Petroll
Spooks Gotta Cowboy & Garrett A Thurner
Prize Chex & Randy L. Schaffhauser
Xtra Voodoos Storm & Drake J. Johnson
Walla Be Custom & Jaden Beliveau
Goodtime Tinseltown & Morgan Lee Moser
Voodoo Gun & Jack Daniels
Gallos Estrella & Meaghan Shea
Magnifisent & Randall E Dooley
With Addy Tude & Naike Bell
Adequan® NAAC competition continues Friday with the Limited Open. Complete draws, results, news, and more can be found at NRHAFuturity.com.