The 2021 National Reining Horse Association Futurity and Adequan® North American Affiliate Championship continued on Tuesday, Nov. 30, with the first section of the Non Pro, Intermediate Non Pro and Prime Time Non Pro finals. Two champions were crowned in the NAAC, while section two, consisting of the remainder of the ancillary riders, is scheduled to continue on Wednesday.

Sarah Armenta Lands NAAC Non Pro and NAAC Intermediate Non Pro Titles on Hangin On The Line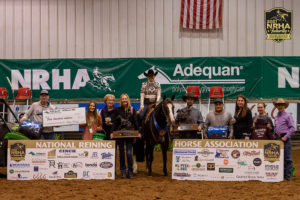 Sixty-six horses and riders ran for the NAAC Non Pro title on Tuesday, but it was Sarah Armenta on board Hangin On The Line (Shine On Line x Spooks Hangten) who bested the crowd when they scored a 222. The pair also won the NAAC Intermediate Non Pro, garnering a total check worth $8,671.

While those were impressive feats in their own rights, what made the duo's success even sweeter was the fact that the mare is a roping horse belonging to Armenta's family. It was only by accident that Armenta discovered "Gunny's" talent in the reining pen.

Gunny was started by Robbie Berti as a 2-year-old, and she had a little reining training then. Unfortunately, an injury, which kept her from changing leads to the right, quickly dashed any show pen dreams. The Armentas purchased her and used her as a rope horse ever since, until one fateful day.

"One day I was bored and I didn't want to ride my stud, so I got on her and I started turning her," Armenta said. "She turned very fast with not even practicing at all, and I called my dad and I said, 'Can you come up to the arena?'

"He watched me turn her each way, and I said, 'Can I show her?'" Armenta continued. "We put her in training with Robbie Berti, and I went to my first show at Lazy E in May."

Since then, the duo has excelled, garnering nearly $9,000. Armenta said the mare, who recovered from her original injury and has no problems changing leads, is great at all the maneuvers. The pair competed the day prior in the Novice Horse Non Pro, placing third in the NAAC and ancillary Levels 2 and 1, and taking Reserve in the Level 3.

Thanks to their win in the NAAC Intermediate Non Pro, the duo will compete again on Friday, Dec. 3, in the Bob's Custom Saddles NAAC Intermediate Non Pro Showdown. For Armenta, qualifying for that event was the icing on the cake of a great event for the mare.

"Obviously you want to win every class you go in, but to win it on a horse like this, when no one expects a roper to go be a reiner, it's a big deal," Armenta said. "I cried. It was a big deal to me to win on such a cool mare.

"After we show again on Friday, we plan on sending her down the road for the NFR [National Finals Rodeo]," she added, thanking her parents, Kathleen and Lorenzo; Berti; and everybody in the barn. "We don't know who we want to ride her yet, but that's our goal. Then, after one year of the NFR, she'll be turned out and have babies."

The top 10 finishers of the Adequan® NAAC Intermediate Non Pro earn a spot in the clean-slate Bob's Custom Saddles Intermediate Non Pro Showdown, which will be held Friday, Dec. 3. All qualifiers must check in and confirm their spot in the Showdown no later than noon on Dec. 2.
Bob's Custom Saddles Intermediate Non Pro Showdown Qualifiers:
Hangin On The Line & Sarah Armenta
The Crowd Goes Wildd & Rebecca Asmussen           
Roseswhiz & Raeanna Thayn
Neverthoughtiwould & Tiffany Peterson
Magnum Starlight & Paige Vernon
Lil Gunin Whiz & Brooke Leneatha Whitmarsh
Tinker With Pistols & Abby Mills
Gunnadream & Abby Budd
North Sail Solitaire & Jade Whitmarsh
Lil Red Dreamer & Faith Horner
Morris Kulmer and NVR What A Lucky Joe Clinch NAAC Prime Time Non Pro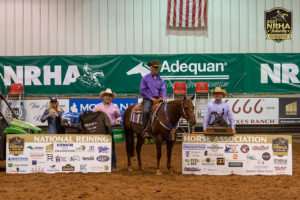 Two years ago, Morris Kulmer rode NVR What A Lucky Joe to the 2019 NAAC Prime Time Non Pro Championship with a 215. This year, he upped the ante even more with a 218.5, winning the title yet again and $1,956. While he gave a nod to his horse for being so good in the show pen, he said a lot of the credit went to his granddaughter, Alexandra, who he calls "Rosie."

"One of my mental training coaches is my 16-year-old granddaughter," Kulmer said. "She's a competitive tennis player, and she tells me a lot. I generally run off a 50-amp fuse, so I'm kind of amped up, so she tells me to breathe and slow down. She asked me, 'You expect to win, don't you?' I said, 'Should I?' She said, 'Absolutely. If you just hope you're going to win, that's not going to work. You have to expect it.' So, I take lessons from her."

Rosie's advice helped, as Kulmer was able to put together what he called an "OK" run — not his best, but certainly not his worst. Some parts were exceptionally good, he said, and some could have been better.

"The run-in today was really good," Kulmer said. "The one thing about this horse, all year long, in every show he's been in, there has not been one set of circles left or right that he didn't get a plus from every judge he's shown in front of. He circles as good as any horse on the grounds here."

"Joey," (Lil Joe Cash x What A Lucky Hit) who will be 8 in 2022, has officially aged out of the derbies, but he went out on a good note, winning the Level 4 Non Pro at the California Reining Horse Association Challenge Derby and Stakes prior to heading to the NAAC. Kulmer hopes to show him in some of the maturities in the future, while his wife, Merrily, plans to use him as her new trail horse at the couple's ranch in Utah. Whichever path the horse takes, Kulmer is grateful to have had the chance to ride him the last few years.

"It was bittersweet because I know he won't be able to derby again," Kulmer said. "I'd like to put him in one of those time capsules so I can back him up to be a 3-year-old again.

"It's pretty special to win a title in the NAAC," Kulmer added. "Everybody from all the affiliates around the country is trying to get in there. It means a whole lot. I think that's the area of the industry that will continue to grow because the numbers are amazing. They're going to keep on coming, and that's a really good thing."

Complete results can be found at NRHAFuturity.com.