Ancillary Competition Heats Up at 6666 NRHA Derby presented by Markel

Three days into the 6666 National Reining Horse Association Derby presented by Markel, the event is in full swing. In addition to the great prizes presented in the Adequan® Arena, exhibitors have a chance to win circuit buckles, as well. The first circuit championships were awarded Monday afternoon.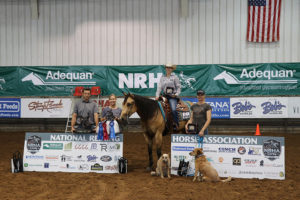 Sumer Opinker & Concealed Guns – Int. Open & Rookie Pro. (2) Champions & High Point/Ltd. Open High Point

Concealed Guns has raked in some cash while at the 6666 NRHA Derby presented by Markel. On Monday, he added to the stash with wins in the second slate of the Intermediate Open and Rookie Pro, as well as second in the Limited Open. He and trainer Sumer Opinker also claimed the high point buckles for the Rookie Pro and Limited Open classes.
"He's been doing really well. He's been quiet, consistent, and great for me," Opinker said of the gelding, by Guns R For Shootin out of Sweet Lena Shine. The pair marked a 146 in Monday's competition, pocketing $1,495 across the three divisions. "It was a run-in pattern today. He ran in good for me and stopped and backed well. He turned great, and then his circles were the most fun for me because he was flying. The whole thing was really fun."
Opinker has been riding Concealed Guns, owned by Mindy Gray, since the 2020 NRHA Futurity. "I thank his owner Mindy Gray, and Mirjam and Andrea Stillo, who have been great giving me the opportunities to show him. I really appreciate it," she said.
Finishing second in the Intermediate Open was Christina Croston-Boyes on Golddiggin Whiz, owned by Phillip Boyes. Croston-Boyes and Golddiggin Whiz (Pale Face Dunnit x Whizzle For Me) marked a 144.5 to win $834.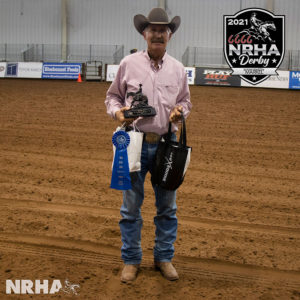 Doug Milholland & Gunnatwistya – Ltd. Open (2) Champions

With a score of 146.5, Doug Milholland and Gunnatwistya took top honors in the second slate of the Limited Open with a 146.5. Owned by David and Lecleta Aitken, Gunnatwistya is by NRHA Four Million Dollar Sire Gunnatrashya and out of Totally Dun Twistin.
"He's a really talented horse. I've had him just over a year. It took us some time to get on the same page, but we're starting to come together now," Milholland explained. "The owners are wonderful people, so it makes it even more fun when you have great customers with nice horses."
Milholland and Gunnatwistya showed in the AQHA class over the weekend, finishing second. "I wanted to use these two classes as schooling runs, and just keep him quiet. He showed well for me. He's getting to where I can ask him something and he's there for me," he said. "I thank Jesus for letting me be here. I thank my customers, too. It takes a village to get here."

Milholland will stay busy during the Derby, not only showing but also helping his daughter, Brooke Culwell, who is competing in the Non Pro Derby as well as customers competing in the Non Pro classes.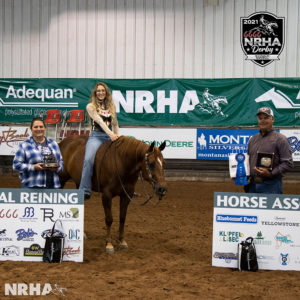 Bo Van Duys & Voodoo Smokin Annie – Ltd. Non Pro (2) & High Point Champions
Consistency paid off for Bo Van Duys. On Saturday she and her horse Voodoo Smokin Annie finished fourth in the first slate of the Limited Non Pro. On Monday, the duo marked a 141 to top the class and win the high point Montana Silversmiths buckle.
"She was a little skittish in the middle during the spins, but other than that she was good and calm. We still did well so I was happy with it," Van Duys shared. "We were going to school today to get ready for the Maturity on Wednesday. I was just hoping to have a clean, good run and fix some things. Once I got in there I decided to just go for it because she was pretty good."
Van Duys began riding the mare three years ago, after her mother, Holly Van Duys, purchased the mare from Sam Smith. The 8-year-old mare is by NRHA Million Dollar Sire Shiners Voodoo Dr and out of Caleys Smokin Peppy. She will hand over the reins to her mom in August when she leaves to attend Oklahoma State University. "I thank my parents and my trainer Shane Brown for all their help," Van Duys said.
Finishing second in the Limited Non Pro was Anne Peters and Guns R Spooky with a 140.5. Guns R Spooky is by NRHA Six Million Dollar Sire Smart Spook and out of Berry Yer Guns.
Complete results from the 6666 NRHA Derby presented by Markel can be found at NRHADerby.com.