Another action-packed day of competition drew to a close at the 6666 National Reining Horse Association Derby, where the Open Preliminaries kicked off and several ancillary champions were crowned in the Adequan® Arena.
As the Derby moves into its busiest week, the best is yet to come with Open Derby building momentum and more ancillary classes receiving their winners.
$2,000 Intermediate Open Champion – Heza Voodoo Doll & Richard Pokluda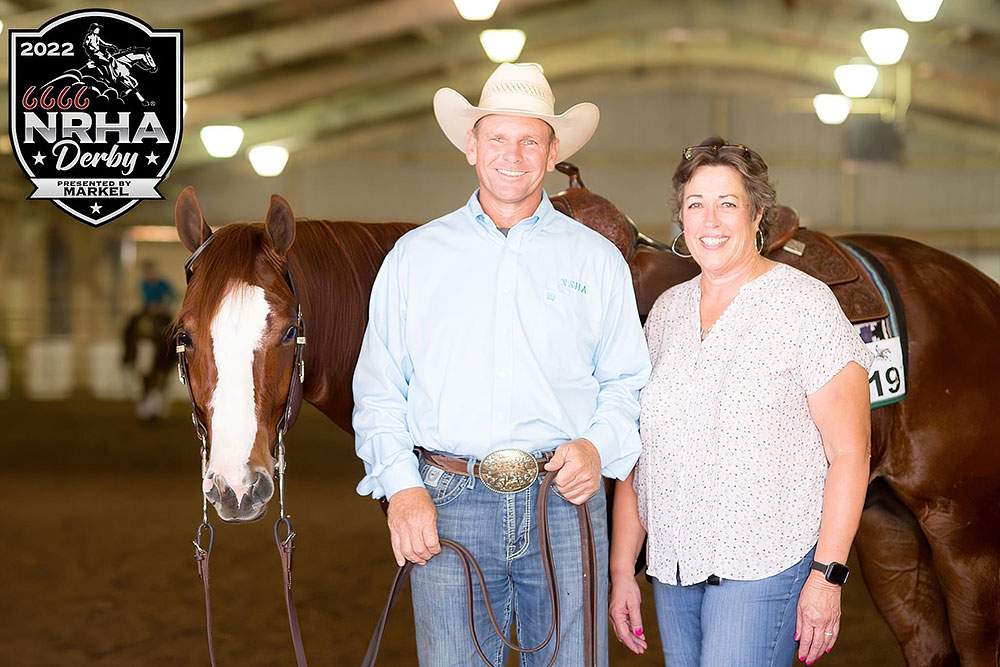 Heza Voodoo Doll and Richard Pokluda swept the $2,000 Intermediate Open and $500 Limited Open Monday afternoon, June 20, in the Adequan® Arena. With a score of 140, Pokluda earned $1,027.
"My run went well. I just need to free him up running to his stops, but he ran in and stopped good, circled good, spun really well and [overall] it was a nice, solid run. All I could ask for," Pokluda said.
The team has been together since January of this year and is getting more acquainted with each show.
"It's my fourth or fifth time showing him," Pokluda said. "He's a nice horse, very good-minded, very talented, just young."
The four-year-old gelding is sired by NRHA Two Million Sire Shiners Voodoo Dr and out of Doll Of The West. Owner Marci Michel bred and raised him.
"He's very easy, very simple at home. He just hangs out in his stall and loves his turnout. His owner likes to feed him carrots," Pokluda said. "He'll start getting carrots from me [now].
$500 Limited Open Champion and High Point Champion – ARC Wimpysgottagun & Johnette Burman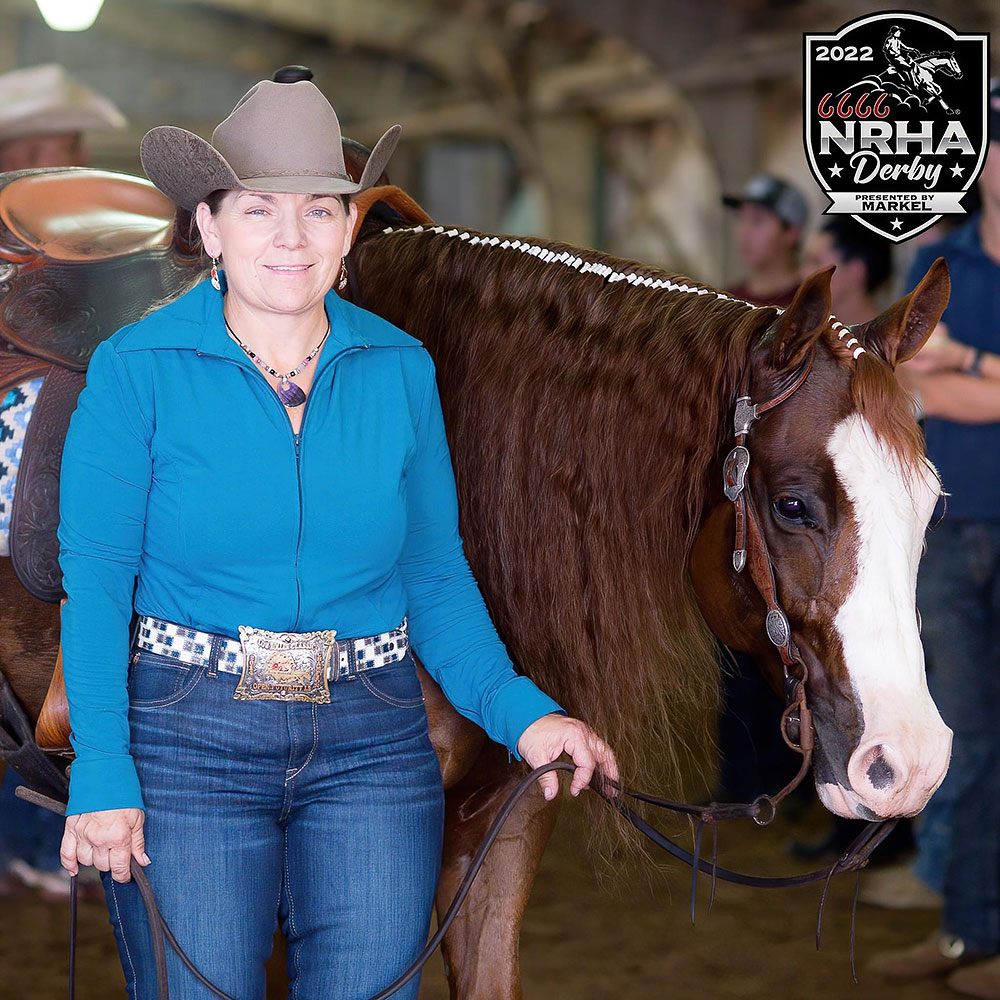 The 6666 NRHA Derby presented by Markel is ARC Wimpysgottagun and Johnette Burman's first show together, and the pair are already adding to the nine-year-old stallion's record. With a score of 142, the pair won the $500 Limited Open Championship and secured the Montana Silversmith's High Point buckle for the class.
"The first slate, I was a little conservative with him, because his owner was going to show him. [Now] that she was done showing him it was time to step on the gas and give him a little bit more," Burman said.
ARC Wimpysgottagun (Gunnatrashya x Wimpys Little Chic) was bred by NRHA Two Million Dollar Owner Arcese Quarter Horses and is owned by Janice Dickson.
"This is the first horse show I've shown him [at], and the second time I've shown him," Burman said. "He was good for me, he's really a nice horse and he's lot of success through the years. "He's a phenomenal stopper and he's very capable of plussing every maneuver."
Burman rides for Matt Mills and thanked Mills for helping her improve her showmanship. She also thanked owner Dickson for allowing her to show the horse.
$500 Rookie Professional High Point Champion – CBK A Nu Kinda Spark & Eric Grondin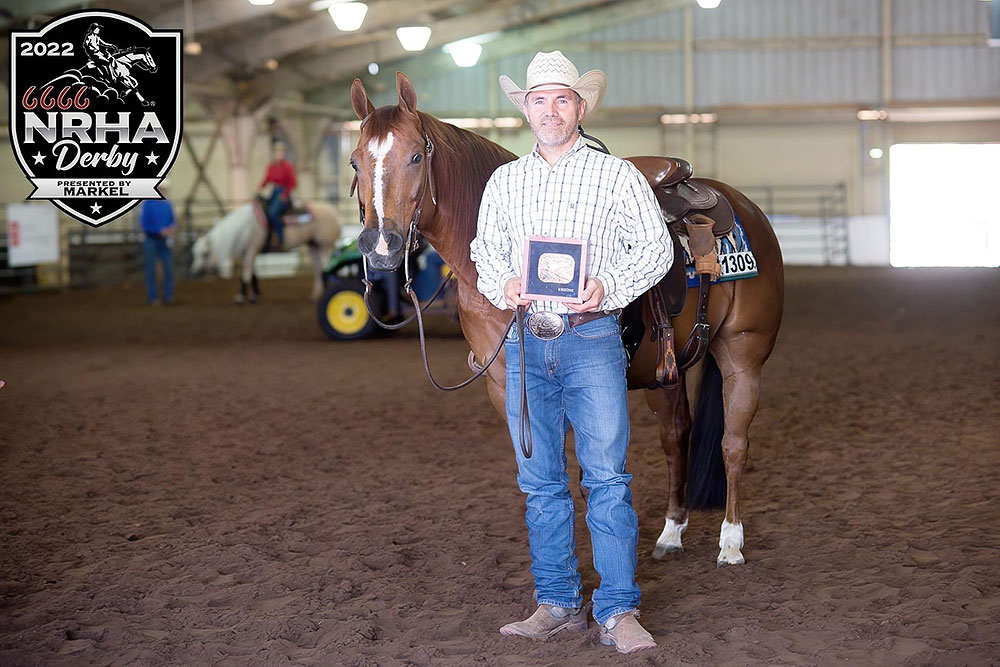 Eric Grondin and CBK A Nu Kinda Spark (Jacs Electric Spark x HR Wright On Cash) clinched the Rookie Professional High Point Montana Silversmith's buckle Monday afternoon, June 20, in the Adequan® Arena. The title represents consistency in the Canadian trainer's showing – a skill he has been working hard to hone.
"I think I'm very lucky to have won the High Point," Grondin said.
With a championship title in the class on June 18 and a reserve title in the second slate, Grondin earned a total of $449 for CBK A Nu Kinda Spark's owner Patricia Ann Jackson.
"I think [his strengths] today were the lead change and his stops. He always stops," Grondin said. "He's not really complicated to warm him up before a class. I think I need to do the same thing every time I show him."
$500 Rookie Professional Champion – Code Dun Snuck Out & Bobby Haneline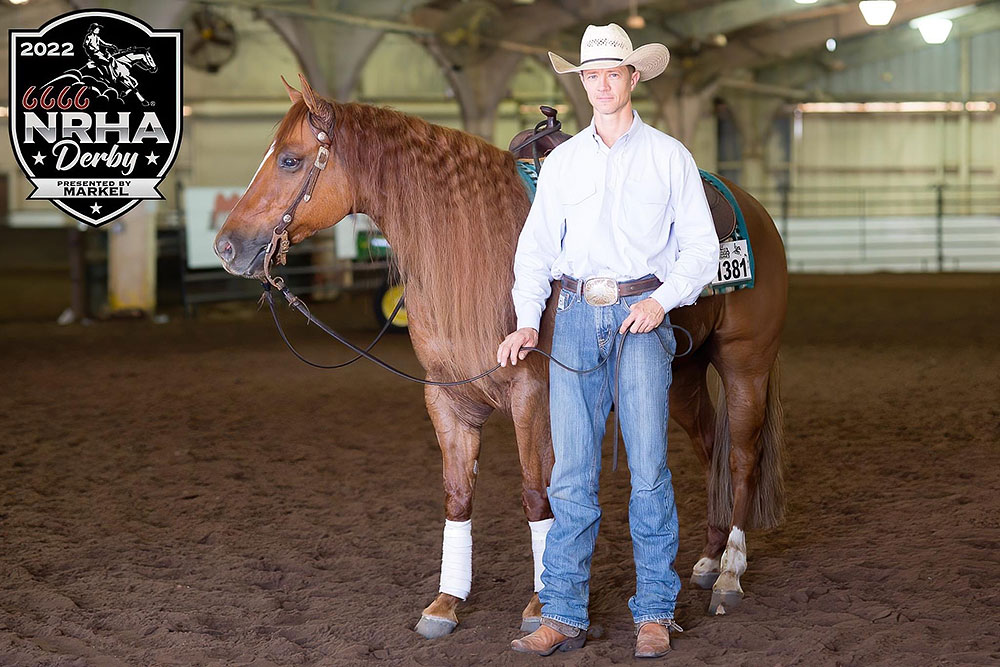 The Rookie Professional (2) championship went to Code Dun Snuck Out (Electric Code x Dun Sneaking Out) and Bobby Haneline, who earned $252 for the win.
"He's one that I just started riding a month ago or so. He's been in training with Jared Leclair, and I work for Jared. The owner was nice enough to let me start riding him," Haneline said.
The four-year-old stallion was bred by Robbin Thayn and is owned by Nicole Callaway.
"The run was good – he wanted to be good for me. I could have run him a little harder but the owner is going to show him at the end of the week [in ancillary classes] so I figured we'd go a little softer and make sure he's ready for her," Haneline said.
According to Haneline, Code Dun Snuck Out is on the smaller side but doesn't lack the strength it takes to make it through a reining pattern.
"I thank Jared Leclair," Haneline said. "Jared and Karla have been really good to me."
Limited Non Pro (1) Champion ­– Kylie Baker & Made For Tinseltown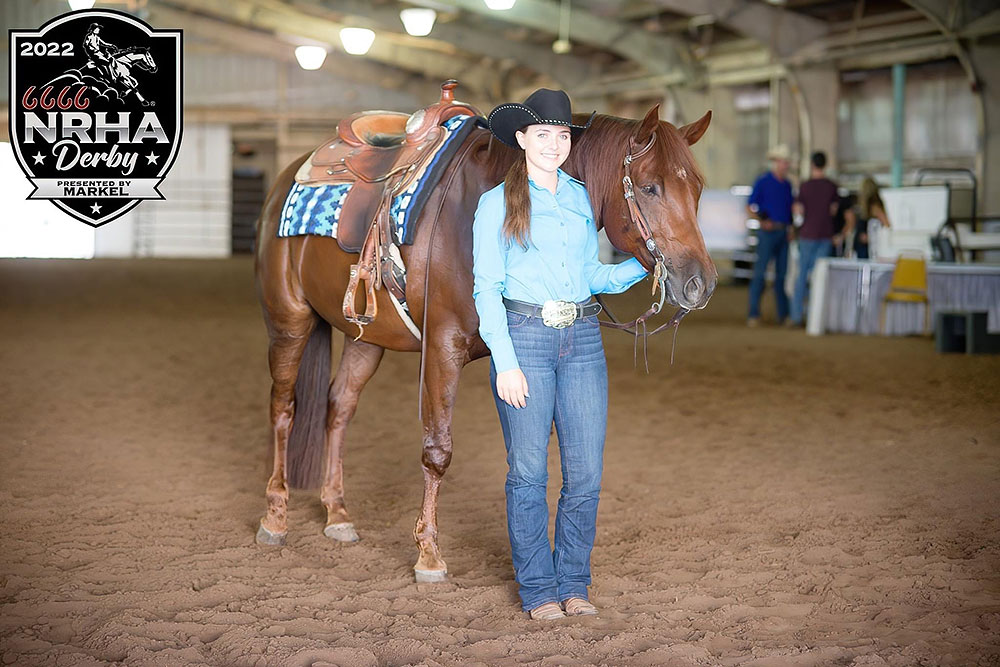 Kylie Baker and Made For Tinseltown claimed the win of the Limited Non Pro (2) Monday evening, June 20, in the Adequan® Arena. Scoring a 143, Baker earned $345 for the win.
"This was the first time I showed him [at the Derby] so I just wanted a clean, easy run. He did really great, I was able to push him more than I thought I would be able to," Baker said.
Made For Tinseltown, known as "Moose," is sired by Gunners Tinseltown and out of Custom Made Dunit. The seven-year-old gelding was bred by McQuay Stables and is owned by Tara Davis.
"I've been riding him for a few months now. I started leasing him [recently]," Baker said. "He's super pure in the show pen. He's kind of older but hasn't been shown too much so he's just a blast to show. I love everything about him."
According to Baker, Moose didn't get off her leg like she wanted in the turnarounds but performed the rest of the pattern perfectly.
"I loped him off and he was great. He's super square underneath me and around the ends, he's super honest. You turn around the corner and he's like, 'I don't really want to run, but O.K.' He stopped great, better than he has in a while," Barker said.
The team is showing later in the week in the ancillary Novice Horse Non Pro and Youth competitions.
"I thank my parents and Moose's owner, Tara Davis. She's the best for letting me show him. I also thank my trainer, Shane Kelley, and my whole barn family. There are too many to thank," Baker said.
Jackpot Rookie Prime Time Champion– Amanda Johnson & Arise The Phoenix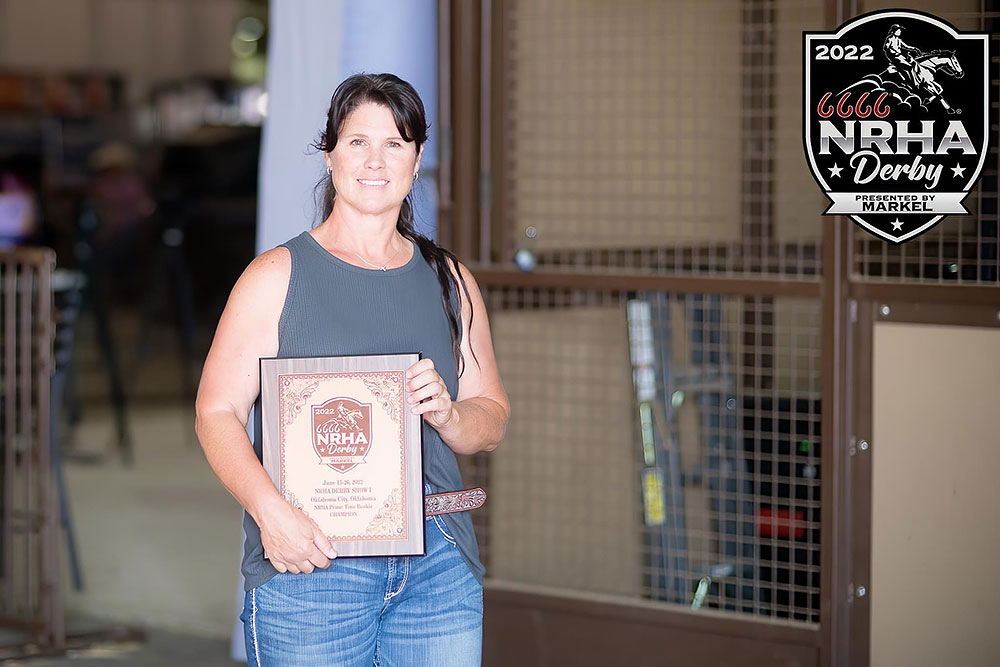 Amanda Johnson and Arise The Phoenix may not have been together long, but are quickly figuring each other out. On Sunday, June 19, Johnson and the five-year-old mare marked a 141 in the Adequan® Arena for victory in the first slate of the Rookie Prime Time and also top The Run For A Million Rookie Qualifier.
"She's really sweet and she's a businesswoman. She wants to do her job and then be finished. The more yåçou let her do [the pattern] on her own the better she is," Johnson said.
"Ari" is a flashy double-registered Pale Face Dunnit (an NRHA Two Million Dollar Sire) out of Talk About Janie. She was bred by Rachelle Valentine and is owned by Johnson.
Sunday was Johnson's fourth ride on the mare, and she focused on navigating Ari through the pattern as smoothly as possible.
"Yesterday we didn't know what we were going to have because we haven't [practiced] with her enough," Johnson said.
Coming from a diverse horse background including jumpers, cow horses and breed show horses, Johnson said she's been riding reiners for about a year.
"I like the cow stuff but with a daughter in college it's hard to keep everybody schooled up [on cows]," Johnson said. "So, we chose something that's a little easier for us to do all the time."
Johnson thanked the team at Billy Williams Performance Horses and Ruben Vandorp for connecting her with Ari.
For the first time at the 6666 NRHA Derby presented by Markel, Rookie competitors' entry and judges' fees were generously covered by NRHA Global Event Sponsor Toyon Ranch.
"Thank you so much to Toyon Ranch, it's a blessing to get a little bit of relief because we work so hard to be here. Thank you so much," Johnson said.