Another exciting day of competition drew to a close in the Adequan® Arena Saturday evening, June 18, with three open champions crowned.
The taste of Open reining competition was an exciting reminder of what's to come as the 6666 National Reining Horse Association Derby presented by Markel inches closer to the Open Derby preliminaries next week.
$6,000 Open & $1,000 Intermediate Open Champion – Lil Dreamin Magnum & Jeremy Gates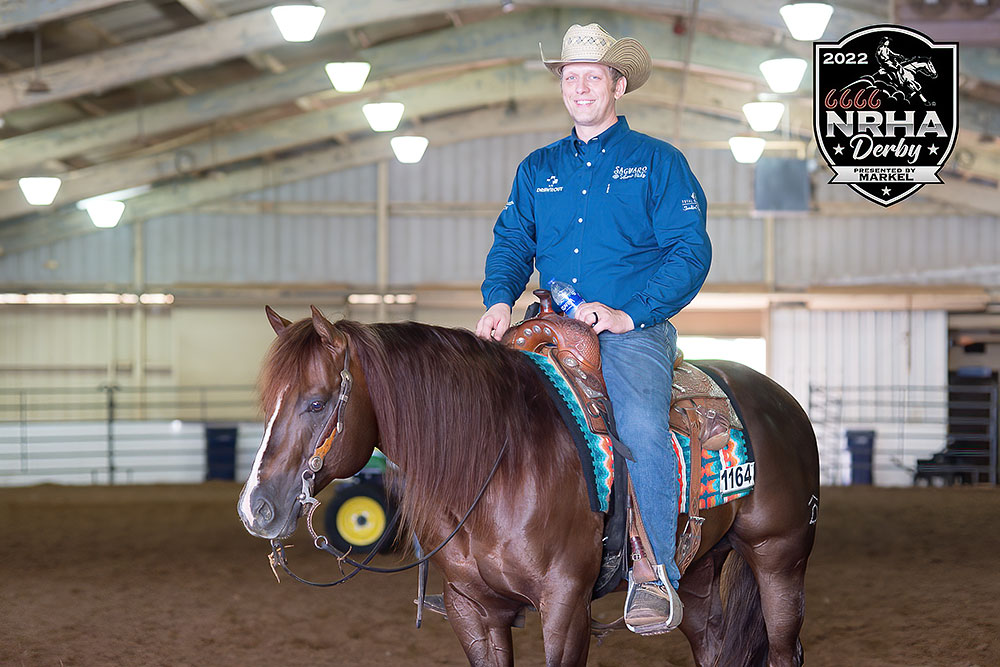 With a score of 148, Lil Dreamin Magnum and Jeremy Gates brought home the win of the first slate of the ancillary $6,000 Open and $1,000 Intermediate Open for owner Kathy Biesecker, pocketing $2,795.
"He's 11 and overcame a lot of things to be here today," Gates said. "He's had two colic surgeries, the first one was exploratory and the second one was a bypass."
Lil Dreamin Magnum (Magnum Chic Dream x Myo Starlight) was bred by Spence Bell of Maysville, Oklahoma, and was purchased out of the NRHA Markel Futurity Marketplace Sale as a yearling by current owner Biesecker.
"He's a huge turner and a big stopper," Gates said. "I'd like to take him to Vegas and qualify for The Run For A Million."
Gates works for Tom McCutcheon in Aubrey, Texas, and said his list of people to thank is long.
"We could be here for a while," Gates said good-humoredly.
$500 Limited Open Champion – Light Me Up Joe & Nick Valentine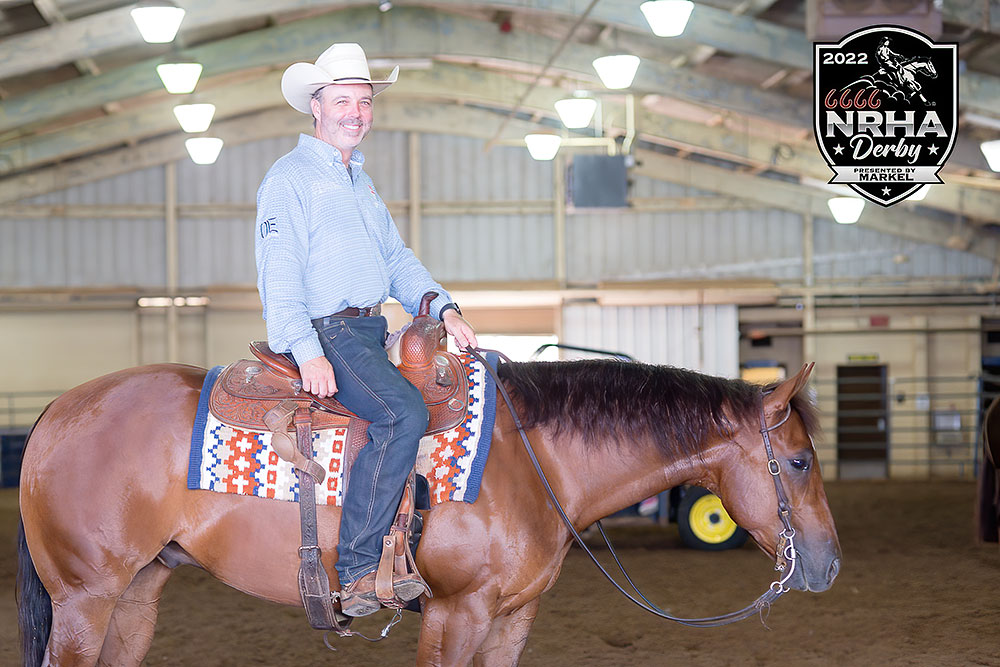 For Nick Valentine, the Ancillary $500 Limited Open class Saturday, June 18, in the Adequan® Arena was an opportunity to prepare Light Me Up Joe for the Open Derby Preliminaries taking place next week.
"I go on the last day [of the prelims] so I just wanted to make sure he connected all the dots and relaxed in there," Valentine said.
The trip got a little sweeter with a score of 142.5, a championship title, and a payday of $286.
"He's really good-minded—he's physically talented, too, but he's good-minded. He's a little green and he's getting show broke now," Valentine said.
Light Me Up Joe (Lil Joe Cash x Light Attack) was bred by Devin Warren and is owned by Valentine. The team has been working together since late last year and is set to show in section three of the Open Derby on Wednesday, June 22.
"He's a big stopper, pretty mover," Valentine said of the gelding. "He minds the heat a little bit so I just try to work him early and put him by the portacool."
$500 Rookie Professional Champion – CBK A Nu Kinda Spark & Eric Grondin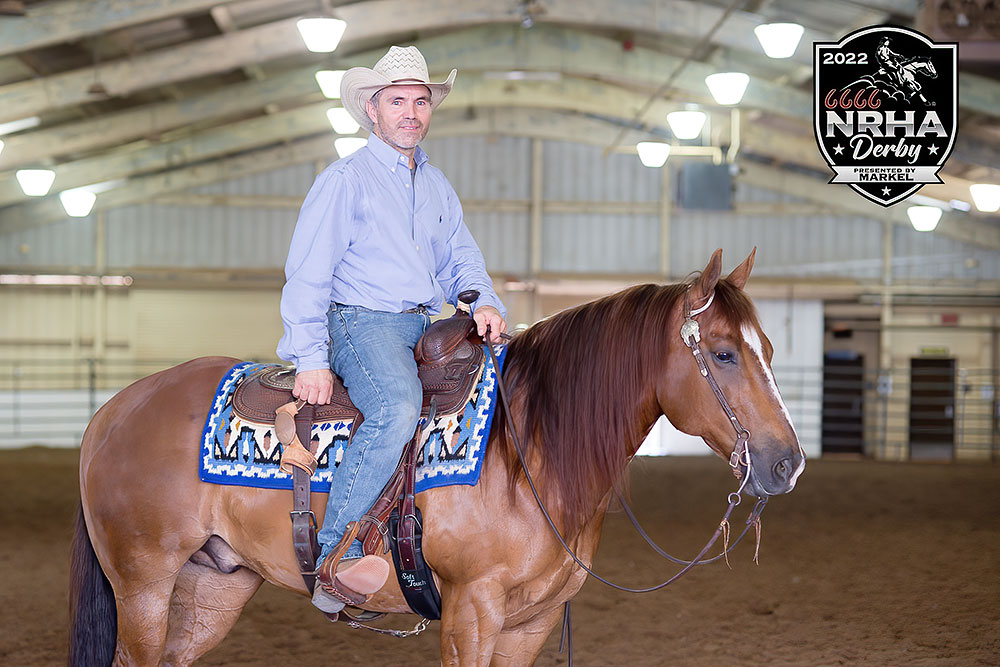 Canadian Eric Grondin is getting a feel for the show pen aboard CBK A Nu Kinda Spark (Jacs Electric Spark x HR Wright On Cash). On Saturday, June 18, the pair nabbed the win of the ancillary $500 Rookie Professional with a score of 141, winning $275.
"I've showed him four times. He's a good horse—he's not very complicated. I think he has lots of experience, lots more than me," Grondin said.
With more than 10 years of riding reining horses, Grondin is no stranger to the industry but has mostly worked behind the scenes.
"I need practice in the show pen. I've trained horses for many years but have not had lots of opportunities to go show. My friend Luke Gagnon, I work [for] him, and he's shown me lots of things," Grondin said.
Luckily CBK A Nu Kinda Spark is willing to show Grondin the ropes. The 11-year-old gelding was bred by William & Corliss Kellogg and is owned by Patricia Ann Jackson.
"I think his best maneuver is the stop. In the run down he waits [the whole time] and focuses on you. When you say whoa, he stops," Grondin said.
Classic Equine Green Reiner Level 1 Champion – Joetta Bell & Silver Gunn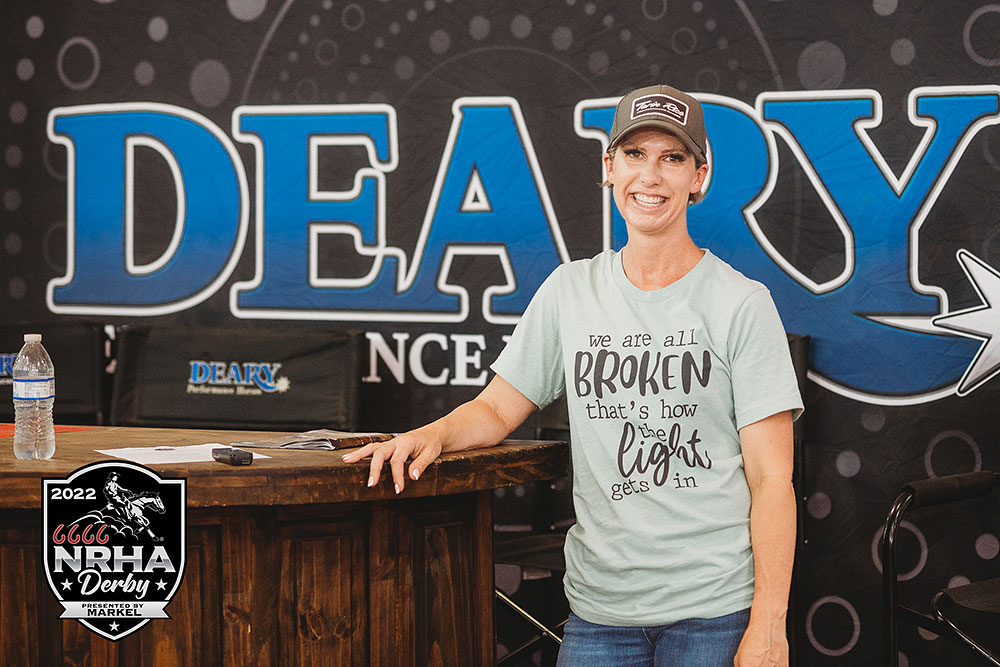 Joetta Bell and Silver Gunn navigated their way to a score of 141 in the Adequan® Arena Friday, June 17, in the Classic Equine Green Reiner Level 1, earning the championship by half a point.
The Millsap, Texas, resident got into reining this year and competes with daughter Trinity under the guidance of Casey Deary and Josh Tishman.
"It's my first Derby to show," Bell said. "My biggest goal is to just stay on pattern, be clean and be safe. [Friday] was really just practice for me for the Derby."
Bell and the 2017 gelding are slated to compete in Section three of the Non Pro at the 6666 NRHA Derby presented by Markel on Sunday, June 19.
"I didn't run him as hard as I will in the Derby for the circles," Bell said. "I wanted him to be confident and work on where I needed to be in the arena, which is always something Casey and Josh teach. I want to get past those markers."
According to Bell, Silver Gunn (Gunnatrashya x Silvernbluestarbuck) got plenty of rest in preparation for the show.
"He's not one that requires a lot of training. He's really my kid's horse, and I just wanted him to rest his legs and body before all of this heat and concrete," Bell said.
Find the latest news, draws, results, and more at NRHADerby.com.