Held in conjunction with the National Reining Horse Association Futurity, the Adequan ® North American Affiliate Championships at the OKC Fairgrounds are an opportunity for horses who have aged out of the futurities and derbies to compete, while also offering competitors of all ages and capabilities take a spin through the pen. While the NAAC classes are the main focus, the show offers ancillary classes as well for those who did not qualify.
Adequan® NAAC 13 & Under Champions – Isabella Sobral & Frame Draggin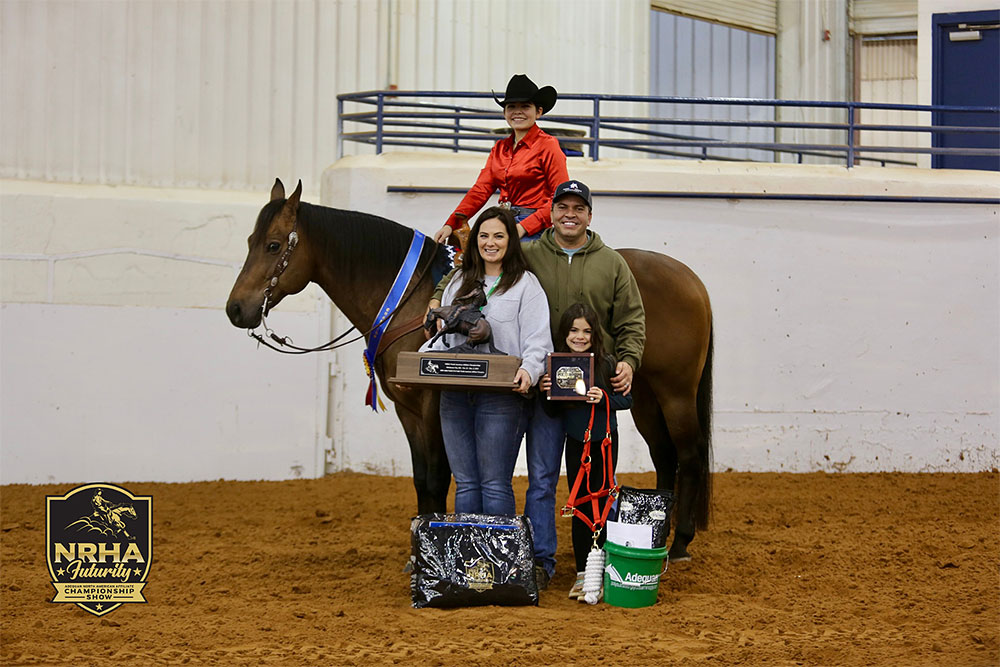 Isabella Sobral and Frame Draggin claimed the Adequan® NAAC 13 & Under Championship with an impressive score of 217.5.
"I'm really excited. This is my first time to show at the Futurity," Sobral said excitedly.
Frame Draggin is an 11-year-old gelding by NRHA Two Million Dollar Sire Einsteins Revolution and out of Coronas Major. Sobral owns the gelding herself, and he was bred by Jackspar Enterprises.
When she grows up, Sobral wants to be an equine lameness veterinarian, so the opportunity to show and learn more about horses is something she thinks is great.
"My goal wasn't to win the class; it was just to do good for our own sake," said Sobral. "So my next goal is just to make it back to this point of showing and winning."
Sobral thanked her parents, who run Sobral Performance Horses.
Ancillary Youth 13 & Under Champions – Heidi Flint & Bulletproof Shiner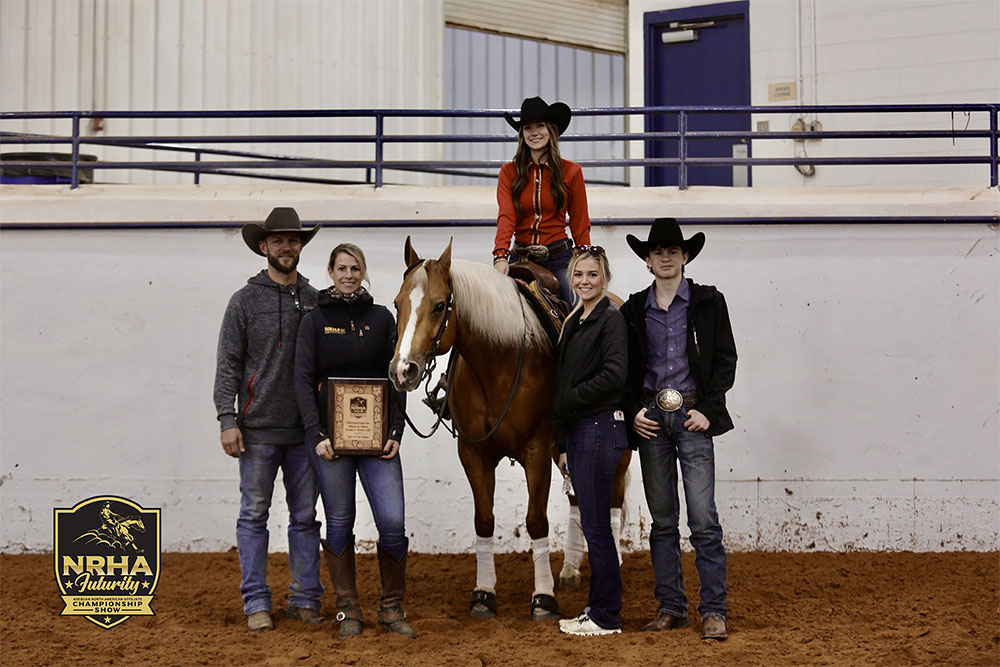 It was just the third time in the showpen when Heidi Flint and Bulletproof Shiner walked into Arena 6. Since the pair had only been together a short time, they hadn't qualified for the NAAC classes but were able to enter the concurrently-run ancillary classes.
The duo shined, putting together an impressive run that garnered a score of 218 from the judges.
"I just got him, so he's pretty new. This is very exciting that I got such a good score," she shared following the awards ceremony.
Bulletproof Shiner is an 8-year-old gelding by NRHA Three Million Dollar Sire Shiners Voodoo Dr out of Smart N Bulletproof.
Flint has big plans for her new mount. "I hope to win a bunch, like everybody does, but I also want to learn a bunch on him so I can get better and keep progressing," she said. "Hopefully, I'll get to bring him back to the Derby and win something there."
Flint thanked her mother, Josianne Gauthier, for allowing her to show her new horse in Oklahoma City. "I begged to bring him, and she agreed. We're from North Carolina, so it takes a lot to get her," Flint said.
While she's contemplating a career in cosmetology, making a big decision like that is still a ways off. "Mostly, what I think about is being exactly like my mom – a trainer and NRHA Professional," she said.
Short Stirrup Champions – Bryndle Sveen & Revvin My Motor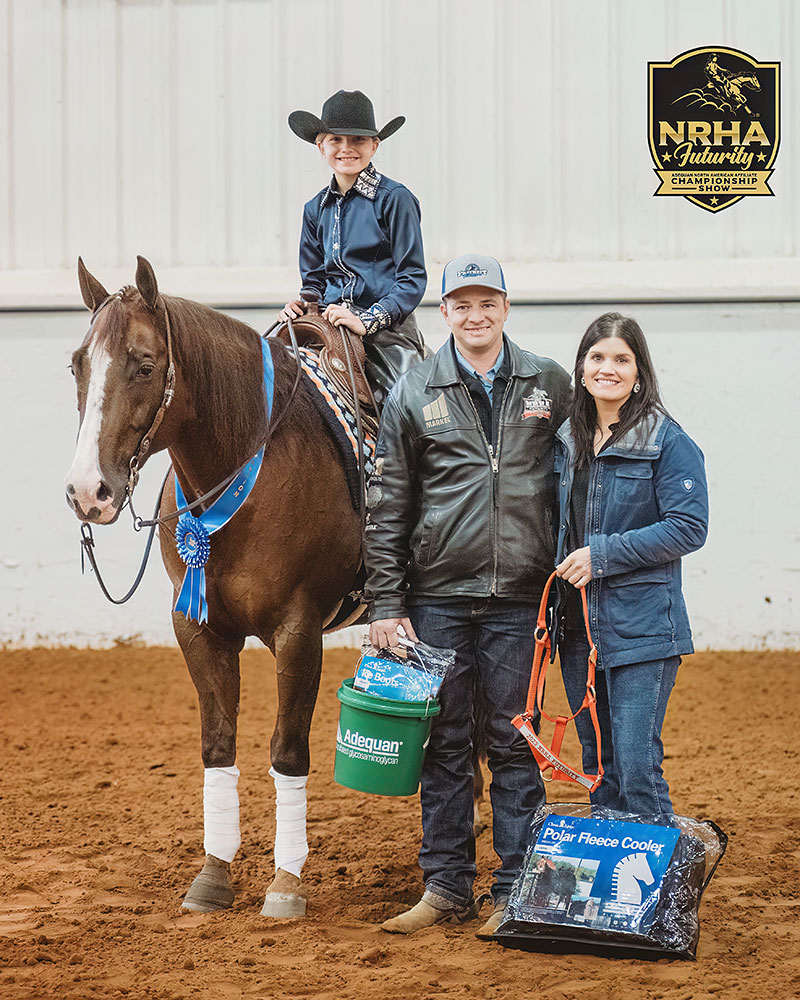 In the class that is consistently the most difficult to score, as the judges must focus only on the execution of the maneuvers and not how charming the horse and rider may be, Bryndle Sveen claimed the championship.
But not before having to complete Pattern A twice.
The competition in the Short Stirrup class was so fierce that there had to be a run-off to determine the winner. Sveen and Harlyn Heule tied for first with a score of 213 and had to run it off in order to see who could come out on top. Heule was a fierce competitor, scoring a 212, but Sveen managed to earn just one more point, making her the champion with another 213.
"It was my last time in the short stirrups, so I'm really excited," Sveen said.
The win was claimed aboard Revvin My Motor, an 8-year-old gelding by Wimpys Littlecolonel out of Miss Daisy Solano.
Sveen had plans to head back to the stalls and let Revvin My Motor enjoy some apple slices and special treats but first thanked her parents, her step-dad, Brandon Freiheit, and the gelding's owner, Jennifer L Beyl-Lee.
Update from the Adequan® NAAC Novice Horse Non Pro
The Adequan® Arena hosted the first section of the Adequan® NAAC Novice Horse Non Pro classes, which featured 119 entries, including those in the ancillary divisions. Awards for all classes will be presented Friday at the conclusion of Section 2, but Mason McDowell currently leads all divisions. He piloted Xtra Fugged About It to a 220 to take the lead, securing the Adequan® NAAC Championships for the Novice Horse Non Pro Level 1 and Level 2.
Xtra Fugged About It, owned by McDowell, is a five-year-old mare by NRHA Million Dollar Sire HF Mobster out of Lenas Whizabelle.