As the National Reining Horse Association Futurity continued through the open semi-finals at the OKC Fairgrounds, competitive teams of horse and rider fought for Adequan ® NAAC Champion titles.
Adequan ® NAAC Novice Horse Open Levels 1 & 2 Champion and Ancillary Novice Horse Open Champion – Marco Ricotta & Black Chex Cash
On their path to hopefully claiming a world championship, Marco Ricotta and Black Chex Cash have collected quite the list of championship accolades, and on Tuesday, Nov. 28, they added Adequan® NAAC Novice Horse Open Levels 1 & 2 Champions to the list. The pair also claimed the ancillary titles for the Novice Horse Open in Levels 1, 2 and 3.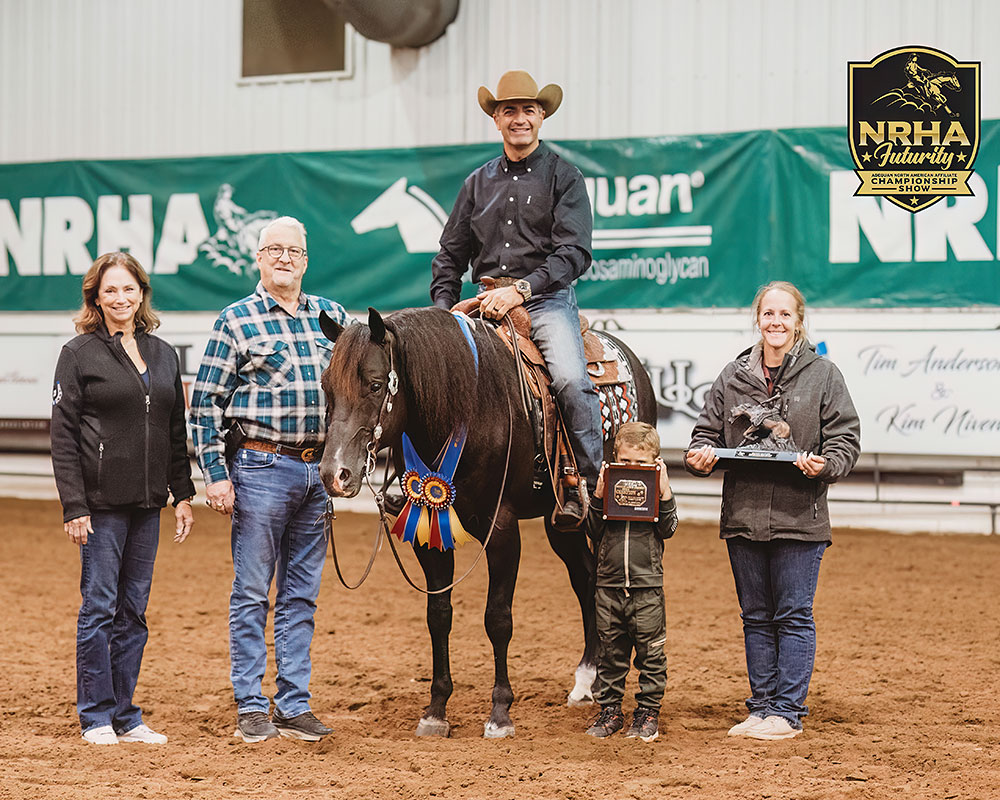 This impressive list of new titles earned the pair $4,290 to add to Black Chex Cash's lifetime earnings of just over $25,000.
"We ended up at a show earlier in the year, and she [Kim Niven] said 'Marco, why don't you try him? Go do what you got to do and have some fun," Ricotta said.
Black Chex Cash, a 2016 stallion by NRHA Million Dollar Sire Big Chex To Cash and out of Blazing In Black, suffered an injury in his 2-year-old year that prevented him from making a name for himself in his futurity and derby years, but he is commanding the attention of anyone watching the ancillary pen now.
Black Chex Cash is owned by NRHA Million Dollar Owner Tim Anderson and has been shown in non pro divisions by Kim Niven.
To prepare for the run today, Ricotta said, "I tried to get him in the mindset the night before, so today, I went outside and rode him in the big pen to finish getting him mentally ready."
Ricotta thanked Anderson and Niven for the chance to ride the stallion this year.
Competition continues in the Adequan® Arena with the CINCH Non Pro Futurity Consolation Round.