The reining world said goodbye to one of its most successful broodmares on September 27, 2022, when Miss Tinseltown (Great Red Pine X Ms Holywood Showtime) passed.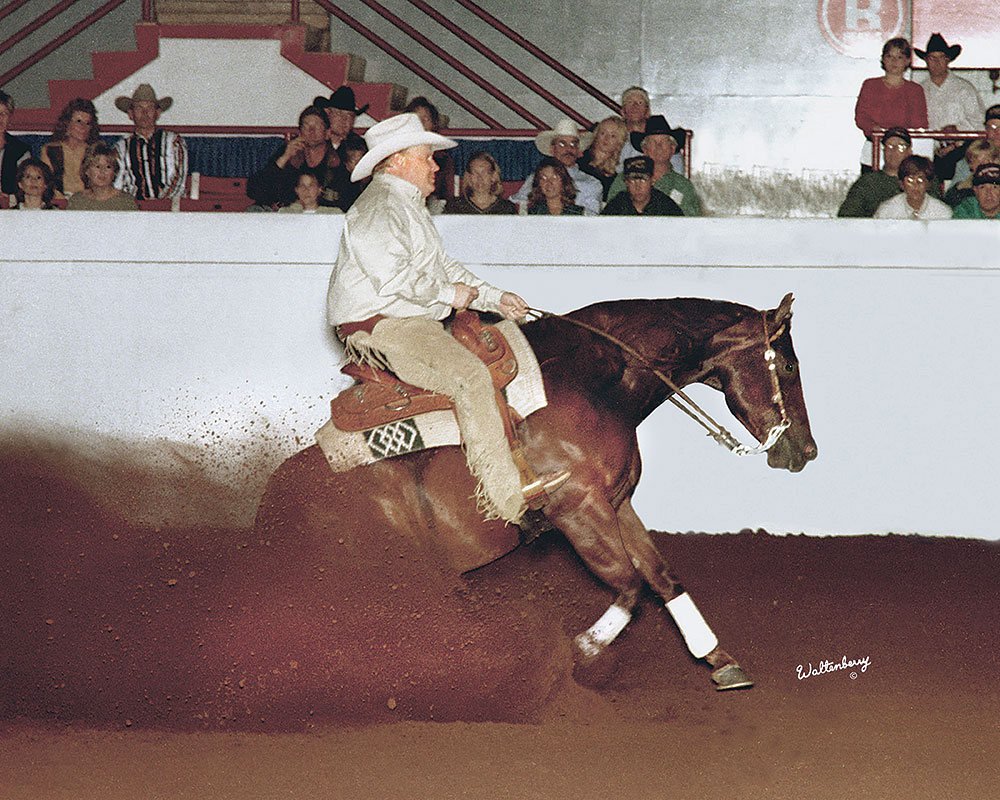 Foaled in 1994, NRHA Hall of Fame mare Miss Tinseltown wasn't just a superstar in the show pen. After earning more than $114,000 in her own career, she went on to produce 13 foals that contributed more than $793,600 to her produce record.
The sorrel mare's offspring include NRHA $3 Million Sire Hollywoodstinseltown (by NRHA $5 Million Sire Hollywood Dun It) and Gunners Tinseltown (by NRHA All-Time Leading Sire Gunner), earner of more than $305,000 and producer of more than $457,800, both owned by NRHA Million Dollar Owners Dave and Bonnie Silva.
NRHA $3 Million Rider Tim McQuay rode Miss Tinseltown to most of her show pen success, which included a 1997 NRHA Futurity Top Five finish and a Reserve Championship at the 1998 National Reining Breeders Classic. The pair upped their game in 1999, winning the NRBC Level 4 Open Championship with an incredible score of 233.5, and that score would stand for years as the NRHA's highest all-time marking. Next was a reserve finish in the 1999 NRHA Derby.
McQuay first laid eyes on Miss Tinseltown when she was shown by Benjamin Miller, assistant trainer for Larry Rose, at a horseshow in Lexington, Virginia. "He marked 75s across the board on her and never touched her face. She just went around and showed great for him," McQuay recalled. "We bought her for Mandy [McCutcheon]. She rode her once, and [Miss Tinseltown] pulled her right out of the saddle, so I decided that I had better ride her for a little bit. That was the only time Mandy got to ride her!"
While the mare and her offspring were integral to the reining industry, she meant the world to McQuay. "That mare was great to me," he said. "I loved her. She was a great mare. She was kind of tricky to put through a schooling pattern and take her around there and try to be easy with her, but when you put the hammer down and said, 'Let's go win some money,' she always said, 'Okay, let's go!"
For Dave and Bonnie Silva, Miss Tinseltown, or "Tina," as she was affectionately known, was a part of the family for 25 years. Dave said, "I give a special thank you to Tim and Colleen [McQuay] for selling her to us."