The Reining Horse Foundation is set to once again host Sliders' Night Out presented by Toyon Ranch, the premier night on the social and charitable calendar of the reining community, on November 29 at the OKC Fairgrounds in Oklahoma City, Okla. This evening of celebrating the history and future of the National Reining Horse Association (NRHA) is held during the NRHA Futurity and Adequan® North American Affiliate Championships.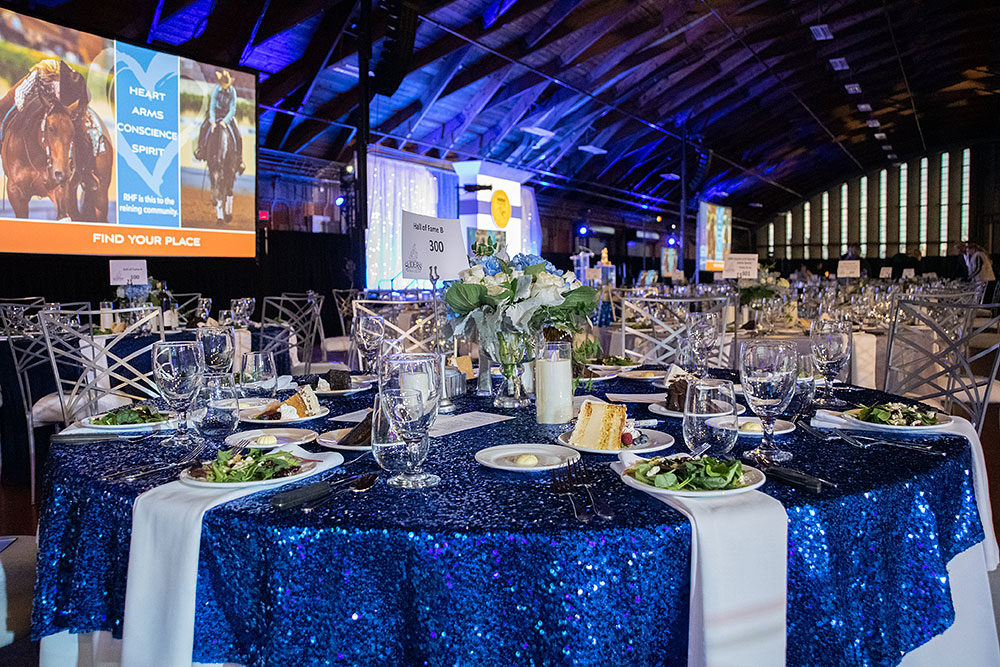 "This is an annual celebration to come together and honor new and previous inductees into the NRHA Hall of Fame, as well as the recipient of the NRHA Dale Wilkinson Lifetime Achievement Award – the highest honors bestowed by NRHA. The second purpose is to raise funding crucial for the RHF and its core programs," said Rick Clark, chairperson of the RHF Board of Directors Development Committee and RHF Officer. "This is the fifth year the gala will be in this format. I'm proud to say Toyon Ranch has been the presenting donor all five years; we have great appreciation for the leadership from owners John and Nancy Tague."
Inducted into the NRHA Hall of Fame will be the late "Bob Mac" (Bob McDonnell), Dell Hendricks, and Gunnatrashya. The program is also set to recognize Dave Belson and the duo Jenifer Reynolds and Chris Cook as recipients of NRHA Dale Wilkinson Lifetime Achievement Awards.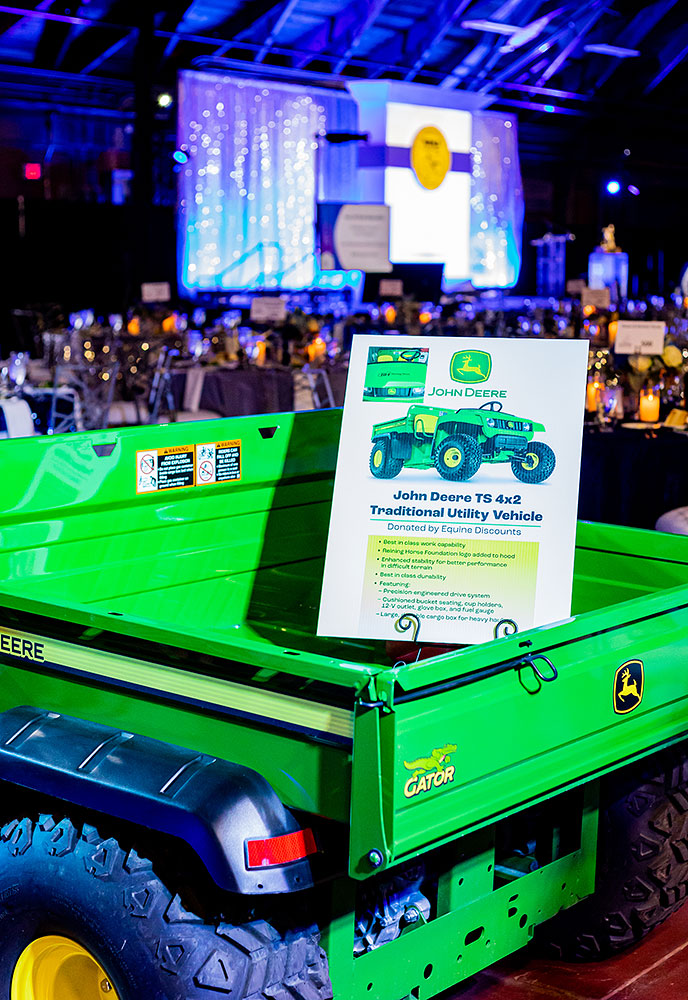 In 2023, Sliders' Night Out will include a limited live auction with several offerings made possible by NRHA Corporate Partners. The line-up includes a breeding package featuring GeneTech ICSI Services, an embryo from Dun Dry Whiz, the dam of Mic Dropp, and a breeding to Toyon Ranch featured stallions. The package is made possible by GeneTech, Clark Reining Horses, and Toyon Ranch. Equine Discounts is donating a John Deere Ztrak Zero Turn Mower, Model Z-720E, that will be outstanding around any home or ranch. MS Diamonds TX, a perennial RHF contributor, is offering an 18K white gold pavé ring featuring gemstones.
An exclusive VIP Offering and Premium Seating to The American Performance Horseman is sure to be popular. This coveted package includes limited edition credentials, private dining and cocktail experience, reserved seats for The American Rodeo, and more. Courtesy of the NRHA, this offering will surely be the best seat in the West! Additional auction items may be announced closer to the event.
Since 2018, Sliders' Night Out has been the single largest annual fundraiser for RHF, which serves as the charitable arm of the NRHA. Through major underwriters and Hall of Fame table hosts, dollars are raised in support of the RHF mission of caring for and honoring the reining community. Core programs include the Dale Wilkinson Memorial Crisis Fund, youth scholarships, and leadership development through the National Reining Horse Youth Association, and perpetuation of the sport's history through the NRHA Hall of Fame.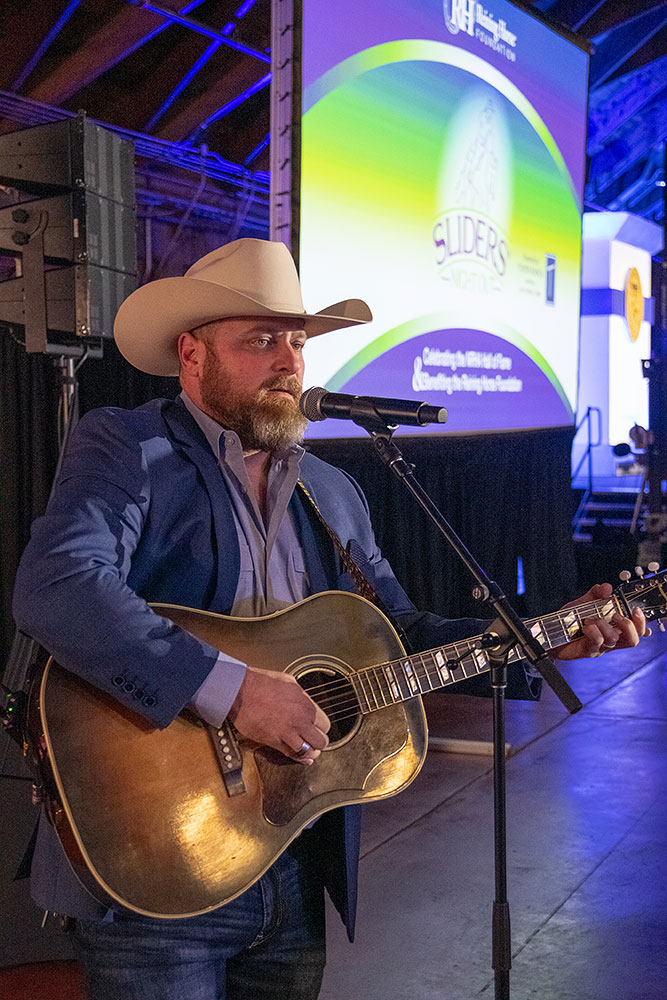 Donors of every level are important to the success of this event. They come from individuals, corporations, ranches, training barns, foundations, and groups of reiners joining forces to support the event. Early Platinum Donors are Tim Anderson and Kim Niven, Cardinal Ranch, Rick Clark, 100X Equine, Santa Hill Ranch, 7 Lakes Ranch, Spooks Gotta Spark/Shawn Flarida Reiners, and Jamie Walters/JW Performance Horses Inc. TAM Enterprises Inc. and Diamond 4D Performance Horses LLC are at the Gold Donor level. To date, Silver Donors include Booth Ranches, Debbie and Gary Conway, Mike and Bryan Hancock, Markel/Frank & Susan Costantini, Mike and Beth McFarlin, Elite Estates AZ/Sierra Wright Littrell & Sarah Korpela, and Visit Oklahoma City.
These top-level donors, plus many Hall of Fame Table Hosts, make it possible for all NRHA Hall of Fame inductees to attend the event as honored guests. All Hall of Fame members are invited to be a part of the program again this year.
Back for an encore performance is musician and singer Isaac Hoskins, who performed at Sliders' Night Out 2022. He'll be joined on fiddle by singer Scarlett Deering.
Reservations are encouraged by November 20 to ensure a chance to attend Sliders' Night Out and enjoy the chef-prepared dinner and celebration. Individual tickets are also offered based on limited availability.
To make reservations, contact Leslie Baker, RHF, (405) 946-7400, ext. 106 or email rhf@nrha.com.