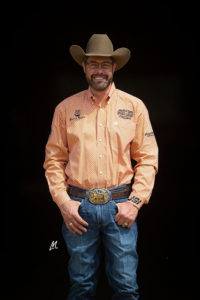 The National Reining Horse Association's newest Million Dollar Rider Ruben Vandorp loves his life. Career-wise he loves reining, reiners, the reining community, and most of all, the horses. He's equally passionate about his family – wife Melissa, kids Skylar and Peyton – and his church.
In fact, there are very few topics that this Netherlands import isn't enthusiastic about, and that's been his mindset since he came to the United States with a duffle bag and a dream. "I started in youth competition, then out of high school got a job with Nedpoint in the Netherlands," Vandorp recalled.
After a few years, he moved to Pauls Valley, Okla., to continue working for the international exporting company that purchased horses in the U.S., then shipped them overseas. "That got me into it and made me want to buy horses and sell them and put them on airplanes," he explained.
Indoctrination into this aspect of the reining world shaped Vandorp's future indelibly and throughout his career, his model has been to get horses started, and then sell them. He also placed other trainers on the talented athletes when he felt that was the right direction. It has been a very successful formula but did make it harder for him to amass his own earnings in the show pen.
One of Vandorp's friends mused that he's probably the only rider who has won a million that didn't set out to win a million – just to sell horses. "I've always taken that route of selling them when they started working," he admitted with a laugh. "Well, with just a few exceptions."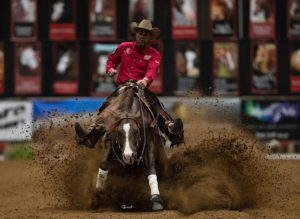 Einsteins Revolution (Einstein x Fly Flashy Jac) was the first of those exceptions and the horse that put Vandorp on the reining radar screen. The now $2 Million NRHA Sire was a standout. At the 2007 National Reining Breeders Classic, Ruben won the Level(L) 3 and after a tie was second in the L4, earning more than $80,000.
Another top money earner was Legacy In Lights (Hit The Lights x Doc Berry Miss), which Vandorp rode to earnings exceeding $159,000 as a 3-year-old. In 2020 it was Spooks Gotta Crush (Spooks Gotta Whiz x Megas Sugar Baby) that headlined with Vandorp when he rode him at the NRBC to win the Level 3 Championship and tie for fourth in the Level 4, earning $46,321.
Ruben passed the million-dollar mile marker in October at the 2021 Best of the West Show in Scottsdale, Ariz. on Mr Farenheit (Magnum Chic Dream x Wimpy Little Girl), a horse he co-owns with Max Morin. "What I'm super excited about in hitting the million is the honor of being in a group with so many trainers I respect and admire – it's very humbling. So many of them have been so helpful – overall the whole reining community has been encouraging and helpful," he said.
NRHA President Rick Clark was quick to note, "Ruben has been in the industry a long time. He's an excellent showman who has worked very hard over the years to achieve this milestone. This achievement is a testament to his dedication."
What does the future hold for Ruben? "There's really nothing I want to change. I love what I do and love the customers I have so I want to just keep going and enjoying life."
Photos are courtesy of Ruben Vandorp