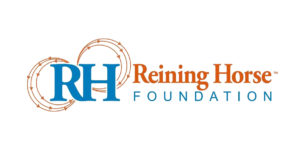 Two Decades of Helping Reiners
Reiners helping reiners is a story that never gets old, and the Reining Horse Foundation, which turns 20 in 2021, has been helping that happen for two decades.
It's often a real eye-opener to find how much help is available. When Bud Roebuck, an NRHA Professional, had his Florida training facility destroyed by a tornado he did not even think of reaching out until a friend urged him to do so. He said, "I guess I thought that the Foundation help was mostly for people who had injuries or illnesses."
But the RHF has a broader focus and its Dale Wilkinson Memorial Crisis Fund helped Bud and his family survive the setback. "Like most people in the horse world, it was hard to admit we needed help, but the funds really took the pressure off while we rebuilt and got our business going again." These days, Roebuck, like many others who have received assistance, is committed to giving back to the Foundation.
That same giving spirit from people around the globe is allowing the charitable arm of the National Reining Horse Association to kick off its milestone year announcing increases in grants available through its cornerstone program, the Dale Wilkinson Memorial Crisis Fund. NRHA members impacted by medical, accident and disaster hardships will find that the Foundation grant maximums are now 20 percent greater and that is on top of previous increases made in 2016 and 2017. Go here for complete details on grant tiers and criteria.
"Increasing these grants is an ideal way to commemorate two decades of support for the reining community. The Dale Wilkinson Memorial Crisis Fund has been helping reiners since shortly after it was established in 2001," said RHF President Tim Anderson. "In recent years our Board of Directors has been dedicated to substantially increasing the amount of financial support we can provide to NRHA members in crisis. Thankfully, donors from around the world are stepping up to make these larger grants possible."
Other welcome news for this anniversary year is that the Foundation plans to host its largest annual fundraiser, Sliders' Night Out presented by Toyon Ranch. The event, which takes place annually during the NRHA Futurity, was postponed in 2020 due to COVID-19 restrictions, but it is expected to come back bigger than ever in 2021 to celebrate the RHF's 20th-anniversary theme.
"We hope that continued strong donor support will allow us to make additional announcements around our core programs in 2021," said Rick Clark, NRHA president and member of the RHF Board of Directors. Clark also chairs the Foundation's Development Committee and is enthusiastic about future projects.  "We have some ambitious goals to expand the scholarship programs for members of the National Reining Horse Youth Association and establish an endowment that will support this organization's work for decades to come."
---
The Dale Wilkinson Memorial Crisis Fund exists to help reiners and in 2021, has increased most grant maximums by 20 percent. That increase is in addition to the substantial increases made in 2016 and 2017.
The RHF Crisis Fund criteria separates grant applications into a four-tier system depending on the type of hardship. With this increase, Tier 1 medical and Tier 2 accident grants will increase to a maximum of $3,600 each, and Tier 3 disaster grants will increase to a maximum of $6,000.
NRHA members in need of assistance can get a Crisis Fund application and see details here or contact Leslie Baker, RHF Executive Director, at lbaker@nrha.com or (405) 946-7400.
---
Follow RHF on NRHA's social media channels, including weekly #FoundationFriday posts on Facebook, Instagram, LinkedIn and Twitter.  For details on how you can help support the Crisis Fund or any of the RHF programs, contact any RHF Board member or Leslie Baker, RHF Executive Director, at lbaker@nrha.com or (405) 946-7400.