Newly formed brand's contribution will help improve programs which support and honor the reining community, while celebrating the sport's history

(August 20, 2021) OKLAHOMA CITY, OKLAHOMA – The Reining Horse Foundation, the philanthropic arm of the National Reining Horse Association, recently received a generous gift of $50,000 from the Teton Ridge Foundation. The donation will help fund programs designed to support youth leadership development, members who are enduring hardships, and both individuals and horses who have made valuable contributions to the sport of reining.

The Teton Ridge Foundation serves as the philanthropic wing of the newly created western brand, Teton Ridge.
The brainchild of visionary entrepreneur Thomas Tull, Teton Ridge was formed to help preserve the values and traditions of America's iconic western culture, by investing in western performance sports, sponsoring riders, trainers, and events, strategically breeding Quarter Horses, and focusing on long-term land conservation.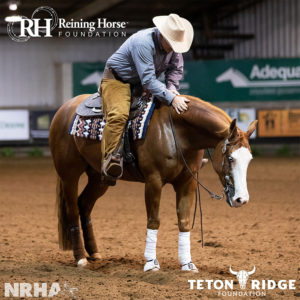 Thomas Tull's appreciation for western culture's core values — integrity, hard work, and respect, inspired his support of the Reining Horse Foundation, an organization dedicated to hard-working individuals whose livelihoods depend on the western way of life.

According to RHF President Tim Anderson, "The mission of Teton Ridge aligns with ours in many important ways. Certainly, the Reining Horse Foundation shares an interest in preserving the history of reining, which is widely recognized as one of the most exciting disciplines in all of western performance sports."

The contribution will strengthen multiple programs, including the Dale Wilkinson Memorial Crisis Fund, which provides relief to NRHA Members experiencing hardships caused by injury, illness, and even natural disaster.

Additionally, Teton Ridge's donation will support youth leadership development programs and educational scholarships for members of the National Reining Horse Youth Association.
Contacts:
Leslie Baker
Reining Horse Foundation
(405) 946-7400 x 106
rhf@nrha.com
Katie Harvey
KGBTexas Communications
(210) 410-1139
katie@kgbtexas.com