The reining and equine industry lost an incredible horseman on January 18. Clark Bradley, Ohio, was a two-time NRHA Open Futurity Champion, winning those coveted titles in 1968 and 1974. He was inducted to NRHA's Hall of Fame in 1994.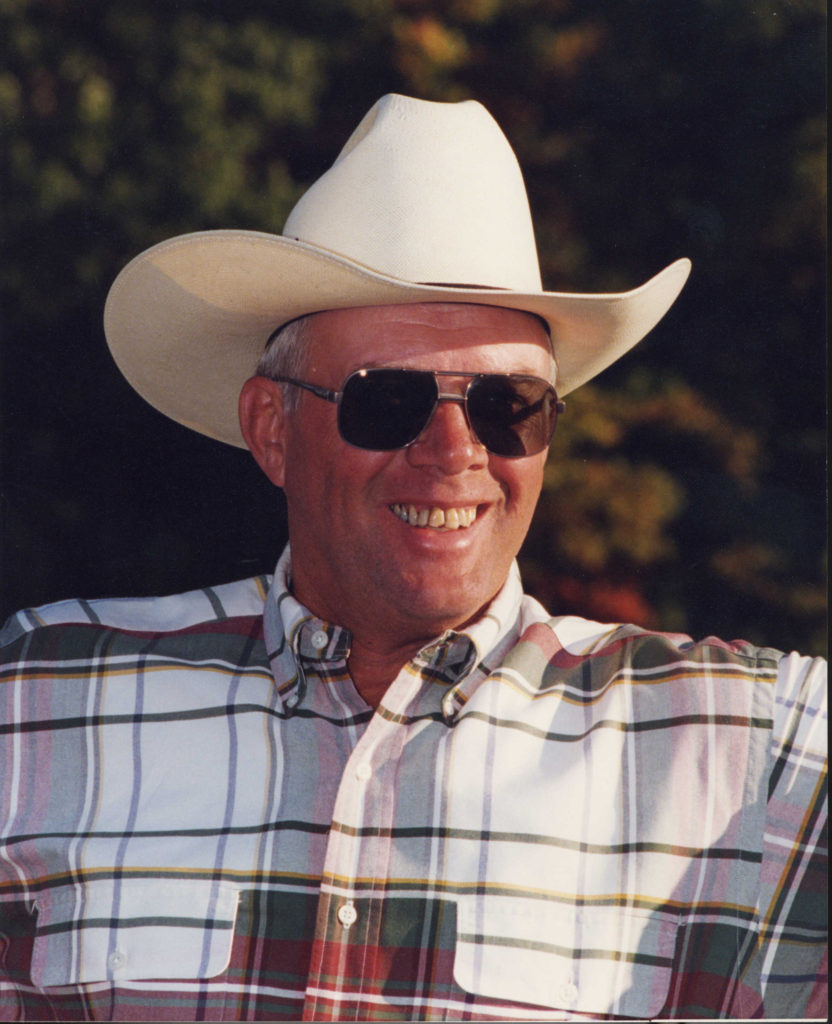 Clark also served as President of NRHA, as President of the Ohio Quarter Horse Association and as a National Director for the American Quarter Horse Association.
The accomplished horseman collected numerous All-American Quarter Horse Congress wins in western pleasure, reining, roping and cutting, and was an AQHA, NRHA and NSBA judge.
Bradley was an instructor at the University of Findlay for 26 years, and became an active coach with the University's western equestrian team in 1996. He has helped coached several national championship teams and two reserve national championship squads.
The NRHA family sends our sincerest condolences to Clark's loved ones and friends.
Full Obituary:
Clark Rickard Bradley
July 30, 1945 – January 18, 2022
Clark passed away at his home in Newark, Ohio, where he and his wife of 25 years, Bonnie Bradley, had recently moved.
Clark was born in Hilliard, Ohio to Bailey "Stretch" Bradley and Betty Rickard Bradley. He graduated from Hilliard High School and from the Texas Christian University Ranch Management Program. He served in the United States Marine Corps Reserve, completing boot camp training at the Marine Corps Recruit Depot Parris Island, SC.
He spent his life dedicated to the training of horses, showing horses, teaching, judging and mentoring future horse trainers.
For over 30 years Clark was an instructor in the University of Findlay Western Equestrian Studies Program and was Assistant IHSA Coach, winning multiple IHSA National Championships. He represented AQHA, NRHA and NSBA as he judged horse shows all over the world. He judged the AQHA World Championship Show 4 times and the NRHA Derby 3 times. He conducted horse training clinics throughout the US and Canada as well as youth and adult horsemanship and reining schools for over 40 years.
Clark was honored by the horse industry as the 2001 AQHA Professional Horseman of the Year, NRHA Hall of Fame in 1994, All American Quarter Horse Congress Hall of Fame in 2008, the recipient of the Southern Belle Living the Mission Award in 2013 and in 2015 was presented the AQHA Most Valuable Professional by the Ohio Quarter Horse Association.
Clark served the NRHA as President, member of multiple committees, was on the board of Directors for over 25 years and a NRHA Futurity Live Webcast commentator. He won the NRHA Reining Futurity 2 times. He served the OQHA with 2 terms as President, Director for over 40 years and became an Honorary Director in 1988. AQHA was a large part of Clark's professional life. He served on the Show and Contest Committees for 31 years and was past Chairman for the Show Committee and the Show Council. He was a member of the Professional Horsemen Council and Chairman for the Animal Welfare Committee.
Over the course of Clark's career, he and his clients showed horses to wins in NRHA, the All American Quarter Horse Congress and AQHA from reining to cutting to ranch riding and many other disciplines. Clark was highlighted in several publications through the years such as the AQHA Journal, NRHA Reiner, Western Horsemen, OQHA News, Quarter Horse News, Performance Horse and University of Findlay Publications.
Clark is survived by his wife, Bonnie, son CR Bradley of Collinsville, Texas (wife Rose), stepdaughter Brianna Stone of Newark, Ohio (husband David), grandsons Cooper, Tanner and Austin. Sisters, Coralie Davis of Tyler, Texas, Mary Bradley of Granbury, Texas, Marilyn Kay Crowson of Louisville, Mississippi, and brother Bill Bradley of Mt Vernon, Ohio.
In lieu of flowers, the family is honoring Clark's request that donations be made to the AQHA Professional Horsemen Endowment. Gifts can be made securely online or be mailed to:
American Quarter Horse Foundation
Professional Horsemen Endowment
Memory of Clark Bradley
PO Box 32111
Amarillo, TX 79120
Celebration of Life for Clark Bradley
Tuesday, April 5, 2022 2:00pm – 5:00pm
Ohio Quarter Horse Association
6325 Quarter Horse Drive
Columbus, Ohio 43229