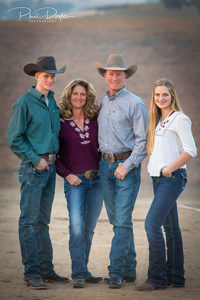 Wife, mother, daughter, sister, coach, trainer, friend, fighter: these all describe Becky Hanson who passed away on May 25, 2020, after a seven-year battle with glioblastoma multiforme. Along with the entire reining community, the National Reining Horse Association (NRHA) mourns the loss of this NRHA Professional who leaves behind a legacy of philanthropy and tenacity, plus a vibrant zeal for life, horses, and family.
Born on September 1, 1971, in Mountain View, California, Becky essentially grew up in Eagle, Idaho. And that's where she graduated high school. Life after that was a roller coaster, in the best way.
Long before the chemotherapy and radiation, Becky graduated from Eastern Oregon University in 1993 with an English literature degree and a minor in secondary education. She intended to teach high school students. Instead, she became a horse trainer.
Married in July 1994, Becky and her husband, David, moved to Italy the very next year. It was clear educating high school students wasn't an option when Becky was training horses for Eleuterio Arcese and family. Becky's love for horses stemmed from her foundation in cow horses, cutting, and college rodeo as a breakaway roper.
David said Becky loved teaching, and that made her a perfect match for working with young horses. She redirected her love for teaching into giving lessons and had an uncanny knack for pairing horses and riders that complimented each other.
Becky and David spent five years training reining horses in Italy before coming back to California. Becky made the NRHA Derby finals and earned several North American Affiliate Championship placings. She also won the rookie pro title in 2006 as well as major event awards across the globe, all while coaching countless non pros to victory.
In 2000, Becky and David made their home in Clements, California, where the pair raised and trained reining horses together as Hanson Performance Horses. They were blessed with two children: Caden, now 18, and Lauren, now 16.
Representing the West Coast, Becky served on the NRHA Board on a recommendation from Rick Clark and was on the Eligibility and Affiliate Committees. During that time, Becky became close with several members, but one, in particular, was Joao Marcos, NRHA Board member. This led Joao to invite Becky and David to serve as instructors at his facility, along with NRHA Professional Ruben Van Dorp, for the first Reining Horse Foundation Rookie Day in Sao Paulo, Brazil, in 2016.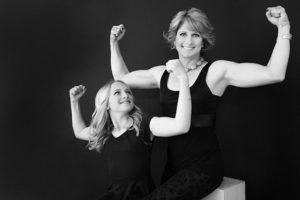 After 20 years' training reiners with her husband, Becky's life was turned upside down with a diagnosis in March 2013. She never let cancer become the story of her life; it simply became a platform. Becky dubbed her dance with glioblastoma multiforme as "My Little Tumor Adventure." Get Becky's take on it, here.
In December 2019, the NRHA Professional Horsewoman of the Year Award was renamed to honor Becky. In naming this award, the Professional's Committee hopes her legacy will serve as a continuous reminder about what it means to be named Horsewoman of the Year. Becky was honored, proud, and truly humbled by it. Her emotions bubbled to the surface every time it came up.
Becky is known for her incredible photos of the Western lifestyle. The hobby quickly evolved into a business after returning stateside when Becky went digital and started selling her photos. Perhaps she is best known for her image of a large oak tree that sits in the front yard of the Hanson's family home. It helped shape her successful photography business. Get Becky's view of "The Tree," here.
Behind a lens, Becky was legendary. On a horse, she was iconic. But as a friend, she was irreplaceable. Upon her diagnosis, Becky felt the love of her horse community from near and far. It was the continuous display of humanity that hit harder than cancer ever could. It's what helped Becky fight the good fight. Here is just a small example of the love and support from the reining community.
David said whenever Becky couldn't ride, she would return to writing about her situation and taking photos. This allowed her to connect to a whole new group of people. It shouldn't be surprising to all who knew her that Becky donated her body to science in hopes that she can help save at least one life.
Becky is survived by her parents, Rich and Diane, and is the eldest of three brothers: Scott and twins Kevin and Keith Anderson. The family will announce celebration of life information later this year. As more information is available, NRHA will provide it here.
The family requests that in lieu of flowers, gifts in Becky's memory be made to the Reining Horse Foundation's Crisis Fund. Donations can be made online at reiningfoundation.com or mailed to RHF, 3021 W Reno Ave, Oklahoma City, Oklahoma, 73107.