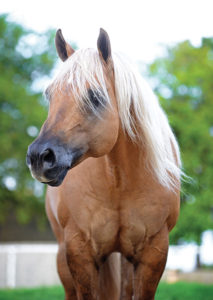 For Immediate Release – July 23, 2020 – Oklahoma City, Oklahoma – National Reining Horse Association (NRHA) Two Million Dollar Sire Hollywoodstinseltown (Hollywood Dun It x Miss Tinseltown) passed away on July 5, 2020. Hollywoodstinseltown will be sincerely missed by NRHA and the reining industry.
Hollywoodstinseltown was laid to rest early in the morning on July 5 on a hilltop at Silva Reining Horses in Pilot Point, Texas. The 16-year-old palomino stallion was owned by Dave and Bonnie Silva and has long been the senior star of their reining endeavors.
Hollywoodstinseltown boasts both an NRHA Hall of Fame sire and dam. This son of NRHA Seven Million Dollar Sire Hollywood Dun It out of Miss Tinseltown, Hollywoodstinseltown was a product of the McQuay Stables training program. He earned Level (L)4 Open finalist slots at both the NRHA Futurity and Derby with Tim McQuay at the reins, who is an NRHA Hall of Famer, NRHA Three Million Dollar Rider, and NRHA Two Million Dollar Owner.
With that auspicious start, Hollywoodstinseltown went on to gather a list of titles and laurels with McQuay's assistant trainer Marco Ricotta that included the National Reining Breeders Classic (NRBC) L3 Championship and an NRHA Derby L4 Reserve Championship and L3 Championship. His lifetime record would ultimately include earnings over $185,000 plus a World Equestrian Games gold medal with McQuay.
As his competitive career was winding down it was already evident that Hollywoodstinseltown would leave as dramatic a mark on the breeding world as he had in the arena. His foals showed promise early, catapulting him past the NRHA Million Dollar Sire mark in 2017, then crossing the $2 million milestone in 2019. His offspring currently have earnings over $2.5 million.
Tinseltown Fly Guy, out of Fly Flashy Jac, is Hollywoodstinseltown's highest money earning offspring with over $250,000 in NRHA earnings. He is followed by Shining In Town, out of Shine Ann, with almost $200,000 earned.
For the Silvas, Hollywoodstinseltown, or "Dave" as he was affectionately known, was much more than just an accomplished athlete and successful sire. He was part of the family and his humane euthanization due to the complications of a bacterial infection was heartbreaking. Their consolation will come from watching his legacy continue to grow and live on through his many foals – and those yet to be born.
Press release courtesy of McQuay Stables