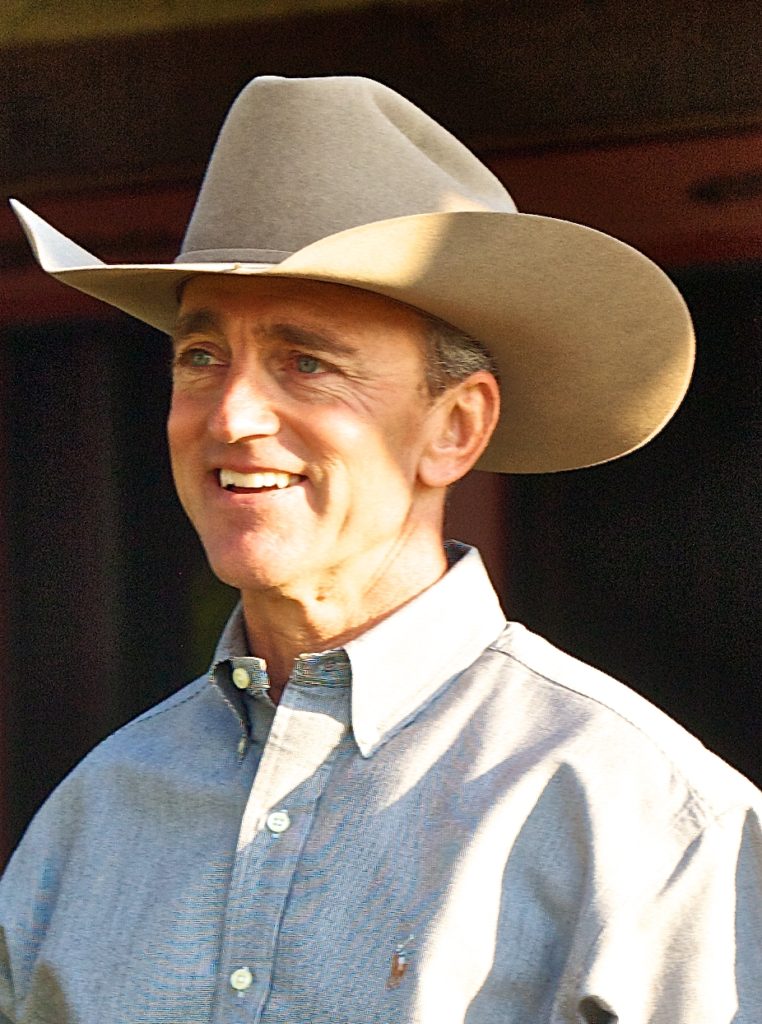 With a career that has spanned disciplines, decades, states and roles, it's fitting that Casey Hinton of Whitesboro, Texas, has achieved a career milestone that few have. The National Reining Horse Association Professional, who has also had an impressive career in the show pen, became a Million Dollar Owner in April.
Just a few thousand dollars away from that milestone, the success of Hinton's horses at the National Reining Breeders Classic clinched the achievement.
"I think this is a major accomplishment in your career, but when I started out, this wasn't my goal. You start out with a love of horses and training, owning, and showing them," Hinton explained. "To reach a milestone that few have accomplished is very exciting."
Growing up in Ohio, Hinton began showing horses in 4H. The All-American Quarter Horse Congress in Columbus, Ohio, provided plenty of inspiration to the budding trainer. "It is such a big influence on every part of the horse industry. It gets you thinking that the horse business is something to be a part of," he said.
While at Findlay College, Hinton was able to work with Dale Wilkinson. "He was the grandfather of reining, so with that exposure in college, the NRHA Futurity and the Congress both being held in Ohio, I wanted to direct myself towards a more advanced level of training," Hinton recalled. "I saw what the successful horsemen were doing and wanted to emulate that."
Hinton later worked for professional horse trainer Doug Lilly, and when Lilly made the move to Arizona, Hinton followed as his assistant. Soon after he began working for renowned horseman Al Dunning. "At that time, the horse training world hadn't reached the point of specialization yet, so we trained cutters, cow horses, reiners, western riding horses, and more, because the all-around titles were the thing to win," he explained.
Hinton soon went into business for himself, taking numerous youth and adult riders to all-around titles. His barn, however, began to evolve, transitioning from having a few reining horses to a specialized reining facility.
It was when Hinton and his wife Kathy moved to Texas that his business and career really flourished. The couple created Cedar Ridge Stallion Station, and began to diversify, not only with a training and competition division, but also breeding and selling. "We have been entrepreneurs and invested in ourselves by buying or raising our own prospects. We've had success with that, and are fortunate it has worked out," he said. Cedar Ridge Stallion Station is home to NRHA Seven Million Dollar Sire Magnum Chic Dream, NRHA Triple Crown winner Not Ruf At All, and two-time AQHA World Champion and earner of $188,000 In Like Flinn.
Hinton has owned several standout athletes, including Smarty Starlight, Lil Magnum Jessie, Black Hails Gold, Guaranteed A Magnum, and Mega Mag. It was on Lil Magnum Jessie, by NRHA $7 Million Sire Magnum Chic Dream, that Hinton won the 2009 NRHA Level 4 Open Futurity Reserve Championship. Hinton won the NRHA Level 3 Open Futurity Championship in 2013 on Black Hails Gold (by Shine Like Hail), and in 2017 on Mega Mag (by Magnum Chic Dream).
While Hinton initially competed on Guaranteed A Magnum (by Magnum With A Dream), he passed the reins to his assistant Jimmy van der Hoeven, who piloted the gelding to back-to-back NRHA Derby Championships in 2018 and 2019 (owned by Chad and Molly Cherry).
Hinton was adamant that his success as both an owner and showman is due to help from people surrounding him. "You can't accomplish something like that without a team. We have had many great assistants help us over the years, and we have been a real team. I don't think this is an individual honor for me by any means," he said. Hinton shared that Kathy, who has owned NRHA earners of more than $720,000, has been the driving force behind the couple's success.
The current team at Casey Hinton Reining Horses includes Casey and Kathy, along with NRHA Professional Jimmy van der Hoeven, Abby Kampman, Mateo Argentero and Rodrigo Nieves.
While achieving Million Dollar Owner status is a huge accomplishment, Hinton is not resting on his laurels and is less than $115,000 away from becoming an NRHA Million Dollar Rider. "We still have some more goals, and we hope we have the endurance to reach them. The fact that we can do what we love, which is raising, training, and showing reining horses makes us fortunate. It's fulfilling, so we hope to continue for a long time," he said.