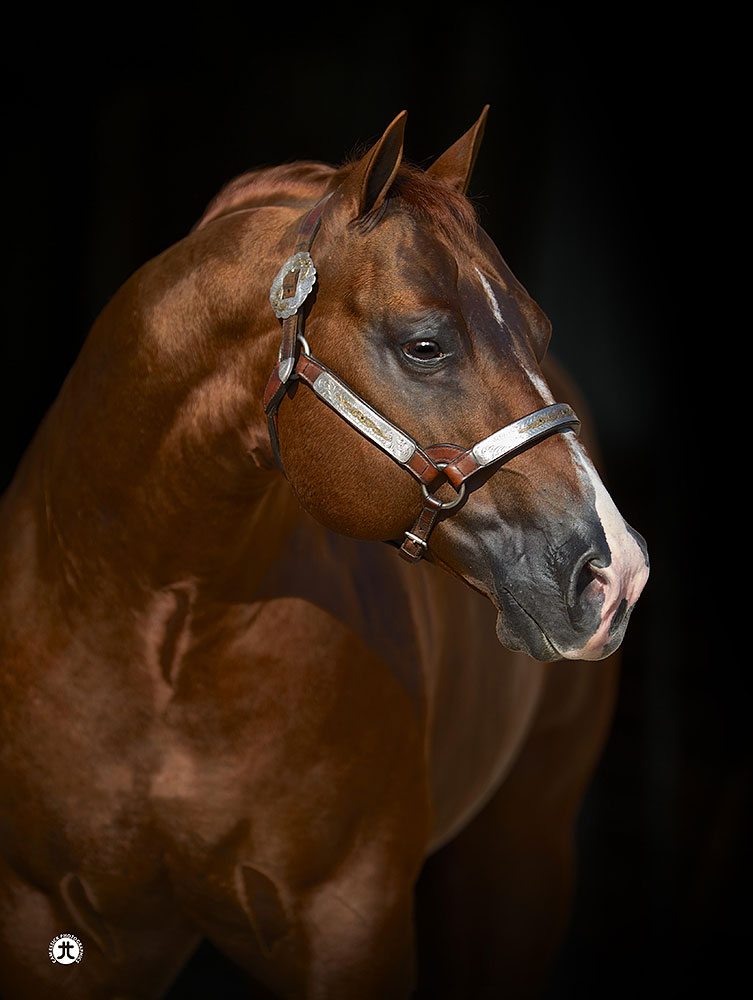 The National Reining Horse Association's newest Million Dollar Sire Not Ruf At All's career started with a bang when he won the 2013 NRHA Futurity. The following year "Ruf" claimed the NRHA Derby Championship. Just two years later, he added the National Reining Breeders Classic Open title to become one of only a few horses to win the three major events.
By NRHA $2 Million Sire A Sparkling Vintage and out of All Ruffed Up, the sorrel stallion is owned by NRHA Hall of Famer Vaughn Zimmerman. Always ridden by NRHA $2 Million Rider Jason Vanlandingham, he would become one of NRHA's highest money-earning stallions, with $456,437 in lifetime earnings.
Vanlandingham vividly remembers the day when he realized just what he had in Not Ruf At All. "It was June of his 3-year-old year. My wife, Adrienne, came out, and I asked her to video him stopping. I ran down and stopped, and she just started laughing and said, 'Oh my goodness, you've got to look at this.' When I looked at the video, I knew we had something special!" he recalled.
That talent was coupled with the stallion's monstrous heart. "Over the course of his entire career, he never missed a stop in competition. I can't say that about any other horse I've had or ever seen go," Vanlandingham shared.
He recounted the story of the NRHA Derby when, as a 5-year-old, Ruf stopped just like every time he had been shown. But after he rode the stallion from the Coliseum, Vanlandingham found his slider in the warmup pen! With a shoe or without, he never missed a stop.
For Zimmerman, watching Ruf throughout his career was pure excitement. "He was so dynamic, and I couldn't wait until the next show," he said.
The titles – and the purchase offers – rolled in, but there was never a question of parting with Ruf, all because of a discussion Zimmerman and Vanlandingham had early on. "Jason asked me to promise I wouldn't sell Ruf out from under him. I told him I wouldn't." He laughed, then added, "The prices of the offers kept growing, and I asked him if he was sure we shouldn't sell him. Jason said, 'No I want to show him!'"
Multiple historic achievements and many magical moments followed, proving the decision sound, but ultimately, it was time for the next stage of Ruf's career. "We hated to see him quit showing. He's the best show horse we've ever owned," Zimmerman admitted.
Ruf soon displayed his prepotency as a breeding stallion. "The first crops were small because we weren't standing him to an open book. But soon we were seeing strong support from people around the globe – even Europe. People have a lot of choices because they can breed to established studs – so when you're in the proving stages and they support you, it means a lot," Zimmerman explained.
In the beginning, Zimmerman bred his own set of broodmares to the young stallion. When the first foals came of age in 2018, the journey of becoming a successful sire began.
Not Ruf At All's highest money earner is Excessive Rufness (Smokin Lady Gunner), a 3-year-old this year owned by Zimmerman. Winning the inaugural Invitational Futurity with Vanlandingham boosted his earnings over the $100,000 mark.
Other notable offspring include Ruf Style Of Play (UB Stylin With Me) owned by Axel Bouchner, who was ridden to the NRHA Futurity Level 4 Non Pro title by Jesse Asmussen and has gone on to earn more than $92,000. Another Zimmerman-owned standout is Its All About Ruff (Dun Pretty Nifty), with $73,715 in lifetime earnings.
NRHA President Rick Clark noted, "Not Ruf At All was a great horse as a show horse and fun to watch. He won the three major events and so many titles, and it's not a surprise that he has gone over a million already. Vaughn Zimmerman is an asset to the industry, and this is a huge accomplishment. On behalf of the Board and staff of NRHA, congratulations to Vaughn and all the connections of this great stallion."