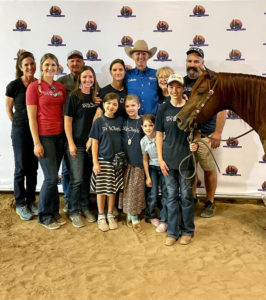 It was nearly three decades ago that Nathan Piper showed for the first time in a National Reining Horse Association-sanctioned event. He and Faith Dry Doc topped the Youth 14–18 class at a Texas Reining Horse Association show, and the scene was set for a career that would take him to the highest levels of reining competition.
In mid-March 2022, Piper surpassed a career milestone, becoming an NRHA Million Dollar Rider after a great week at the Cactus Reining Classic. On hand for the important moment? Several members of his family.
"I knew I was getting close at the end of last year, and that it would just depend on how shows went. My mom, dad, sister, brother-in-law, and their two kids wanted to be there. They came to the NRHA Futurity in case it happened there, and then went again to the Winter Slide in Ardmore," Piper explained. "I won about $1,400 there, and we were counting it down."
Piper didn't expect his family to show up for the Cactus Reining Classic, but they traveled West for the event. "They drove all the way out to Arizona for it, so it was pretty special," he shared.
Piper, of Whitesboro, Texas, secured the necessary earnings aboard Patriot (Smart Spook x Dunit A Lil Ruf), owned by Shannon and Hershel Reid. The pair finished third in the Run For A Million qualifier, took third in the Level 4 Open Derby, and won the Level 3 Open Derby Championship. "To finish the first million with a run like that on Patriot was just icing on the cake. He's one of a kind," Piper said. "Becoming a Million Dollar Rider is definitely one of the major goals I've had. I remember when Bill Horn first won a million, and how much I looked up to him for that."
It was because of Piper's sister, Lauren, that he first began riding horses. "My sister wanted a pony when I was a kid, so we got into 4-H and begin showing horses. We saw reining, and I got a 'kind of' reining horse, and have been hooked ever since," Piper recalled.
As a teenager, Piper would go spend time in Marietta, Oklahoma with James Davidson and legendary horseman and NRHA Hall of Famer Dick Pieper to hone his skills. He then went to college at Texas A & M University to pursue a degree in Animal Science and continued to train horses on the side. It was at A & M that he met his future wife, Jean.
"She's the love of my life and the one who convinced me I could do this for a living. Other people had insisted I needed to pursue a 'real job,' but she encouraged me to just do it," he said. "There have been a lot of ups and downs, and it's a hard business to break into, but the good Lord kept picking us up, and setting us on the right path. Jean never gave up on me or this dream through it all."
Piper isn't one to rest on his laurels, and he's already looking forward to earning the next million. He'd also like to help a special horse become even more successful. "My next big goal is to get Patriot over $500,000 in earnings," he said of the stallion.
When asked about the people who have helped him get to this point, Piper said, "There is not enough space to list all the people who deserve thanks. From 4-H leaders in the beginning to all the customers, there have been so many. I also have to thank the other horse trainers. I love this industry because we all help each other. There is probably not a single guy out there who hasn't helped me become a better reiner."
So what advice would he give to someone looking toward a career as a trainer? It's something that has gotten him in trouble with parents. "Just quit school and go for it," he shared with a laugh.
Piper's Top Five Wins:
2012 NRHA Futurity Level 4 Open 4th Place – In Like Flinn – $65,750
2019 NRBC Level 4 Open Co-Championship – Patriot – $63,000
2020 NRHA Derby Level 4 Open Reserve Championship – Patriot – $45,193
2021 The Run For A Million 7th – Patriot – $40,0000
2014 NRHA Futurity Level 4 Open 8th – Independencedayspook – $30,504
Follow Nathan Piper Reining Horses on Facebook here or visit his website at NathanPiper.com.