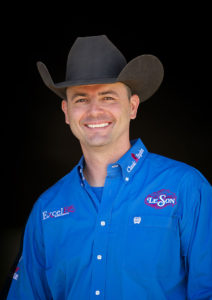 For Immediate Release ­– November 7, 2020 – Oklahoma City, Oklahoma – At just 12 years old, Martin Muehlstaetter knew he wanted to train reining horses for a living. He is now, unofficially, the newest National Reining Horse Association (NRHA) Million Dollar Rider.
Originally from Villach, Austria, Muehlstaetter's first official mount was a warmblood on a lunge line. As the years passed, he would continue riding everything from warmbloods to haflingers and all other breeds in between until he became an assistant trainer for NRHA Million Dollar Rider Rudi Kronsteiner in 1999.
After three years of tutelage under Kronsteiner, Muehlstaetter was set to become an assistant trainer in Italy. Fate had other plans and he ended up in Texas before working for some of NRHA's founding fathers: Bob Avila, and NRHA Million Dollar Rider Dell Hendricks, and Todd Sommers.
"When I told my mom I wanted to be a reining horse trainer, she told me there was no such thing," said Muehlstaetter who now resides in Scottsdale, Arizona. "Ever since then I've always been focused on reining horses. That's where my heart and soul is at."
In January 2007, Muehlstaetter moved to Scottsdale to be with his future wife, Kim, and then stepped out on his own as a professional. One of the first horses Muehlstaetter trained from the ground up as his own boss was Country Custom (Custom Crome x Calatrava).
"We bought Custom as an early yearling and I did all the work from there until he hit the show pen," Muehlstaetter said. "He was a special horse and now he's living out retirement in our front field."
Together, Muehlstaetter and Country Custom finished in the top ten at major NRHA events across the country in both the Open Level(L) 3 and 4. Muehlstaetter's biggest payday to date came at the 2014 National Reining Breeders Classic (NRBC). Marking a 226, Muehlstaetter and Blue Collar Tag (Whiz N Tag Chex x Kachina Oak Olena) finished in the number one spot for both Open L3 and 4.
Another one of Muehlstaetter's top finishes was at the 2017 NRHA Futurity where he placed fourth in the Open L4 finals riding Seven On Seven (Spooks Gotta Whiz x Anne Get Your Gunner). Muehlstaetter humbly credits his success in the reining industry to his team standing on the sidelines for every run.
"I want to thank everybody who's been part of this journey, from my family and my wife to all the shoers, vets, grooms, assistant trainers," Muehlstaetter said. "Without the right people in your corner, a trainer can only reach a certain level. And it doesn't matter how good you are if you don't have clients to supply horses. I've been especially lucky in that regard."
Muehlstaetter's wife tracked the numbers closely for her husband as he made his way to the million-dollar milestone. During the 2020 Arizona Reining Horse Association (AzRHA) Best of the West show, Muehlstaetter reined Spooks Grand Slam (Spooks Gotta Whiz x Shiney Diamond Lady) to a 224. This was the top score in the Open L4 Friends of Reining Horse Foundation Open Derby.
"Reaching this goal was so emotional," Muehlstaetter said. "Being such a crazy year, achieving this accomplishment felt good. I'm really proud of my wife and my whole team because without them I couldn't have done it."