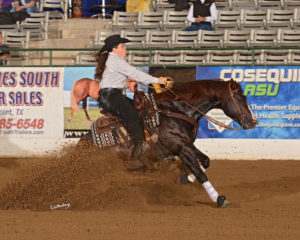 For Immediate Release – Dec. 7, 2020 – Oklahoma City, Oklahoma – In the last 54 years of National Reining Horse Association (NRHA) history, only 11 owners have surpassed the million-dollar mark in earnings. Such a momentous achievement is only possible because of teamwork, dedication, and, of course, incredible horsepower, all of which Tammye Hutton's Hilldale Farm has in spades.
In early November, Hilldale Farm unofficially became the Association's twelfth million dollar owner, after Hutton's daughter, Jessicah Keller, piloted Its Snippin Time (Shine Big Time x Snip O Satellite), to a third place finish in the Amateur Reining at the American Quarter Horse Association (AQHA) World Championship Show.
"This is really great. It's nice that NRHA recognizes the owners along with the riders, breeders, sires, and dams," Hutton shared. "I think it's amazing that there is that much money in the sport we can win, and that it's tracked. I never thought we would reach this milestone."
Hutton and her family first became involved with reining in the late 1990s, and Hilldale Farm, still family-owned and operated, became official NRHA members in 1997.
"The first year we just did some local NRHA shows, and 2001 was when Jessicah hauled for the youth world titles," Hutton recalled. "I remember the first significantly larger NRHA event we went to was the Illinois State Fair, and when we were done for the day we got a check. I thought, 'Wow, we won $4,200! Holy smokes, we need to do this more!'"
The winning continued in 2002, when Keller and Nu Chex To Cash won World Championships in the Intermediate and Limited Open, and also took reserve World Championships in the Non Pro and Intermediate Non Pro. That same year, Nu Chex To Cash burst onto the scene as a major sire for Hilldale Farm, when his son Wimpys Little Step (out of Leolita Step), won the NRHA Futurity Open Championship.
In addition to Wimpys Little Step, Nu Chex To Cash sired several other major earners, including Lil Joe Cash (out of RS Lilly Starlight) and NRHA Million Dollar Sire Big Chex To Cash (out of Snip O Gun). Nu Chex To Cash is now an NRHA Three Million Dollar Sire, while Wimpys Little Step is an NRHA Eleven Million Dollar Sire.
Nu Chex To Cash, an NRHA Hall of Fame inductee in 2010, would also sire Hilldale Farm's biggest money earner, Heavy Duty Chex, who won back-to-back National Reining Breeders Classic (NRBC) Non Pro Classic Championships with Hutton's younger daughter Sarah Locker.
"Nu Chex [To Cash] is the one that really got us where we are," Hutton said. "It was pretty amazing, and it just exploded our business."
A year ago, Hilldale Farm's blue hen mare, Snip O Gun, became only the third NRHA Million Dollar Dam during the NRHA Futurity. It was a fitting accomplishment, as the gorgeous bay mare was also inducted into the NRHA Hall of Fame as part of the 2019 class.
"There have been so many people who have helped us over the years, and gone above and beyond for me, my daughters, and our program," she shared. "I know if I tried to list each one individually, I would accidently leave someone off the list."
To learn more about Hilldale Farm, visit HilldaleFarm.com.