On Friday, May 26, Grischa Ludwig walked to the center of the arena to receive his awards at the 2023 NRHA European Futurity. Not only did he earn the NRHA Open class championship and American Paint Horse Association Chrome Cash, but these checks also pushed him past the threshold to become NRHA's newest Million Dollar Rider.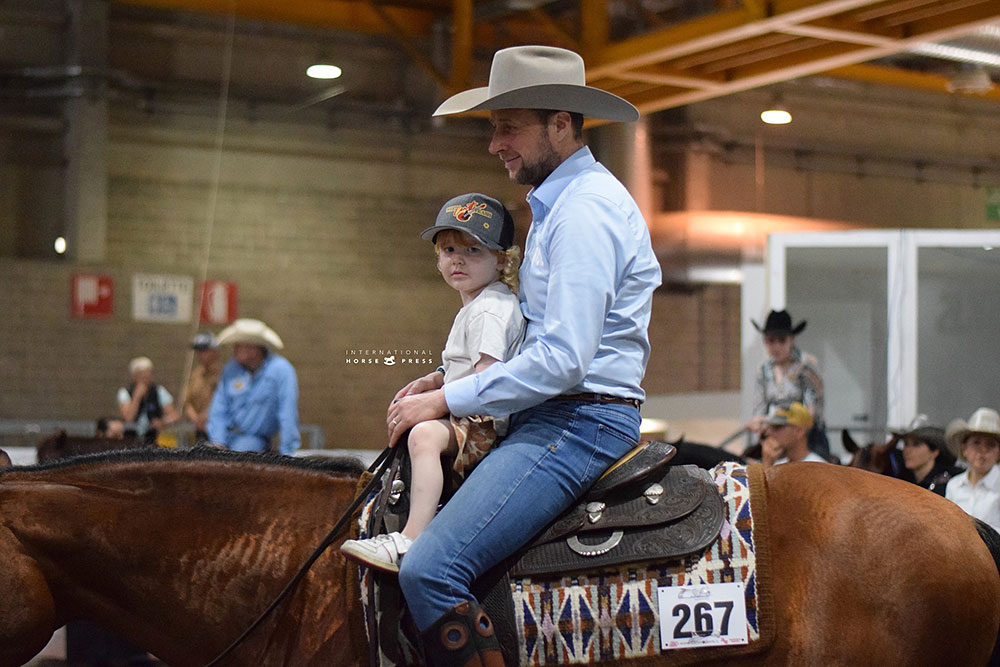 "[The realization of the accomplishment] didn't do anything to me when I came out of the arena," he said. "I wasn't yelling 'Hooray!' I thought, 'cool.' But when I went in for the awards, and they announced me as the newest NRHA Million Dollar Rider, emotion overwhelmed me!"
Born in Stuttgart, Germany, Ludwig grew up around horses his whole life as his father ran an equine therapy program at a facility for those with mental and physical disabilities. Their family lived with the 2,000 people and their Quarter Horse Program at the facility.
"It took a while [to reach this milestone]," said Ludwig. "You can do it faster for sure, but it was never my highest goal to be an NRHA Million Dollar Rider. I always saw myself as a horseman and a horse trainer. But the closer I got, the more I wanted it. Last year I got close, and people were talking so much, and I really wanted to have it."
His wins on this momentous day were on Spooks Genius (Spooks Gotta Whiz x A Spark Of Genius) owned by Margot Van Doorne. This pair is no stranger to the winner's circle as they were the 2022 Open European Affiliate Champions and have placed in multiple aged event finals throughout Europe.
To make the timing of the milestone even more meaningful, the European Futurity was only his second horse show since the passing of his father.
"My father shaped me to the way that I am," he said. "He was the best daddy I could have. He was as proud as someone could be when I won, and he was also proud if I was second, and he would tell me there was still one place to be better."
Read more about Ludwig and this accomplishment in the September issue of the NRHA Reiner Magazine.