Fifteen years ago, NRHA Professional Jared Leclair accepted a raw-boned 2-year-old into training. With a royal pedigree and phenomenal confirmation, the colt showed outstanding promise as a performance prospect, but that is where Leclair's plans for the colt ended. Even still, Leclair made a deal with the colt's owner, Danny Dugan, and joined in a partnership for the ownership of Electric Code.
"You could just tell that he was special,' Leclair explained. "He was a great mover, a huge stopper, and really good-minded. If you ride enough of these horses, the special ones stand out. It was pretty early in my career to show one of my own, but I knew I needed a horse like that to get me on the map."
As the colt's training progressed, he continually impressed his owners with his intelligence, athleticism, and willingness. "He was just a really cool horse to train," Leclair said. "He was really strong and could handle pressure really well. He was obviously a show horse and enjoyed doing his job."
Electric Code, by NRHA Three Million Dollar Sire Jacs Electric Spark out of Hot Coded Candy, went on to claim multiple futurity titles, including winning the 2008 NRHA Level 3 Open Futurity Championship and placing 3rd in the level 4 with Leclair in the saddle. He was the #1 Reining Horse All Ages/All Divisions in 2008 and the highest-scoring stallion at the NRHA Open Futurity! The horse and rider team went on to win multiple major event championships during the stallion's derby years, bolstering his lifetime earnings to more than $204,000.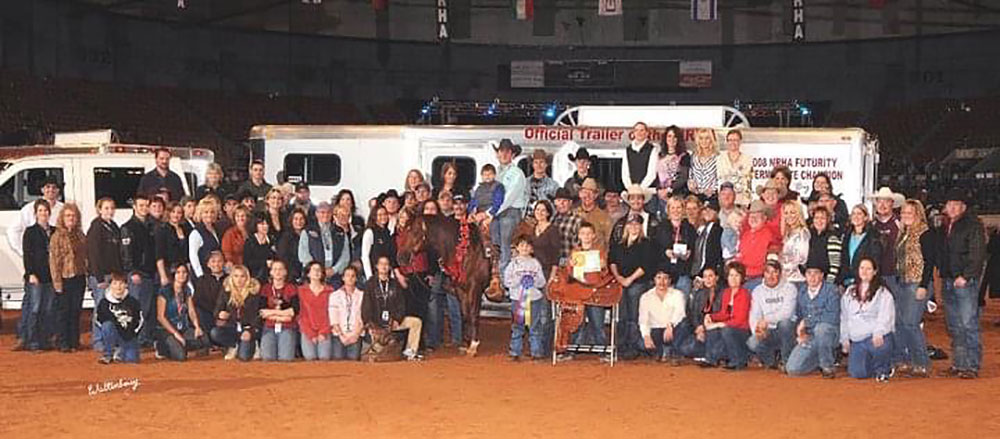 Through an unfortunate turn of events, the L & D Partnership was dissolved, and Leclair retained ownership. He found himself deciding on the future of the promising young stallion alone. "A horse has to prove himself to be a stallion. There are a lot of them out there that shouldn't be studs. Cody had to prove to us that he was capable to produce babies that people are going to want to go horse show, and he did that," Leclair said.
Once Electric Code had done his part, Leclair felt the pressure to do the horse justice as a stallion. "I tried to pair him with really good mares and actively invited people to breed to him. I stood him with the McCutcheons because I believe they are the best at what they do. I put my customers on his offspring, and they would breed mares to him, too. I just tried to be as involved as I could possibly be," he said.
Electric Code's first foals became performers in 2011 and quickly made a name for their sire. The stallion produced 195 NRHA money earners that carried the stallion to the elite rank of NRHA Million Dollar Sire in 2022. His top five money earners are:
Coded N Karma out of Whiz N Snap – $78,347.44
Electro Star out of RG Miss Starlight – $70,011.09
Fille Code out of Smartest Sister – $56,641.55
Codalicious out of Custom Easy Breezy – $54,034.32
Darlins Cody Boy out of Darlins Not Painted – $47,219.34
Leclair thanked everyone who has supported him and Electric Code on this journey, including the McCutcheons, the owners, customers, and his friends. He also thanked his wife, Karla, for helping him get Cody to where he needed to be. Then he added, "I'm glad to be a part of it because I don't think there are very many horse trainers who own Million Dollar Sires, so it's pretty cool."